Show Notes for the show that never happened….
The last few weeks for this decade. Stocks having a banner year with only a few hurdles remaining.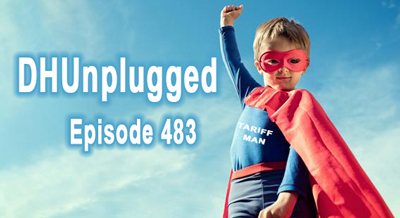 China trade deal remains elusive with the potential for an increase in tariffs set for December 15.
Plenty of interesting topics, a new brainteaser and a look at recent economic trends.
PLUS we are now on Spotify !
---
Click HERE for Show Notes and Links
DHUnplugged is now streaming live - with listener chat. Click on link on the right sidebar.
---
Love the Show?
Then how about a Donation?
---
Follow John C. Dvorak on Twitter
Follow Andrew Horowitz on Twitter
What follow are the show notes for the show that never happened. A glitch with AT&T prevented us from having a connection that was even reasonably clear in order to produce the show....
November - Great month for stocks
December starts soft - and gets worse...
Trade talks - one stop forward, one backward
Hong Kong protests not abating
Fed now willing to "allow" inflation above 2% target
- NEW DHUnplugged SERVER IS PROVISIONED AND UP AND RUNNING (Thank you for your help)
Thanksgiving Update?
Market Update
- December 15 tariffs hike awaits
- Tech Stocks valuations are at question
- VIX Spikes near 15 again
- Black Friday - Sales at Brick & Mortar down 3%, Online Sales up 19%
- Manufacturing in U.S. drops again...
- No Deal until after election?
What is moving the markets?
- According to the Fed, recent asset purchases are not QE!
- Since September Fed added $291 billion to its balance sheet
Cyber Monday breaks record
- Cyber Monday online sales hit $9.2 billion, or 18.7% year-over-year growth, according to Adobe.
- How does Adobe track all of this anyway?
Some good news out of China
- Factory activity in China unexpectedly returned to growth in November for the first time in seven months, as domestic demand picked up on Beijing's accelerated stimulus measures to steady growth.
- The Purchasing Managers' Index (PMI) bounced back to 50.2 in November, its highest since March, China's National Bureau of Statistics (NBS) said on Saturday.
- The result compared with 49.3 in October.
Meanwhile - US Manufacturing drops again... (48.1)
- U.S. ISM Manufacturing Declines for a Fourth Straight Month
- ISM Service tomorrow at 10AM

Construction
- Construction Spending turns down in October; September revision shows decline.
What if???
- Apple and Microsoft are leading the record market rally in 2019.
- The two have amassed a collective $819 billion in market cap this year, leading the Dow Jones Industrial Average to all-time highs.
- If those gains were stripped from the Dow, the blue-chip index would be nearly 1,100 points lower than its current level.
Very Confusing and Counter-intuitive
- U.S. equity stock funds saw $390 million in outflows in the week ended on Wednesday, the fourth straight week of outflows for such funds, according to data released by Lipper on Friday.
- U.S. taxable bond funds attracted $5.9 billion, the 16th straight week of inflows, while U.S.-based money market funds drew $28.9 billion in the latest week, Lipper data showed.
Tourism In Antarctica Leading to Global Warming????
- 40% more tourists are expected to flock to Antarctica this season compared to last year, AFP reports, citing data from the International Association of Antarctica Tour Operators (IAATO).
- This spike comes amid a gradual increase in Antarctic tourism that experts interviewed by the AFP believe could pose a risk to the region, which is already contributing a growing amount to global sea level rise.
- The average tourist trip to Antarctica generates over five tonnes of CO2 emissions, Michael Hall, expert on polar regions at the University of Canterbury in New Zealand, told AFP.
Whoopsy
- Billionaire philanthropist and Democratic presidential hopeful Tom Steyer has purchased a site with President Trump's campaign slogan, "Keep America Great," which now redirects visitors to a page calling the president a "fraud" and "failure."
- Trump's campaign prides itself on hoarding websites of political opponents, but they forgot to pick up the URL for their signature re-election slogan, 'Keep America Great,' " Steyer's campaign said in an email announcing the move on Monday.
New Tariffs!
- The Tariff Man Strike Again
- President Trump said he would raise tariffs on steel and aluminum imports from Brazil and Argentina.
- This came as a surprise to financial markets and opening a new front in the global trade war.
- PLUS - new 100% tariffs on French goods in retaliation for France coming down on US tech firms
----- The U.S. government on Monday said it could slap additional duties of up to 100% on $2.4 billion in French imports of Champagne, handbags, cheese and other products, after concluding that a new French digital services tax would harm U.S. tech companies.
- PLUS - December 15th tariffs are likely to go into effect unless a deal is on paper
Russia Tech Update
- Russian President Vladimir Putin on Monday signed legislation requiring all smartphones, computers and smart TV sets sold in the country to come pre-installed with Russian software.
- The law has been presented as a way to help Russian IT firms compete with foreign companies and spare consumers from having to download software upon purchasing a new device.
- The legislation signed by Putin said the government would come up with a list of Russian applications that would need to be installed on the different devices.
Election - Interesting Move
- President Donald Trump is revoking press credentials for Bloomberg News employees in response to its decision to refrain from investigating Mike Bloomberg or his Democratic rivals during the presidential primaries, a campaign spokesman said Monday.
- Bloomberg's position:  "Bloomberg News has a longstanding policy of not investigating Mike, his family or his foundation," said an internal Bloomberg memo.
- Trumps position: "Since they have declared their bias openly, the Trump campaign will no longer credential representatives of Bloomberg News for rallies or other campaign events
---
420 Stocks ...

Stocks to watch: CGC, STZ, TLRY, CRON, MJ, NBEV
---
Love the Show?
Then how about a Donation?
---
*** NEW INTERACTIVE CHARTS ***
Winners will be getting great stuff like the new DHUnplugged Shirts (Designed by Jimbo) -
PLUS a one-of-a-kind DHUnplugged CTP Winner's certificate..

CLICK HERE FOR MORE CHARTS ON TRADING VIEW
---
UPDATE - NEW ETF - Global X Millennials Thematic ETF Challenge!
The top holdings of Global X Millennials Thematic ETF (MILN) include stocks many investors would expect, such as Facebook, LinkedIn and Amazon, which take advantage of the tech tendencies of millennials. But some names might be more surprising like real estate investment trusts AvalonBay Communities and Equity Residential, and Home Depot, which could benefit from millennials moving out of the home of their parents.
We are creating the DH Old Codger Index Portfolio to compete against this new ETF to see how "old school" stocks do in comparison. Companies in our index will include: (updated names as of 8/29/16)
We have the performance summary running (daily and since inception of 5/6/16) - DHOCI vs. Millennials ETF Battle
---
Jack Dorsey - what is up?
- The CEO of twitter and Square said in a tweet last week that he plans to move to Africa for as long as six months.
- Working in Nigeria with crypto entrepenuers?
Federal Executions
- A U.S. appeals court on Monday denied the Justice Department's request to overturn a lower court decision that temporarily stalled plans by President Donald Trump's administration to resume executions of prisoners convicted of certain federal crimes after a 16-year hiatus.
Seriously?
- .W. Mitchell High School in New Port Richey Florida began using synthetic frogs for educational dissections last Wednesday.
- Pasco County Superintendent Kurt Browning says it's the first school in the world to use the technology.
New Travel Scheme
- Just getting out of a tough relationship and looking for a distraction? This new travel app might be for you.
- Breakup Tours, developed by a Hong Kong-based company, offers experiences and services aimed at people who are dealing with heartbreak.
- So a singles tour with potential for misery and rebound romance?
China Takes Shit Seriously
- The whereabouts of scientist He Jiankui, who claimed to successfully use the gene-editing tool CRISPR to create genetically engineered children, are unknown, as he has not been seen publicly since January, AP reports.
- A Chinese government investigation found in January that Jiankui "seriously violated" state regulations, per the New York Times.
- Maybe if we had a bit of that kind of action in the US - fraud would be reduced? Capture bad actors and make them disappear for a while....
Last Week's BrainTeaser (Harder)
Susan has invited her family to Thanksgiving Dinner. As her plates are not the best, Susan wants to buy new plates, one for each person at her Thanksgiving Dinner.
There'll be a grandfather, a grandmother, two fathers, two mothers, four children, three grandchildren, one brother, two sisters, two sons, two daughters, one father-in-law, one mother-in-law and a daughter-in-law.
At least how many plates does Susan need to buy?
Dvorak Difficulty Score (A-)
(ANSWER - 7)
NEW This week:
You leave home and go to your right. You reach a corner and turn left. You reach another corner and turn left again. You reach another corner and turn left again and go home. When you get there, there is a person with a mask there waiting for you. What's happening?
Dvorak Difficulty Score ( )

What would John C. Dvorak have written for PC Magazine?
---
See this week's stock picks HERE
---
Follow John C. Dvorak on Twitter
Follow Andrew Horowitz on Twitter
---