The Fed continues their quest to calm markets.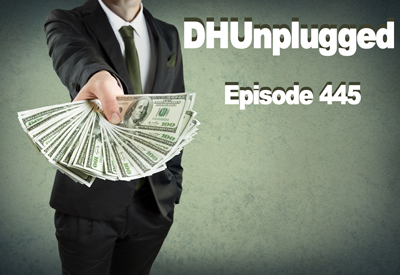 China and the U.S. are said to be closer to some sort of deal.
The rally is 9 weeks deep – is it sustainable? We cover these and other important news of the week.
Some interesting charts, a new Closest to the Pin and much more – PLUS we are now on Spotify !
---
Click HERE for Show Notes and Links
DHUnplugged is now streaming live - with listener chat. Click on link on the right sidebar.
---
Love the Show?
Then how about a Donation?
---
Follow John C. Dvorak on Twitter
Follow Andrew Horowitz on Twitter
Market manipulation via Twitter
Closer to a Deal with China - Maybe
9 Up Weeks for markets
CME Futures are unresponsive - No change for last hour
Market Update
9 weeks up for markets - squeezed it out on the last day of the week to make it positive for the 5-days.
- Bulls remain in charge for now
Brexit saga - now a new delay is sought
Economic reports this week include GDP, ISM Manufacturing, Case-Shiller Housing Index, Fed Humphrey Hawkins Testimony for Congress.
- Humphrey Hawkins History
-- In response to rising unemployment levels in the 1970s, Representative Augustus Hawkins and Senator Hubert Humphrey created the Full Employment and Balanced Growth Act. It was signed into law by President Jimmy Carter on October 27, 1978.
-- The Act explicitly instructs the nation to strive toward four ultimate goals: full employment, growth in production, price stability, and balance of trade and budget.
Powell still looking for ways to appease markets. (May start having less impact over time)
- Pleased to Appease
From Powell Testimony:
Says $1 trl reserve buffer is reasonable.
Will use tools to sustain expansion;
Need broad policy to sustain labor force participation expansion;
Not getting involved with Yellen comments on President Trump;
Wages starting to move up; not troubling for inflation;
Reiterates good time to be patient;
Wants to see more certainty around trade;
Banking system is quite strong;
Financial firms need to see clarity on marijuana rulings;
President Trump Tweets at about 5:55PM that he is not going to increase tariffs on China as deal is getting close (March 1 deadline)
- Remember futures open at 6PM
- Plenty of M&A action - biotech space seeing consolidation
Are we getting closer to a China deal???????
- Seems as if something will get done - no matter if it is a good deal or not...
Case-Shiller Housing Price inde at 4.2% YoY - Slowest since 2012
RV Shipments Drooping
- The RV Industry Associations said January RV shipments were 25,540 wholesale shipments, a decrease of (-39.8%) YoY
- Towable RVs, led by conventional travel trailers, totaled 21,623 units for the month, a decrease of (-41.0%) compared to last January's total of 36,622 units.
- Motorhomes finished the month with 3,917 units, down (-32.7%) compared to the January 2018 total of 5,819 units.
- Stocks - WGO, THO
Weight Watchers
- If only we could lose weight as fast as they lose value
- Stock down another 28% after a soft earnings report.
- Earnings notes stated dissapointment - but pressed hard that Oprah will be involved in the companies efforts.
Smack'n the Cheese
- Kraft Heinz Inc. shares were suffering their biggest-ever one-day selloff as they plummeted toward record lows last Friday, after the giant food conglomerate delivered bad earnnigs news.
- Kraft Heinz KHC,  plunged 27% in very active morning trade, sending shares below $36;
- The stock had not fallen below $41 since Kraft was spun out of what is now Mondelez International Inc. MDLZ,
Kraft Day
- Aside from Kraft Heinz getting shellacked - so was the reputation of Kraft Robert after incident at a Florida "Day Spa"
Don't Look Here - Look There
- Warren Buffett said in his annual letter to Berkshire shareholders on Saturday that the conglomerate's stock price will over time "provide the best measure of business performance."
- In conjunction with that, he plans to de-emphasize book value, measuring assets minus liabilities, saying changes at Berkshire and the vagaries of accounting rules mean that gauge has "lost the relevance it once had."
- Adding buybacks as way to benefit shareholders too
- Major loss with Kraft holding ($3+ billion)
Tesla Taunt
- Musk is lashing out at the SEC after the SEC wants him held in contempt of order
- Tweet last week about production got him in hot water (he has a Tweet watcher that didn't approved?)
- Replies with Tweet that SEC is wrong (even after he corrected Tweet
- More Lashing out "SEC forgot to read Tesla earnings transcript, which clearly states 350k to 500k. How embarrassing"
FOLD
- Samsung Electronics Co Ltd on Wednesday said it will release a pricey folding smart phone in April, with specially adapted applications from Facebook Inc and Alphabet Inc designed for the new device.
- The Galaxy Fold will cost $1,980 and go on sale on April 26, Samsung officials said at an event in San Francisco.
- The device will have a 4.6-inch display while folded and a 7.3-inch display when unfolded. Samsung said it worked with Facebook, Google and Microsoft Corp to create special versions of their popular apps to fit the new display.
Japan at Risk
- Activity in Japan's manufacturing sector contracted in February for the first time in two and a half years, as production and new orders fell, according to preliminary data that will strengthen concerns about a global economic slowdown.
- The Nikkei Japan Purchasing Managers Index for manufacturers declined to 48.5, its lowest reading since June 2016. It follows trade data on Tuesday that showed a worse-than-expected fall in Japanese exports in January.
Costs High for Getting High
- Americans would need to shell out $846 for a "basket of vice'' made up of four generic groups of drugs: opioids, cocaine, cannabis and amphetamine-type stimulants. It's the third-highest price in the world, behind only New Zealand and Australia – and up more than 40 percent from a year earlier.
More studies
- There were 1.5 million more middle school and high school students using e-cigarettes in 2018 than in 2017, research from the University of North Carolina at Chapel Hill School of Medicine  showed, as the teen vaping trend continues.
- Young people's attraction to vapes — which have been marketed as an alternative to traditional smoking for adults — has to do largely with the fruity flavors they come in, the study found.
Even More Studies
- The voracious use of toilet paper in the United States — with the average American using almost three rolls each week and major manufacturers spurning alternative fibres — is destroying Canada's forests and causing widespread environmental damage, two international environmental groups say.
- A report on tissue paper use gave failing grades to the leading toilet paper, tissue and paper towel brands for using only virgin fibre pulp, mostly from Canada's old boreal forests.
New Internet Obsession
Alexandria Ocasio-Cortez's net worth - around $7,000 maybe.
---
420 Stocks going higher?....

Stocks to watch: CGC, STZ, TLRY, CRON, MJ, NBEV
---
Love the Show?
Then how about a Donation?
---

*** NEW INTERACTIVE CHARTS ***
Winners will be getting great stuff like the new DHUnplugged Shirts (Designed by Jimbo) -
PLUS a one-of-a-kind DHUnplugged CTP Winner's certificate..

CLICK HERE FOR MORE CHARTS ON TRADING VIEW
---
UPDATE - NEW ETF - Global X Millennials Thematic ETF Challenge!
The top holdings of Global X Millennials Thematic ETF (MILN) include stocks many investors would expect, such as Facebook, LinkedIn and Amazon, which take advantage of the tech tendencies of millennials. But some names might be more surprising like real estate investment trusts AvalonBay Communities and Equity Residential, and Home Depot, which could benefit from millennials moving out of the home of their parents.
We are creating the DH Old Codger Index Portfolio to compete against this new ETF to see how "old school" stocks do in comparison. Companies in our index will include: (updated names as of 8/29/16)
We have the performance summary running (daily and since inception of 5/6/16) - DHOCI vs. Millennials ETF Battle
---
Do we want to talk about the Academy Awards?
CREEPY
- Three of the world's biggest airlines have admitted some of their planes have cameras installed on the backs of passenger seats.
- American Airlines, United Airlines and Singapore Airlines have new seat-back entertainment systems that include cameras.
- They could also be on planes used by other carriers.
- Companies that make the entertainment systems are fitting them with cameras to offer passengers options such as seat-to-seat video conferencing, according to an American Airlines spokesman.
- What are the other reasons? Security???
What? WHY?
- Top Deutsche Bank AG executives were so concerned after the 2016 U.S. election that the Trump Organization might default on about $340 million of loans while Donald Trump was in office that they discussed extending repayment dates until after the end of a potential second term in 2025, according to people with knowledge of the discussions.
ELECTION FRAUD
- An investigation into North Carolina's 9th Congressional District 2018 election has found a "coordinated, unlawful and substantially resourced absentee ballot scheme" in two counties carried out by a political operative hired by the Republican candidate, the state's elections board executive director revealed Monday at a hearing.
- New vote
FYI - Cookie Fight
- A Florida man was arrested for domestic battery after he reportedly threw a cookie at his girlfriend.
- Wade Smith, 41, of Zephyrhills, was taken into custody on Sunday after deputies with the Pasco County Sheriff's Office were called to the home he shares with his girlfriend, WFLA reported.
- Smith's girlfriend reportedly told investigators that he "threw a hard piece of cookie and hit her in the forehead," which deputies noted was red when they responded to the scene.
- The 41-year-old, according to the news station, confessed to authorities that he threw the cookie at her.
What would John C. Dvorak have written for PC Magazine?
---
See this week's stock picks HERE
---
Follow John C. Dvorak on Twitter
Follow Andrew Horowitz on Twitter
---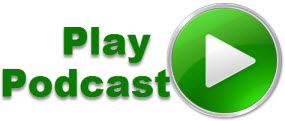 Podcast: Play in new window | Download (Duration: 1:03:38 — 44.0MB)
Subscribe: RSS