Markets have seen a pronounced change in appetite for risk over the past couple of weeks. With earnings season now beginning, will that change?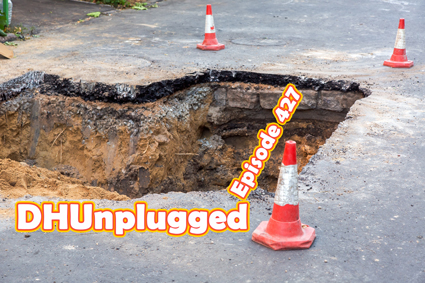 Beneath the markets there has been a good amount of carnage that has create a cavity that was open and ready for sellers to step into. A sinkhole of sorts – what to expect moving forward.
427Plus – a look into the news that is shaping markets and more…
---
Click HERE for Show Notes and Links
DHUnplugged is now streaming live - with listener chat. Click on link on the right sidebar.
---
Love the Show?
Then how about a Donation?
---
Follow John C. Dvorak on Twitter
Follow Andrew Horowitz on Twitter
Market Update

SINKHOLE! DJIA drops more than 1,000 points on the week. 850 points on Wednesday alone!
(Recall that last week we were discussing the concern that underlying strong indices was severe weakness)
VIX SPIKES to 28+ then settles week near 21 (UPDATE - now near 18)
S&P 500, NASDAQ hit their 200-day moving averages and try to hold. (probing)
- Popped back on Turnaround Tuesday
Big and broad based sell-off that all of a sudden all the talking heads are saying they called.
- Now they are talking about valuation and providing reasons to buy...
- Is this a time to buy? Retest of the lows possible?
- Looks like some of the programmed buying cam back on Tuesday.... Every single small drop was met by swings higher.
Some worthwhile information before we get ahead of ourselves....
- Yes, oversold condition, in fact one of the biggest levels of oversold reached Friday on by our indication since the day before the election...
- Spearman Indicator at levels that often show bottoming
- McClellan hit lowest level since Feb 18 bottom
- Stocks making new 52 highs hit lowest in 2018
- S&P 500 stocks under their 200 DMA hit lowest in years
- AND - - Analysts anticipate 21% earnings per share growth for the quarter
- Why all of a sudden are markets getting so volatile?
---- Rates shot higher and above levels that many were looking at as line in the sand. Makes borrowing more difficult and slows economy.
- Economic Activity still somewhat strong - now lots of discussion of Pull-Forward (front-end loading) concept we have been discussing could be creating some angst.
- The longer these tariffs are in place, the more damage they will do to global growth story.
- Concern over some of the recent guidance that has been soft for next quarter and forward.
- IMF and World bank downgrade global growth (trade disputes)
Pull-Forward
- China recorded a record trade surplus of $34.13 billion with the U.S. in September amid intense trade tensions between the world's two largest economies.
- The September surplus with the U.S. was larger than China's overall trade surplus of $31.69 billion for the month.
NETFLIX - Rallies after hours on earnings
- Netflix beats by $0.21, reports revs in-line with net subscriber adds above guidance; guides Q4 EPS below consensus, revs in-line but subs above estimates
- Sub growth was impressive overall and big beat, even though Rev was inline. (Record revenues)
Domestic Streaming - 56.96m  International Streaming 73.46m
IBM reports - stock sinks.
- Blaming the strong USD
- Stock down ~ 4% A/H
CSX - Transportation company beat and offered better than expected guidance.
GOLD!
- Finally working in terms of a hedge.
Banks - seeing some decent beats as compared to estimates, but stocks still suffering.
Drug companies will have to give list prices for their products in television ads under a new proposal the Trump administration released Monday.
- The new rule, which is open for discussion, would affect any drug covered by Medicare or Medicaid.
- Health and Human Services Secretary Alex Azar announced the new proposal just hours after the lobby group that represents big drug companies said its members would start indirectly mentioning prices in their television ads.
(Whispers in 2X speed at end of commercial?)
Deficit Widening....
The U.S. budget deficit grew to $779 billion in Donald Trump's first full fiscal year as president, the highest since 2012 amid tax cuts and spending increases.
- The budget gap for the 12 months through September was 17 percent wider than the same 12-month period a year earlier, as spending rose 3.2 percent and revenue gained just 0.4 percent, according to a Treasury Department report released Monday.
- Theory - this could be very beneficial to Emerging markets as the US Dollar is at risk. (Strong USD has been a major headwind for EM recently)
Fidelity Investments has launched a new company for its institutional clients that will trade and store digital assets such as bitcoin, the asset manager said on Monday.
- Fidelity Digital Asset Services LLC will electronically buy and sell cryptocurrencies on behalf of hedge funds, family offices and other financial institutions, it said.
Can we talk about Twitter for a minute
- Feed has been full of junk lately (lots of stuff from people I do not follow)
- Info flow has become more irrelevant (this one follows and random tweets that appear from people I don't follow.)
Sears - bankruptcy - finally? Or will this just be a way to get creditors off their backs and keep this thing alive for a while longer? (Note: Stock up 70% on the day - shorts covering before it is too late?)
- When was the last time you saw a Sears commercial?
- Is JC Penny next?
Technology - phrase that keeps coming up time and time again: "The issue only affected...."
---
420 Stocks dropped the flame - crashing....

Stocks to watch: CGC, STZ, TLRY, CRON, MJ, NBEV
---
Love the Show?
Then how about a Donation?
---

*** NEW INTERACTIVE CHARTS ***
Winners will be getting great stuff like the new DHUnplugged Shirts (Designed by Jimbo) -
PLUS a one-of-a-kind DHUnplugged CTP Winner's certificate..

CLICK HERE FOR MORE CHARTS ON TRADING VIEW
---
UPDATE - NEW ETF - Global X Millennials Thematic ETF Challenge!
The top holdings of Global X Millennials Thematic ETF (MILN) include stocks many investors would expect, such as Facebook, LinkedIn and Amazon, which take advantage of the tech tendencies of millennials. But some names might be more surprising like real estate investment trusts AvalonBay Communities and Equity Residential, and Home Depot, which could benefit from millennials moving out of the home of their parents.
We are creating the DH Old Codger Index Portfolio to compete against this new ETF to see how "old school" stocks do in comparison. Companies in our index will include: (updated names as of 8/29/16)
We have the performance summary running (daily and since inception of 5/6/16) - DHOCI vs. Millennials ETF Battle
---
Elizabeth Warren now claims that a DNA test confirms her Native American ancestry. This was done at the pestering of President Trump who said back in that  if in a debate - he would challenge her to take a DNA test to provide she was of native American decent he would pay $1 million.
- ( I listened to the discussion/video and while many are saying that he said he challenged her and should pay the $1 million, it was a hypothetical conversation...if they debated saying he would say that.)
No Kidding!
- Robinhood Markets Inc. has built a reputation on its origins in finance counterculture and a steal-from-the-rich ethos. But the firm, which offers no-fee stock trading, is making almost half its revenue from one of the most controversial practices on Wall Street.
- The startup, valued at $5.6 billion, was bringing in more than 40 percent of its revenue earlier this year from selling its customers' orders to high-frequency trading firms, or market makers, like Citadel Securities and Two Sigma Securities, according to three people with knowledge of the matter, who asked not to be identified because the details are private.
- Almost all retail brokerages employ the practice, called payment for order flow, but it's an unlikely strategy for a company built on an anti-Wall Street message.
New disease starting to spread?
- This year, more than half of all US states have had confirmed or possible cases of acute flaccid myelitis (AFM) , the polio-like illness that can cause paralysis and mostly affects children, according to a new CNN analysis.
- The US Centers for Disease Control and Prevention, which releases only confirmed numbers, says 16 states had 38 cases as of September 30. It does not identify the states.
Final note: Congrats Elon Musk - Settlement with the SEC has been officially settled. (Shares of TSLA up 6% on the news)
What would John C. Dvorak have written for PC Magazine?
---
See this week's stock picks HERE
---
Follow John C. Dvorak on Twitter
Follow Andrew Horowitz on Twitter
---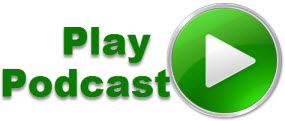 Podcast: Play in new window | Download (Duration: 1:02:50 — 43.4MB)
Subscribe: RSS