What an upset! Not many predicted that outcome for the U.S. elections. The Republicans swept Congress and now investors are putting in their bets with companies that they believe will benefit from a massive fiscal stimulus package and lower taxes.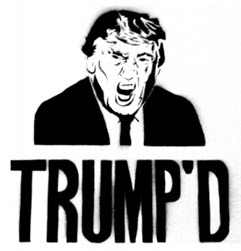 An impressive rotation within markets and a lack of a sell-off has many people wondering what happened. It was not supposed to work this way – was it?
Some interesting insight into markets, politics and other newsworthy items in this episode.
** Important Note – Technology meltdown and audio lost. Had to overhaul entire studio – so no audio **
---
Click HERE for Show Notes and Links
Quite the upset with the U.S. elections... Trump declared winner, markets stage an incredible turnaround in the morning after the election results are tallied... DJIA up 800 points from the low and still rallying. Small-caps bar far the best overall with a 10% surge post-election, NASDAQ not so good.
-- What was working no longer is.
-- Infrastructure, biotech, big winners
-- Bonds, utilities, tech, emerging markets big losers
DJIA - 95 points to hit 19,000
Remember last week - most days down for S&P since 1980's... Now up 6 days in a row.
NOTE: Supposedly, Harambe, (the dead gorilla) Got Over 15,000 Votes For President Of The Unites States
Since Trump had his own aircraft and charter company, the U.S. govy Secret Service effectively paid his companies $6million for their share of the transportation through the campaign.
OIL! More OPEC comments push Crude higher by almost 6% today - the biggest move up in months.
Trump is suggesting that he will request "TOP SECRET" clearance for his children
- BUT - If children are running his businesses - doesn't this create a HUGE conflict?
Everyone reacting without knowledge of what will happen:
Federal Reserve Bank of Richmond President Jeffrey Lacker said that easier U.S. fiscal policy may require higher interest rates, but it's too early for the central bank to react to potential policy changes by the incoming administration of president-elect Donald Trump.
Banks have been big winners since the election as the yield curve steepened.
OOPS - Hedge fund managers have been building positions in tech ahead of election: However, the tech stocks in the index slumped 3.1 percent after the Nov. 8 presidential election, trailing the S&P 500 Index by 4.2 percentage points, on speculation that Donald Trump's trade and immigration policies could lower future earnings. (FB down 5%, Amazon down 5%....)
Goldman Sachs is suggesting that Trump policies may be good in short-turn but could lead to stagflation: That's the view of economists at Goldman Sachs Group Inc., who argue that while some of President-elect Donald Trump's proposals could boost U.S. economic growth in the near future, his other policies would offset those positive impacts over the long-run.
Already we are seeing a massive move in the U.S. Dollar since the election (Good for imports, bad for exports)
Guess what company is thinking about this:  While still in an exploration phase, the device would connect wirelessly to smartphone, show images and other information in the wearer's field of vision, and may use augmented reality, the people said.
Big moves in small caps and micro-craps - Shippers are on fire. Dryships up from $5 on 11/10 to $91.  Diana Containerships up fro $2 to $6....
---
Love the Show?
Then how about a Donation?
---

Last DHUnplugged CTP CUP before Final Event
*** NEW INTERACTIVE CHARTS ***
Winners will be getting great stuff like the new DHUnplugged Shirts (Designed by Jimbo) - PLUS a one of a kind DHUnplugged CTP Winner's certificate..

CLICK HERE FOR MORE CHARTS ON TRADING VIEW
---
UPDATE - NEW ETF - Global X Millennials Thematic ETF Challenge!
The top holdings of Global X Millennials Thematic ETF (MILN) include stocks many investors would expect, such as Facebook, LinkedIn and Amazon, which take advantage of the tech tendencies of millennials. But some names might be more surprising like real estate investment trusts AvalonBay Communities and Equity Residential, and Home Depot, which could benefit from millennials moving out of the home of their parents.
We are creating the DH Old Codger Index Portfolio to compete against this new ETF to see how "old school" stocks do in comparison. Companies in our index will include: (updated names as of 8/29/16)

We have the performance summary running (daily and since inception of 5/6/16) - DHOCI vs. Millennials ETF Battle
---
Ole' Codgers narrowing the gap to only 1% since inception. With the "new tech" selloff and Trump win pushing on old school sectors, major move over past week.
Police launched dawn raids across Germany on Tuesday on about 190 mosques, flats and offices linked to an Islamist group after the government banned the organization, accusing it of radicalising youngsters.
Handshake leads to lawsuit. Two attorneys meet and shake hands. One is claiming that the other shook too hard, squeezed hand and has been in pain ever since. 2014 the incident happened and now plaintiff is seeking $100,000 in damages (Florida of course)
Leaked document out of U.K. says that there is no current plan for Brexit at this time. (of course denied)
Buffet makes big entry into Airline stocks over past few months - just announced yesterday.
- At the same time: United Continental Holdings Inc will become the first big U.S. airline to limit low-fare customers to one carry-on bag that fits under a seat, and will defer delivery of dozens of planes from Boeing Co as part of a push to boost profits.
What does this mean? Today, Google announced that its advertising tools will soon be closed to websites that promote fake news, a policy that could cut off revenue streams for publications that peddle hoaxes on platforms like Facebook.
Highway deaths have surged in the last two years, and experts put much of the blame on in-car use of smartphones and dashboard apps.
Seems that the latest economic poll shows that all of a sudden, Republicans believe that the economy is on good footing. (Didn't they just say we were on the edge of a collapse?)
Story is making rounds again: Signet Jewelers shares dropping in recent trade following report that company allegedly swapped real diamonds with fakes.
Here is a not-so happy thought: At least one million tons of chemical weapons dumped after the world wars lie rusting on the ocean floor. As the metal rusts away, the toxic chemicals will be exposed threatening marine life around them, scientists warn.
New process for browsing Facebook - saves so much time.... Whenever I get to a post with dog picture or video, I close app.
What is JCD writing for PCMag?
See this week's stock picks HERE
Follow John C. Dvorak on Twitter
Follow Andrew Horowitz on Twitter
---