A little insider info for those Fed Presidents? Come on now – fess up and dump your stock.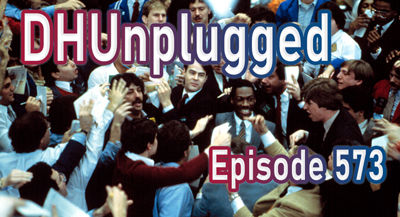 GDPNOW, looking a bit weaker than expected.
Apple has an event/non-event.
PLUS we are now on Spotify and Amazon Music/Podcasts!
---
Click HERE for Show Notes and Links
DHUnplugged is now streaming live - with listener chat. Click on link on the right sidebar.
---
Love the Show?
Then how about a Donation?
---
Follow John C. Dvorak on Twitter
Follow Andrew Horowitz on Twitter
Warm Up
- Markets - Not Doing So Well Over last Week
- We Have  a Winner - Actually by a HAIR - CTP for Alcon
- Lots of noise about supply chain and costs
- Fed Officials - Been Buying And Selling the Whole Time
- New Study of Investors - Interesting Findings

Market Update
- Correlations are off.... Yields Up/Down - no relationship to what moves
- DJIA Snaps 5-day losing streak
- Eco Rolling a bit - GDP Now - dragging - Market Rolling (2.3% from recent high and everyone panicking)
- Coins still hurting after El Salvador fiasco
- Dumb and Dumber - LiteCoin Scam this week
- Natural Gas Moving - UNG ETF (HEHEHEEEE)
- An update ion the Apple Event
Supply Chain and Costs
- Told you about friends with Supply Chain issues ($$$$$)
- Backlogs all over the place
- Boats, Plumbing, tech, appliances
- Now talk about sales - no deliveries for a while, how do salespeople get compensated?
- Cost factors increasing faster than price increases can occur (Still not much discussion from Corps about any margin squeeze)
- HOW FRUSTRATING - Not being able to sell a product that is in demand (Salespeople must be furious)
Container Costs
- If you can get product (IF)
- Containers that were $2,500 to ship --> $20,000 ---> $28,000
- Appliances weeks/months/??
- This is not transitory - Fed is Full of Shit
Tax Hike Plan
- House Democrats are expected to propose sweeping tax increases on U.S. companies, wealthy Americans and investors to help pay for their $3.5 trillion budget bill.
- The plan calls for a corporate tax hike rate to 26.5% from 21% and a 3% surtax on individual income above $5 million
- Top earners in New York City could face a combined city, state and federal income tax rate of 61.2%, according to plans being proposed by Democrats in the House of Representatives.
GDPNow
- Several listeners sent in a story on the Atlanta Fed's GDP Now Forecast
- CLICK HERE FOR CHART
Disney Theater Plans
- Disney will show the remainder of its slate of movies this year exclusively in theaters, rather than making them simultaneously available on its Disney+ streaming service.
- Why would they do this.... Must be something to do with contract disputes with ??
- In New York City, the combined top marginal state and city tax rate is 14.8%. So New York City taxpayers who earn more than $5 million a year would face a combined city, state and federal marginal rate of 61.2% under the House plan.
Deals
- Intuit eyeing deal for email-marketing firm Mailchimp for a reported $12 bln, according to WSJ  
Virtue Signal Much?
- Salesforce told thousands of employees in a Slack message on Friday that if they and their families are concerned about the ability to access reproductive care in the wake of Texas' aggressive anti-abortion law, the company will help them relocate.
- Texas' Senate Bill 8 became law in May and went into effect earlier this month. The law says doctors cannot perform or induce abortions if they have "detected a fetal heartbeat for the unborn child," except in medical emergencies.
- Additionally, ordinary citizens can file lawsuits against those who aid or abet abortions after the detection of a heartbeat.
Facebook Move $$
-Facebook this week announced a $100 million commitment to a program that supports small businesses owned by women and minorities by buying up their outstanding invoices.
- By buying up outstanding invoices, the Facebook Invoice Fast Track program puts money in the hands of small businesses that would have otherwise had to wait weeks if not months to get paid by their customers.
- The program is the latest effort by Facebook to build its relationships and long-term loyalty among small businesses, many of whom rely on the social network to place ads targeted to niche demographics who may be interested in their services.
Facebook Glasses!
- Another move to waste money
- Facebook Inc launched its first smart glasses last Thursday in a step toward its aim of offering true augmented-reality spectacles.
- The glasses, which were created in partnership with Ray-Ban maker EssilorLuxottica, allow wearers to listen to music, take calls or capture photos and short videos and share them across Facebook's services using a companion app. Facebook said the glasses line, called "Ray-Ban Stories," would start at $299.
Natural Gas
- 2005 - $30, today $5
- UNG - up 100% from lows in April (Trading at $18) --- High $2,000 in 2008 (Reverse splits)
Fed Presidents - "Ethical" Dilemma
-  Federal Reserve regional presidents Robert Kaplan and Eric Rosengren said Thursday they will sell individual stock holdings amid ethics concerns regarding trading in 2020.
- "While my personal saving and investment transactions have complied with the Federal Reserve's ethics rules, I have decided to address even the appearance of any conflict of interest by taking the following steps," Rosengren, president of the Boston Fed, said. The two officials also pledged to not trade stocks will serving as Fed presidents.
- A financial disclosure form from Dallas Fed President Kaplan raised eyebrows this week by revealing a number of million-dollar trades in individual stocks last year including Apple, Amazon and Delta Airlines. Kaplan owned a total of 32 individual stock, fund or alternative asset holdings, with 27 of those valued at more than $1 million at the end of 2020, according to the disclosure.
Hard Seltzer Fizzles
- Boston Beer, the parent of alcoholic beverage brands like Samuel Adams and Angry Orchard, pulled its earnings guidance Wednesday amid a big slowdown in sales of Truly, its hard seltzer brand.
- "The Company now expects to incur hard seltzer-related inventory write-offs, shortfall fees payable to third-party brewers and other costs that will be expensed during the remainder of fiscal 2021," the company said in a press release Wednesday.
- CLICK - https://schrts.co/sAyzndQh
Apple Event - SLOW ROLE
- Announcing better processors, harder glass, a few more bells and whistles
- Seems like slow role, incremental updates, nothing revolutionary
- Ho -Hum
Study Says
- 66% of investors have made an impulsive or emotionally charged investing decision they later regretted. This is more common for Gen Zers (85%) and millennials (73%) than Gen Xers (60%) and baby boomers (54%).
- 32% of investors have traded while drunk. This includes 59% of Gen Z investors who have bought or sold an investment while inebriated — more than any other age group.
- 37% of investors have lost sleep worrying about the stock market, and 30% have cried over investing. The top reasons for tears include losing money in the stock market (43%), feeling overwhelmed (36%) and selling too early (34%).
- MaginifyMoney.com
-
Germany - Labeling paid Influencers
- Social media influencers who receive money from companies to promote products must clearly label such posts as advertisements, a top German court ruled on Thursday.
- If the influencers are not paid, they can show products without the advertising label, the Federal Court of Justice ruled in the cases of three influencers on Facebook's social media site Instagram.
Wells Fargo Team In Hot Water
- The Office of the Comptroller of the Currency (OCC), a top U.S. banking regulator, is scheduled to begin a civil trial on Monday for three former Wells Fargo & Co executives over their alleged roles in a scandal involving phony accounts at the San Francisco lender.
- The OCC alleges that Wells Fargo's former risk officer Claudia Russ Anderson, former chief auditor David Julian and former executive audit director Paul McLinko failed to adequately perform their duties and responsibilities, contributing to Wells Fargo's "systemic sales practices misconduct" from 2002 to 2016.
- WHERE IS CEO? That position also oversaw what was happening....
TESLA
- Tesla Chief Executive Elon Musk has asked employees to "go super hardcore" to make up for production challenges early in the third quarter and "ensure a decent Q3 delivery number," according to an internal email seen by Reuters.
- "The end of quarter delivery wave is unusually high this time, as we suffered (like the whole industry) from extremely severe parts shortages earlier this quarter," he said in the email sent on Wednesday.
He said Tesla built "a lot of cars with missing parts that needed to be added later."
Finding a Way
- Tesla opened a sales, service, and delivery center in New Mexico on Native American land, The Santa Fe New Mexican reported last week.
- The move allows it to bypass legislation that bars automakers from selling their vehicles straight to consumers in the state, rather than through third-party dealers, the publication reported. Nambé Pueblo in Santa Fe County isn't subject to the state law.
Tacos As A Service
- Customers with the Taco Lover's Pass can order one crunchy taco, soft taco, spicy potato soft taco or Doritos Locos taco per day for 30 days straight on the chain's app. The cost of the pass ranges from $5 to $10 a month, depending on the location.
Intuit and The Monkey
- Intuit - Buying MailChimp for $12B
- What is the idea here?
---
420 Stocks ...

Stocks to watch: CGC, STZ, TLRY, CRON, MJ, NBEV
---
Love the Show?
Then how about a Donation?
---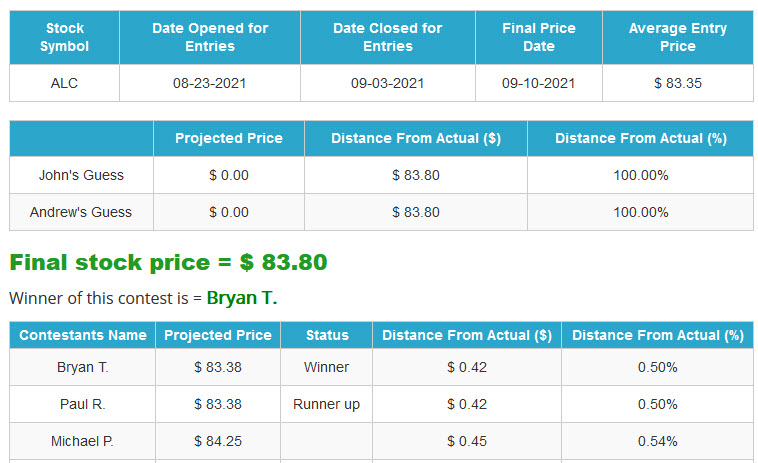 *** NEW INTERACTIVE CHARTS ***
Winners will be getting great stuff like the new DHUnplugged Shirts (Designed by Jimbo) -
PLUS a one-of-a-kind DHUnplugged CTP Winner's certificate..

CLICK HERE FOR MORE CHARTS ON TRADING VIEW
---
UPDATE - NEW ETF - Global X Millennials Thematic ETF Challenge!
The top holdings of Global X Millennials Thematic ETF (MILN) include stocks many investors would expect, such as Facebook, LinkedIn and Amazon, which take advantage of the tech tendencies of millennials. But some names might be more surprising like real estate investment trusts AvalonBay Communities and Equity Residential, and Home Depot, which could benefit from millennials moving out of the home of their parents.
We are creating the DH Old Codger Index Portfolio to compete against this new ETF to see how "old school" stocks do in comparison. Companies in our index will include: (updated names as of 8/29/16)
We have the performance summary running (daily and since inception of 5/6/16) - DHOCI vs. Millennials ETF Battle
---
 Headline Concern
- Chinese #MeToo plaintiff heads back to court for what could be last time
- The plaintiff in a high-profile Chinese #MeToo case headed into a second closed-door hearing in Beijing on Tuesday in what she said could be her last time in court in her lawsuit against a prominent state TV host.

JCD Score ()
---
See this week's stock picks HERE
---
Follow John C. Dvorak on Twitter
Follow Andrew Horowitz on Twitter
---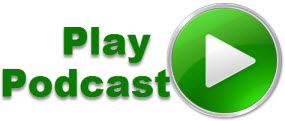 Podcast: Play in new window | Download (Duration: 1:03:03 — 58.0MB)
Subscribe: RSS