Trouble in Turkey, the Lira plunges. Vanguard out cautious on Cryptos, what is up with this?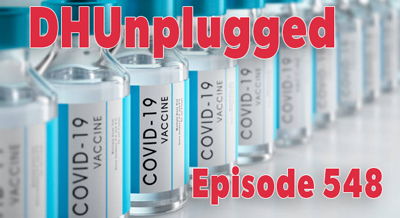 Andrew gets jabbed, flushing out the twisted rationale.
An update on the Ole' Codgers vs. Millennial battle.
PLUS – The base effect related to upcoming inflation data.
Fed Limericks are Back – PLUS we are now on Spotify and Amazon Music/Podcasts!
---
Click HERE for Show Notes and Links
DHUnplugged is now streaming live - with listener chat. Click on link on the right sidebar.
---
Love the Show?
Then how about a Donation?
---
Follow John C. Dvorak on Twitter
Follow Andrew Horowitz on Twitter
FOMC Rate Decision - Flip and Flop
SLR - Supplemental Leverage Ratio ending March 31 - as planned
Base Effect going to provide big inflation potential
Ole' Codgers Reset
Trouble in Turkey
Vanguard out cautious on Cryptos
The #1 Place to be for spring break ?
AH gets Jabbed
Market Update
Rate Stabilization halts NASDAQ sell-off
End of Month/Quarter could show big rebalance to growth and fixed income
Monday M&A - Railroads
Pundits talking again about - "Climbing The Wall Of Worry" (Constant cycling of narratives to fit their view)
Next Wall of Worry? Tax increases?
Intel Looking to spend 10's of Billion on FOUNDRY
Stream and Chatroom
- We don't mention this often enough - Live at 9PM Tuesdays with listener chatroom (dhunplugged.com)
Base Effect
- Inflation on YoY basis going to show big gains against base data
- Feb - April 2020 had massive deflation due to lockdowns
- Next few months will show big gains on prices - is this priced in already?
SLR - Supplemental Leverage Ratio
Important to understand - Lots of listener questions on this:
- From Briefing.com
-- The Federal Reserve announced a short time ago that the temporary change to the supplemental leverage ratio ("SLR") issued on May 15, 2020, will expire as scheduled on March 31. Briefly, the temporary change enabled depository institutions to exclude Treasury holdings when calculating their SLR. The thinking being that it would promote more flexibility to provide credit to households and businesses during the depths of the pandemic.
-- The U.S. economy is no longer in those "depths," so as a practical matter it is understandable that the Fed would let this exemption expire. Banks have reportedly been bracing for this possibility by offloading Treasuries in recent weeks. According to Bloomberg, primary dealers have unloaded $80 billion of Treasury securities in just the last two weeks.
-- That selling has contributed to the uptick in long-term rates, so it is also understandable that there has been some knee-jerk selling interest in the Treasury market following the announcement from the Fed today. The yield on the 10-yr note, which flirted with 1.67% overnight, came up to test 1.72%. As it did, equity futures were rolled back.
Ole'Codgers - Reset to January 20, 2021
List of Ole' Codgers Stocks

Microsoft Rumor
- Looking to buy Discord for $10billion
- Clubhouse envy? Integration with Xbox?
- MSFT expanding gaming footprint
 Turkey - Once Again
- Turkey's lira fell dramatically on Monday morning after President Recep Tayyip Erdogan fired the country's central bank chief — the third to be fired in two years — sending shockwaves through the investor community.
- The currency plunged more than 16% in early morning Asian trading, according to analysts, hitting 8.4 against the dollar compared to a close of 7.21 on Friday.
- Turkey ETF (TUR) - down 18% Monday
Vanguard - Trashing Cryptos
- While Morgan Stanley, Balckrock and others trying to promote - Vanguard out with cautious note
- "The fact that cryptocurrencies are not issued by a central bank is actually the very reason why they can't achieve the quality of other well-accepted currencies," Aliaga-Díaz explained. "The role of a central bank is precisely to preserve the value of the currency by keeping inflation under control. That's why prices are more predictable under Federal Reserve management of the U.S. dollar money supply."
- Link to Vanguard Commentary [LINK]
China Cracking Down on E-Cigs
- The Ministry of Industry and Information Technology (MIIT) and China's State Tobacco Monopoly Administration, posted online the draft regulations that could potentially curb a fast-growing industry.
- Cigarette sales generated 5.45% of China's overall tax revenue in 2018.
- Looks like a money grab
Intel Announcement
- Company announced significant manufacturing expansion plans, starting with an estimated $20 bln investment to build two new factories (or "fabs") in Arizona.
-----These fabs will support the increasing requirements of Intel's current products and customers, as well as provide committed capacity for foundry customers.
-----This build-out represents an investment of approx. $20 bln, which is expected to create over 3,000 permanent high-tech, high-wage jobs; over 3,000 construction jobs; and approx. 15,000 local long-term jobs.
------Intel expects to accelerate capital investments beyond Arizona, and Gelsinger said he plans to announce the next phase of capacity expansions in the US, Europe, and other global locations within the year.
- ALSO: Intel expects Q1 results to be better than prior guidance but guides FY21 EPS below consensus as PC revenue will be tempered by industry-wide component shortages  
AH Gets first Jab Today - Why if Already Had Covid?
JCD - Choose all that are correct about Andrew's rationale:
1) Loves to waste time in lines and visit medical professionals
2) Scared of catching it again
3) More afraid of wife than side effects
4) Gave in to social pressure
5) What can it hurt?
6) Wants to travel and figures that will eventually will need vaccine passport
7) Owns Pfizer and/or Moderna Stock
8) To be a good citizen of the world
9) Setting a good example
10) Proving to sister that there are no trackers put in by Bill Gates
Tesla - New Price Target
- ARK's Cathy Wood has adjusted her price target: $3,000 by 2025
- The price target for Tesla at $1,500 per share on a bear basis by 2025 and $4,000 per share on a bull basis.
- Ark Invest also increased the probability of the electric car maker achieving fully autonomous driving within five years, and said the company's net autonomous ride-hail revenue could be as much as $327 billion by 2025. It expects Tesla's electric vehicle revenue to reach between $234 billion and $367 billion by 2025.
- Stock up 6% (Top holding in ARKK ETF - 10%+)
Biden Nomination
- President Biden nominates big technology company critic Lina Khan as FTC Commissioner 
- Has written papers on anti-trust in tech space and advocate of potential break-ups.
- Negative for tech - but not clear if nomination will get approved
Railroad M&A
- Canadian Pacific Railway Ltd has agreed to buy Kansas City Southern for $25 billion, the Financial Times said on Saturday, citing people with knowledge of the matter.
- Canadian Pacific's cash and stock offer values Kansas City Southern at $275 per share, the report said, a 23% premium over Friday's close.
NFTs Stink?
- A Brooklyn-based film director is simultaneously mocking and attempting to profit off the cryptocurrency craze for non-fungible tokens (NFTs) by selling a year's worth of fart audio clips recorded in quarantine.
- "If people are selling digital art and GIFs, why not sell farts?" Alex Ramírez-Mallis, 36, told The Post of his addition to the blockchain-based NFT market.
Amazon - Gets NFL
- The National Football League (NFL) said on Thursday it reached long-term media deals with Amazon.com Inc and major broadcast and cable companies that run through 2033.
- Amazon.com will become the exclusive partner for the league's "Thursday Night Football" games. The NFL also made deals with Walt Disney Co's ESPN and ABC networks, ViacomCBS Inc, Fox Corp and Comcast Corp.
- When will betting come with streaming alternatives - embed right in the app?
MIAMI - Spring Break
- The place to be it seems
- Law enforcement officers from at least four other agencies, along with SWAT teams, were added to help contain the raucous crowds on Souoth Beach, but it wasn't enough.
- After days of partying, including several confrontations with police, Miami Beach officials enacted a highly unorthodox curfew Saturday from 8 p.m. until 6 a.m., forcing restaurants to stop outdoor seating entirely during the three-day emergency period, and encouraging local businesses to voluntarily shut down.
- Seems like the curfew may be in effect through April 12?
Whiskey - Drink Whiskey
- American whiskey makers have been caught up in the trans-Atlantic trade dispute since mid-2018, when the EU imposed tariffs on American whiskey and other U.S. products in response to Trump's decision to slap tariffs on European steel and aluminum.
- Since then, American whiskey exports to the EU are down by 37%, costing whiskey distillers hundreds of millions in revenue between 2018 and 2020, the council said. American whiskey exports to the UK, the industry's fourth-largest market, have fallen by 53% since 2018
---
420 Stocks ...

Stocks to watch: CGC, STZ, TLRY, CRON, MJ, NBEV
---
Love the Show?
Then how about a Donation?
---

*** NEW INTERACTIVE CHARTS ***
Winners will be getting great stuff like the new DHUnplugged Shirts (Designed by Jimbo) -
PLUS a one-of-a-kind DHUnplugged CTP Winner's certificate..

CLICK HERE FOR MORE CHARTS ON TRADING VIEW
---
UPDATE - NEW ETF - Global X Millennials Thematic ETF Challenge!
The top holdings of Global X Millennials Thematic ETF (MILN) include stocks many investors would expect, such as Facebook, LinkedIn and Amazon, which take advantage of the tech tendencies of millennials. But some names might be more surprising like real estate investment trusts AvalonBay Communities and Equity Residential, and Home Depot, which could benefit from millennials moving out of the home of their parents.
We are creating the DH Old Codger Index Portfolio to compete against this new ETF to see how "old school" stocks do in comparison. Companies in our index will include: (updated names as of 8/29/16)
We have the performance summary running (daily and since inception of 5/6/16) - DHOCI vs. Millennials ETF Battle
---
SNAIL MAIL
- US Postmaster General Louis DeJoy wants higher prices and slower mail at post office in order to prevent losses, according to WSJ
Fed Limericks
Score ()
---
See this week's stock picks HERE
---
Follow John C. Dvorak on Twitter
Follow Andrew Horowitz on Twitter
---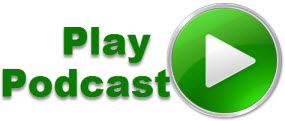 Podcast: Play in new window | Download (Duration: 1:00:29 — 55.7MB)
Subscribe: RSS