Oil collapses in an unprecedented move into negative price territory.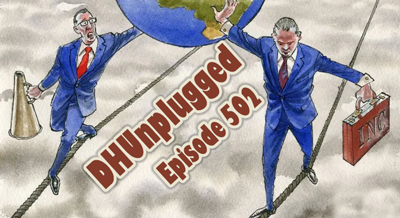 Another round of $300 billion or so for the PPP program.
Market narrative shows a bullish tone now – the bottom is in!
YES – Limericks are Back!
PLUS we are now on Spotify !
---
Click HERE for Show Notes and Links
DHUnplugged is now streaming live - with listener chat. Click on link on the right sidebar.
---
Love the Show?
Then how about a Donation?
---
Follow John C. Dvorak on Twitter
Follow Andrew Horowitz on Twitter
OIL - PLUNGE! May Contract at $11.50 and June at $22 Monday Morning - that's not the whole story...
Treatment and Potential Vaccine News Ruling Market Moves
Economic Reports Rolling in - U G L Y
Earnings Reports also coming in - Banks Get Slammed
Additional Stimulus on the Table
White House - Plan for Opening Up The Economy (3 Phase Recommendation Plan)
(Limericks are Back)
Market Update
10 Million barrel/day cut starts in May. Still 10Million excess due to demand destruction...
--- Massive Contango - Forward month contracts trading at ~22 on expectations that demand to increase over time
- 2 Weeks of upward action for major indices as hope for a cure or treatment starts to hit the wires
- Earnings season - as bad as expected. Massive loan loss provisions for banks hitting their earnings
--- Oil prices will also become a problem as banks hold significant exposure to energy sector debt
- Potential for another round of money for the Payroll Protection Program (~ $350 - $500 BILLION)
- Fed slows down injections to $15 billion per day into Repo markets
OIL!
- Low on the May Contract of $0.01 on Monday - Expiring Tuesday
- CME says it is possible that May WTI crude prices could trade negative
- No one want to take delivery...
- Someone asked us recently if it was possible that crude could go negative and we had no idea - but it didn't seem possible
- UPDATE - LOW on Monday - NEGATIVE $40.00 per barrel on the May contract.
- JUNE contract down 35% today to ~$11. VERY BAD (last was $14 after plunging to $6)
Fed Balance Sheet Assets

PPP Program Update
- MANY small businesses did not get any money in the first round
- Some of the money went to big businesses that had their locations set up as corporations
--- Shake Shack received $10 Million - Now giving money back due to public pressure (7,600 employees)
--- Rumors that other major corporations received money and they were put to the head of the line for the PPP
- What other companies were able to get money even though the program was not designed for them?
- Whitehouse and Congress negotiating to fund program with another $350-$500 Billion - will there be changes?
-- UPDATE - Bill passes the House, waiting on Senate approval and then $310B added to PPP
More PPP
- Wells Fargo & Co., Bank of America Corp., JPMorgan Chase & Co. and US Bancorp were sued by small businesses that accused the lenders of prioritizing large loans distributed as part of the virus rescue package, shutting out the smallest firms that sought money.
- The four banks processed applications for the largest loan amounts because they generated the highest fees, rather than processing them on a first-come-first-served basis as the government promised, according to lawsuits filed Sunday in federal court in Los Angeles.
- Banks earned origination fees of 5% on loans up to $350,000; 3% on loans between $350,000 and $2 million; and 1% on loans between $2 million and $10 million. That means they earned 17,500 for processing a $350,000 loan, compared to $100,000 for a $10 million loan.
Market Narrative (The Bull Case)
- Look through this quarter and possibly next
- Find companies that are will be the post-pandemic winners (new-new normal)
- Invest in the companies with strong balance sheets
- Tech, Healthcare, Staples Winners
- Anything consumer facing, retail and leisure losers
- Re-openings will see a "V" Shape recovery for earnings
- Buy stocks as the excessive stimulus will provide relief and support to markets - Nowhere else to put money
-- Reality - $120-$130 in earnings for 2020. Current P/E is 22 (forward) - price should be more like 2,100 - 2,250 (Stretching this into 2021, assume $150 in earnings = 2,700 target (MAX)
Money for Everyone!
- The U.K. government has announced a £1.25 billion ($1.6 billion) support package to help tech start-ups survive the coronavirus pandemic.
- Start-ups across the country have been crying out for more financial support after rivals in France and Germany were given access to funds of 4 billion euros ($4.4 billion) and 2 billion euros respectively.
New Office Paradigm
- The novel coronavirus may do to U.S. office rentals what e-commerce did to malls, or so goes a line of thinking running through commercial real estate circles.
- If anything, millions more Americans working from home may hasten corporate moves to downsize their offices, a decade-old trend partially responsible for the office sector underperforming other property asset classes in recent years.
- How long will this trend/thinking last?
There will be Bankruptcies
- Gym chain 24 Hour Fitness is working with advisors at investment bank Lazard and law firm Weil, Gotshal & Manges to weigh options including a bankruptcy that could come as soon as the next few months, people familiar with the matter tell CNBC.
- The chain is grappling with a heavy debt load, deteriorating performance and a coronavirus pandemic that forced it to shut its more than 400 clubs. The mid-priced fitness studio is already struggling to compete against premium rivals like Equinox and cheaper competitors like Planet Fitness.
- JC Penny is working on restructuring plans
- Neiman Marcus Group is preparing to seek bankruptcy protection as soon as this week,
JCD - Was This an Accidental Release?
- According to Professor Luc Montagnier, winner of the Nobel Prize for Medicine in 2008 for "discovering" HIV as the cause of the AIDS epidemic together with Françoise Barré-Sinoussi, the SARS-CoV-2 responsible for the Covid-19 pandemic is a virus that was manipulated and accidentally released from a laboratory in Wuhan, China, in the last quarter of 2019.
- According to Professor Montagnier, this laboratory, known for its work on coronaviruses, tried to use one of these viruses as a vector for HIV in the search for an AIDS vaccine
- "It seems totally credible that this virus somehow escaped from the lab and did not come from bats in a wet market"
Gilead Treatment News
- Gilead Sciences Inc's shares surged 16% in after hours trading on Thursday following a media report detailing encouraging partial data from trials of the U.S. company's experimental drug remdesivir in severe COVID-19 patients.
- A University of Chicago hospital participating in a study of the antiviral medication said it is seeing rapid recoveries in fever and respiratory symptoms, with nearly all patients discharged in less than a week
- Gilead, in an emailed statement, said "the totality of the data need to be analyzed in order to draw any conclusions from the trial."
- UChicago Medicine, also in an email, said "partial data from an ongoing clinical trial is by definition incomplete and should never be used to draw conclusions."
CornoaVirus
- Spotty numbers - some good, some bad
- Singapore, once considered doing a great job for taming the virus, reported more than 1,000 cases for a second day and will extend its partial lockdown for four more weeks.
- US cases accelerate
Protests
- Dr. Fauci Tells Protesters No Recovery If Virus Not 'Under Control'
- His comments contrasted with Trump's, who has encouraged the protests.
- Why are protests being allowed in states with lock-downs? What is going on??????
Careful on News from Social Media
- Scams are rampant
- New Pyramid Scheme - Make $800 by sending $100
- Phishing, scamming related to health cures - be careful !
IBM - Buybacks
- Since 2000 - IBM has bought back $140B in shares
- Current market cap = $101 Billion
---
420 Stocks ...

Stocks to watch: CGC, STZ, TLRY, CRON, MJ, NBEV
---
Love the Show?
Then how about a Donation?
---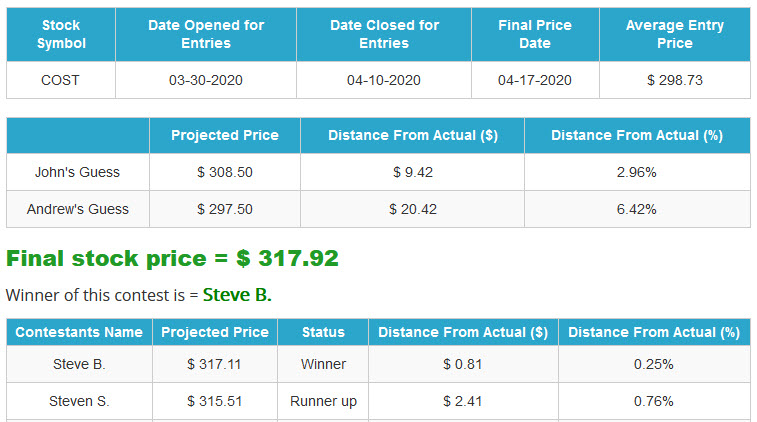 *** NEW INTERACTIVE CHARTS ***
Winners will be getting great stuff like the new DHUnplugged Shirts (Designed by Jimbo) -
PLUS a one-of-a-kind DHUnplugged CTP Winner's certificate..

CLICK HERE FOR MORE CHARTS ON TRADING VIEW
---
UPDATE - NEW ETF - Global X Millennials Thematic ETF Challenge!
The top holdings of Global X Millennials Thematic ETF (MILN) include stocks many investors would expect, such as Facebook, LinkedIn and Amazon, which take advantage of the tech tendencies of millennials. But some names might be more surprising like real estate investment trusts AvalonBay Communities and Equity Residential, and Home Depot, which could benefit from millennials moving out of the home of their parents.
We are creating the DH Old Codger Index Portfolio to compete against this new ETF to see how "old school" stocks do in comparison. Companies in our index will include: (updated names as of 8/29/16)
We have the performance summary running (daily and since inception of 5/6/16) - DHOCI vs. Millennials ETF Battle
---
Did Not Know This
- Spotify has made playlists and a podcast for dogs to listen to in their owners' absence, after finding that nearly 74% of UK pet-owners play music for their animals.
Airline Scrambling
- U.S. airlines have mortgaged gates, flight paths and just about any asset they could find in a hangar to weather the coronavirus crisis.
- Now, they are considering selling miles in bulk to their credit-card partners to raise cash.
They said it won't happen
- Boeing posted a total of 150 MAX cancellations in March, including 75 previously reported from Irish leasing company Avolon.
- New cancellations came from buyers including 34 of 135 aircraft ordered by Brazil's GOL
Immigration
- President Donald Trump said he'll suspend legal immigration for 60 days to help Americans put out of work by the virus.
Fed Limericks
Bob Eddings
A viral pandemic got started
The markets all sputtered and farted
Like a salute to a hero
The Fed Rate might go to zero
In honor of the dearly departed
JCD Score (A-)
Nathan Strumfeld
The markets have taken a beating
And some say that China's been cheating
They downplayed the virus
so it would surprise us
And now they can buy our stocks cheaply
JCD Score (C)
Jennifer Chiang
The reopening of states we must.
Before the economy goes bust.
We'll do everything to try,
Says Trump with a sigh,
For, in us, Americans trust.
JCD Score (A-)
L Bravo
A virus named Covid did visit
Who it was after, wasn't explicit
The pundits did wail;
That the markets would fail,
And the press crys Trump was complicit
JCD Score ()
---
See this week's stock picks HERE
---
Follow John C. Dvorak on Twitter
Follow Andrew Horowitz on Twitter
---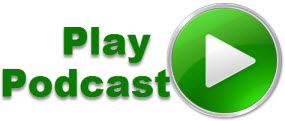 Podcast: Play in new window | Download (Duration: 1:02:02 — 57.1MB)
Subscribe: RSS