We have a trade deal! Markets love it and building on gains.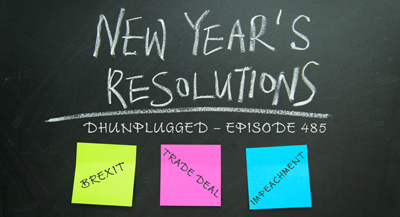 Brexit resolution is at hand. Headwinds resolving.
MOMO is the play as markets move up – chasing performance into the end of the year.
PLUS we are now on Spotify !
---
Click HERE for Show Notes and Links
DHUnplugged is now streaming live - with listener chat. Click on link on the right sidebar.
---
Love the Show?
Then how about a Donation?
---
Follow John C. Dvorak on Twitter
Follow Andrew Horowitz on Twitter
NO SHOW NEXT WEEK - Christmas Eve
NO SHOW WEEK AFTER - NEW YEAR'S EVE

Trade Deal! The Best and Biggest Ever
Trump on the way to a House Impeachment
Headwind Risk Resolving - Just in time for the New Year
Markets in Rally Mode Again - MOMO
Market Update
- Trade Deal News
- New Narrative - Bottoming Process
- New Highs for markets...
- Homebuilder Confidence at 20 year high
- VIX SUB 12! (Nearing low for the year - past occurrences see a quick move higher)
BULLISH
- According to the Bank of America fund manager survey, global growth expectations have shot up 22 percentage points over two months to a net 29% of those surveyed saying the world economy will accelerate next year — the biggest 2-month jump in growth expectations on record.
- Follow or contrarian?
FED
- No Change to rate
- Will keep up asset purchases (NON-QE?) to make sure that the Repo market stays liquified
- Hinted that the Fed may be on hold through the end of 2020
---- Fed often will not change plans during election year
JCD - Brexit Update?
- British Prime Minister Boris Johnson's government said it would conclude a post-Brexit standstill period at the end of next year, with or without a trade deal with the European Union, raising fresh concerns among businesses and hitting the pound.
- Now What?
Amazon Blocks Use of FedEx Ground for Prime Shipments
- Amazon cited a decline in FedEx performance heading into the final holiday push.
- FedEx said a small number of customers are affected by Amazon's decision. (3rd party sellers)
- Is there more to this?
MORE FEDEX
- FedEx misses by $0.27, misses on revs; lowers FY20 EPS below consensus
- Operating results declined due to weak global economic conditions, increased FedEx Ground costs from expanded service offerings, the loss of business from a large customer, a continuing mix shift to lower-yielding services and a more competitive pricing environment.
- Stock Down 7%
- Often viewed as an important name in the global eco story...
Facebook
- The U.S. Federal Trade Commission is considering asking a court to stop Facebook Inc from moving ahead with plans to integrate its WhatsApp, Instagram and Messenger subsidiaries
- The potential regulatory move could be a first step toward forcing the company to sell apps WhatsApp and Instagram, its fast-growing acquisitions.
AWAY - CEO Goes AWAY
- The CEO and co-founder of popular luggage startup Away is resigning just days after her internal Slack messages were made public.
- Steph Korey, who co-founded the suitcase company in 2015, is stepping down from her CEO role and will be replaced by Lululemon Athletica's chief operating officer, Stuart Haselden, the company announced. The former CEO will remain on Away's board and will act as executive chairman of the company.
- Employees quoted in the article accused Korey of creating a toxic work environment where workers were publicly shamed by executives in company Slack channels and customer service representatives were routinely overworked.
- How stupid are people to put anything in the public domain that could be problematic?
Quoted - President Obama
- "Now women, I just want you to know; you are not perfect, but what I can say pretty indisputably is that you're better than us. I'm absolutely confident that for two years if every nation on earth was run by women, you would see a significant improvement across the board on just about everything... living standards and outcomes."
Boeing Update
- Boeing is considering either suspending or cutting back production of the 737 MAX amid growing uncertainty over the troubled plane's return to service and could disclose a decision as soon as Monday.
- This will be another hot to the earnings - backlog is issue and Boeing may also try to renegotiate deals with suppliers.
- Stock up 2% YTD now
Homeless Issue - not going to get any better
- The U.S. Supreme Court on Monday rejected a bid by Boise to overturn a lower court's ruling that prohibited authorities in the Idaho city from prosecuting homeless people for staying outside if a bed at an emergency shelter is not available.
- The justices left in place a ruling by the San Francisco-based 9th U.S. Circuit Court of Appeals that fining or jailing homeless people for sleeping in public or unauthorized places violates the U.S. Constitution's bar on cruel and unusual punishment, a decision the city said threatens public health and safety.
ESG - Short Opportunity
- Tens of trillions of global investment dollars are pouring into companies touting robust environmental, social and governance credentials. Now short-sellers spy an opportunity.
- Hedge funds are looking for companies that have inflated valuations due (partially) to their ESG promises.
- Essentially, companies know that this is a hot topic and doing whatever they can to be on the "nice list"
- Some short-sellers, including Carson Block of Muddy Waters, Josh Strauss of Appleseed Capital and Chad Slater of Morphic Asset Management, argue share prices can be bolstered by corporate misrepresentation about sustainability, or so-called "greenwashing".
Value vs. Growth Update
EV Credits
- Automakers and congressional aides told Reuters they do not expect the U.S. Congress will extend a $7,500 tax credit for electric vehicles in a year-end spending bill expected to be released later on Monday.
- General Motors Co and Tesla Inc  have been pushing for more than a year for the credit to be extended that phases out once an automaker hits 200,000 vehicles sold.
- The tax credit is aimed at defraying the cost of electric vehicles that are more expensive than similarly sized internal combustion engine vehicles.
Trade Deal Update
- U.S. exports to China will double under the so-called Phase One trade deal reached between Washington and Beijing, a top White House adviser said on Monday.
- "They're ... going to double our exports to China," National Economic Council Director Larry Kudlow told Fox News Channel.
- $40 - $50 billion in ag purchases? Over what time frame?
- Still nothing in writing on this and both sides have different views of what the "deal" actual is!
MORE TRADE DEAL - FITCH
- The 'Phase One' deal alone is not likely to eliminate trade-related uncertainty or restore business confidence, given potentially prolonged 'Phase Two' negotiations on structural issues.
- The US-China trade relationship is a major watch item for US corporate credit in 2020, given the size of the Chinese market, intricate global supply chains and implications for world growth.
- Renewed escalation of US-China tensions remains a significant risk.
- Trade tensions and tit-for-tat retaliatory actions have caused uncertainty for US companies, resulting in reduced business confidence, a pullback in investments and in some cases lower profitability.
Purdue - Sackler Family
- A court filing made by the company Monday evening shows Purdue made payments for the benefit of members of the Sackler family who own the company totaling $10.7 billion from 2008 through 2017.
- That includes taxes and other payments. Family members received $4.1 billion in cash over that period
Crude on the move
---
420 Stocks ...

Stocks to watch: CGC, STZ, TLRY, CRON, MJ, NBEV
---
Love the Show?
Then how about a Donation?
---
*** NEW INTERACTIVE CHARTS ***
Winners will be getting great stuff like the new DHUnplugged Shirts (Designed by Jimbo) -
PLUS a one-of-a-kind DHUnplugged CTP Winner's certificate..

CLICK HERE FOR MORE CHARTS ON TRADING VIEW
---
UPDATE - NEW ETF - Global X Millennials Thematic ETF Challenge!
The top holdings of Global X Millennials Thematic ETF (MILN) include stocks many investors would expect, such as Facebook, LinkedIn and Amazon, which take advantage of the tech tendencies of millennials. But some names might be more surprising like real estate investment trusts AvalonBay Communities and Equity Residential, and Home Depot, which could benefit from millennials moving out of the home of their parents.
We are creating the DH Old Codger Index Portfolio to compete against this new ETF to see how "old school" stocks do in comparison. Companies in our index will include: (updated names as of 8/29/16)
We have the performance summary running (daily and since inception of 5/6/16) - DHOCI vs. Millennials ETF Battle
---
China Still Support Lam
- Does not look like protests will end anytime soon.
- Chinese President Xi Jinping offered his support for Hong Kong leader Carrie Lam on Monday, praising her courage in governing the Chinese-ruled financial hub in these "most difficult" times after months of often violent anti-government protests.
France Upping Retirement age
- President Emmanuel Macron's attempt to make France globally competitive means that some people  may have to retire at the age of 63 and four months, not at 62 as they were previously told.
Follow - Up
- Lawyers representing users of the Canadian digital platform QuadrigaCX have asked police to exhume the body of its founder, whose sudden death last year trapped millions of dollars in digital currencies in its accounts, to make sure it's him.
Heist?
- Tamara Ecclestone, the daughter of former Formula One boss Bernie Ecclestone, has had an estimated 50 million pounds ($64 million)-worth of jewelry stolen in an audacious raid from her west London home.
- Who has that much jewelry and who keeps it in their home?
Last Week's BrainTeaser

You leave home and go to your right. You reach a corner and turn left. You reach another corner and turn left again. You reach another corner and turn left again and go home. When you get there, there is a person with a mask there waiting for you. What's happening?
Dvorak Difficulty Score (A)
(ANSWER : You are Playing Baseball)
NEW This week:
N/A
Dvorak Difficulty Score ( )

What would John C. Dvorak have written for PC Magazine?
---
See this week's stock picks HERE
---
Follow John C. Dvorak on Twitter
Follow Andrew Horowitz on Twitter
---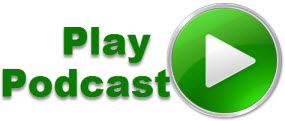 Podcast: Play in new window | Download (Duration: 1:01:38 — 56.7MB)
Subscribe: RSS