Market volatility is back – 400, 500 and 600 point moves are all of a sudden in style.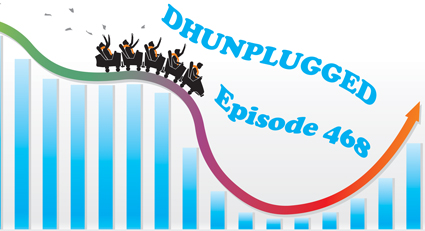 Bond yields plunge and gold prices soar on the heels of massive geopolitical upheaval.
Argentina stock market plunges and President Trump backs off on some tariffs.
PLUS we are now on Spotify !
---
Click HERE for Show Notes and Links
DHUnplugged is now streaming live - with listener chat. Click on link on the right sidebar.
---
Love the Show?
Then how about a Donation?
---
Follow John C. Dvorak on Twitter
Follow Andrew Horowitz on Twitter
Andrew Vacation Indicator Holds
China news - meetings on again
Global PMI's sinking
VIX Jumps (~ 25 last week)
Market Update
Massive volatility - headlines crushing stocks - the roller coaster graphic is back!
Recession indicators are flashing warning
Bond yields plummet (low yields supposed to be good - but....)
Argentina Markets sell of 48% in 1-day!
Tariffs on some tech may be delayed - Market JUMP Tuesday
Inflation Update
- U.S. consumer prices rose at a robust pace in July on the back of higher prices for energy and most other goods and services, a possible sign that inflation is finding its footing after a weak start to the year.
Tariff Update
- The U.S. will delay some tariffs against China until Dec. 15 on items including cellphones and laptops that had been set to take effect Sept. 1.
- President Trump wants to hold off until after holiday shopping season for certain goods (but wasn't China paying anyway?)
List of items and dates:
- https://ustr.gov/sites/default/files/enforcement/301Investigations/List_4A_(Effective_September_1,_2019).pdf
- https://ustr.gov/sites/default/files/enforcement/301Investigations/List_4B_(Effective_December_15,_2019).pdf
Vacation Update
- Unrestrained gluttony - SA food and wine amazing
- 6 vineyards, 2 gin tastings, 2 craft beer tastings, and safari (Pinotage excellent)
- Safari - Big 5 and more.....
- Left just as rioting happening in Capetown - Army called in to Townships

Beyond Meat (BYND) - Secondary at $160
Sneaker Subscriptions
- Nike Inc will launch a new subscription service for kids sneakers this week that seeks to woo parents with an offer of fewer nightmarish trips to the shoe store in exchange for a regular fee and consistent brand loyalty.
- Aimed at the U.S. kids shoe market, estimated at an annual $10 billion, "Adventure Club" builds on Nike's SNKRS app, which notifies shoppers every time it launches a new shoe or has an exclusive sneaker at a nearby store.
TUMBLr
- Verizon Communications Inc said on Monday it would sell its blogging website Tumblr to Automattic Inc, the owner of popular online-publishing tool WordPress.com.
- The company did not disclose the terms of the deal.
Election Rejection
- The surprise outcome in Argentina's primary vote roiled the nation's financial markets, sending the S&P Merval Index plunging 48% in dollar terms.
- That marked the second-biggest one-day rout on any of the 94 stock exchanges tracked by Bloomberg going back to 1950. Sri Lanka's bourse tumbled more than 60% in June 1989 as the nation was engulfed in a civil war.
- ETF Symbol ARGT
Overage
- The new twin Air Force One jets, the total cost is now $1.2 billion more than the original price Trump complained about.
- Trump squawked after his election that the $4 billion price-tag he cited for the Boeing 747s modified for presidential use was "out of control." He tweeted: "Cancel order!"
It Is Happening
- U.S. package delivery company FedEx Corp will terminate its contract at the end of this month for small-package ground deliveries with Amazon.com
- The move comes two months after FedEx decided not to renew its contract with Amazon for U.S. cargo delivery through its plane-based express service.
Pulling the Card
- Washington accused Beijing of manipulating its currency after China let the yuan drop to its lowest point in more than a decade.
- The U.S. Treasury Department announced late on Monday that it had determined for the first time since 1994 that China was manipulating its currency, knocking the U.S. dollar sharply lower and sending gold prices to a six-year high.
Hong Kong Protests
- Airports closed then open (then closed)
- Casinos at risk
- China economy at risk
Global Economy Slowdown Impact
- Luxury home prices across 46 major cities grew at an anemic 1.4% in the second quarter of this year compared to a year ago, according to a quarterly index released Monday from brokerage Knight Frank.
Facebook - Pure Evil
- Bloomberg report that it paid contractors to transcribe user audio; the company has paused that practice
- Facebook confirmed that it had been transcribing users' audio and said it will no longer do so. "We paused human review of audio more than a week ago," the company said Tuesday.
- The company said the users who were affected chose the option in Facebook's Messenger app to have their voice chats transcribed.
- The contractors were checking whether Facebook's artificial intelligence correctly interpreted the messages, which were anonymized.
Research Sours
- JPM and Goldman are wondering how markets will move up from here
- Several research pieces are talking down markets of late - looking for more bad to come
---
420 Stocks ...

Stocks to watch: CGC, STZ, TLRY, CRON, MJ, NBEV
---
Love the Show?
Then how about a Donation?
---

*** NEW INTERACTIVE CHARTS ***
Winners will be getting great stuff like the new DHUnplugged Shirts (Designed by Jimbo) -
PLUS a one-of-a-kind DHUnplugged CTP Winner's certificate..

CLICK HERE FOR MORE CHARTS ON TRADING VIEW
---
UPDATE - NEW ETF - Global X Millennials Thematic ETF Challenge!
The top holdings of Global X Millennials Thematic ETF (MILN) include stocks many investors would expect, such as Facebook, LinkedIn and Amazon, which take advantage of the tech tendencies of millennials. But some names might be more surprising like real estate investment trusts AvalonBay Communities and Equity Residential, and Home Depot, which could benefit from millennials moving out of the home of their parents.
We are creating the DH Old Codger Index Portfolio to compete against this new ETF to see how "old school" stocks do in comparison. Companies in our index will include: (updated names as of 8/29/16)
We have the performance summary running (daily and since inception of 5/6/16) - DHOCI vs. Millennials ETF Battle
---
Scooter Dilemma
- Electric scooter startups have been grappling with an unexpected problem that's been laying waste to the two-wheeled vehicles: Europe's cobbled streets.
Amazon vs. CVS and Walgreens
- PillPack has run into a significant roadblock in getting prescription transfers approved. CVS and Walgreens are rejecting an increasing number of their requests, claiming that PillPack isn't getting proper consent from patients. PillPack says it always gets patient approval before making transfer requests and blames the pharmacy giants for unfairly refusing to honor them, sometimes hanging up on PillPack's pharmacists or throwing the request forms in the trash.
Congrats!
- A Lithuanian couple won the World Wife-Carrying Championship for a second time in a row in the Finnish town of Sonkajarvi on Saturday, triumphing in a contest where men complete an obstacle course with their wives slung over their shoulders.
What would John C. Dvorak have written for PC Magazine?
---
See this week's stock picks HERE
---
Follow John C. Dvorak on Twitter
Follow Andrew Horowitz on Twitter
---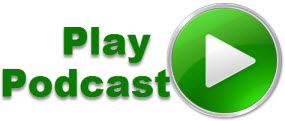 Podcast: Play in new window | Download (Duration: 1:00:27 — 55.6MB)
Subscribe: RSS