Markets now getting hit from the latest anti-trust review of key tech companies.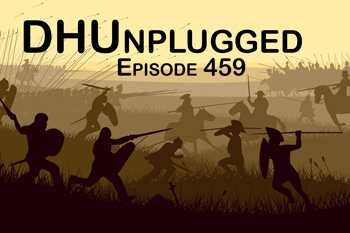 Gold is getting a lift after news that the U.S will impose tariffs on Mexico.
Apple has a new monitor that costs how much?
Rate cuts odds are going up.
Plus, the Closest to the Pin and much more – PLUS we are now on Spotify !
---
Click HERE for Show Notes and Links
DHUnplugged is now streaming live - with listener chat. Click on link on the right sidebar.
---
Love the Show?
Then how about a Donation?
---
Follow John C. Dvorak on Twitter
Follow Andrew Horowitz on Twitter
Tech slammed - Hit from all sides
May Go Away - June Swoon?
The Cher Show
Yields Continue to Collapse
Gold Moving Higher
Market Update
S&P 500 below the 200-day (rally today took it back over)
66%+ change of rate cut by July
Facebook, Google, Amazon SLAMMED - recover somewhat
NASDAQ entered correction and then bounced 3%
MEXICO TARIFFS???
Where to begin?
Mexico Tariffs
- 5% on ALL products coming into the U.S.
- Out of the blue Tweet by Pres. Trump (The Tariff Man) last week
- Using Tariffs as a policy tool now
- Prediction - Tariffs go inforce 6/10/19 if immigration situation not resolved (or something comes out of Mexico to deal with)
- - 6/9 (Sunday night right before futures open) we will see a postponement as "talks are going well"
China Trade
- Speaking at a hastily arranged news conference, Chinese Vice Commerce Minister Wang Shouwen said it was irresponsible of the United States to accused China of backtracking.
- "If the U.S. side wants to use extreme pressure, to escalate the trade friction, to force China to submit and make concessions, this is absolutely impossible," said Wang, who has been part of China's negotiating team.
- Switching into English, he said: "Nothing is agreed until everything is agreed".
YIELDS - Rate Cut Probabilities
- 34% chance that June meeting will see a cut
- 66% that July meeting will see a cut
- 93% chance September will see a cut of at least 0.25 (.50% 4is 2%)
Tech Stocks getting Slammed
- Facebook (FB), Alphabet (GOOG), Amazon (AMZN), and Apple (AAPL) were all singled out in various reports indicating that the companies could face antitrust scrutiny by the Department of Justice and/or Federal Trade Commission.
- FB down 18% from high
- AMZN down 14.5% from high
- Apple down 20% from recent high
- Nasdaq 100 down 11.5% from May high
Gold is moving higher on political headwinds and market mayhem
- Can it break recent downtrend?
Buffett Lunch
- Cryptocurrency pioneer Justin Sun bid a record $4.57 million to have lunch with Warren Buffett, who famously referred to Bitcoin as "probably rat poison squared."
- Sun launched Tronix, also known as Tron or TRX token, in 2017. It's valued at $2.56 billion and is the 10th largest cryptocurrency in the world,
- The 28-year-old Chinese entrepreneur said he hopes to educate the Oracle of Omaha on cryptocurrency and the underlying technology, called blockchain. Buffett said he's looking forward to meeting Sun and his friends.
Apple's New Monitor
It likened the new display to high-end reference monitors in the $40,000 price range, with brightness so "extreme" it had to replace the "H" with an "X" in the product name. (Apple Pro Display XDR)
Specs...
- 31.6 inches diagonal
- 6K resolution (6,016 x 3,384)
- HDR capability
- 1,000 nits brightness (1,600 nits peak)
- 1,000,000:1 contrast ratio
- P3 color gamut capability with 10-bit capability
- Low reflectivity with matte screen finish option
- Thunderbolt connectivity
- Cost ~ $5,000 (stand an additional $1,000)
IPO Earnings This Week
- Beyond Meat Inc. BYND,  Zoom Video Communications Inc. ZM, and PagerDuty Inc. PD,  are all expected to report quarterly earnings Thursday afternoon.
- BYND trading at 27X 2019 estimated sales
Rough Cut
- North Korea executed its nuclear envoy to the United States as part of a purge of officials who steered negotiations for a failed summit between leader Kim Jong Un and U.S. President Donald Trump, a South Korean newspaper said on Friday.
Back again?
- The deadly Ebola outbreak in eastern Congo has surpassed 2,000 cases and is picking up speed.
- The number of confirmed cases reached the milestone three times as quickly as it took to reach 1,000, experts said Tuesday. The outbreak declared in August, the second-deadliest in history, has killed more than 1,300 people in a volatile region where rebel attacks and community resistance have hurt containment efforts.
Social Media Cracking Self-Policing
- In an effort to protect children on its platform, YouTube has updated its security policies and guidelines to forbid "younger minors" from streaming unless they have an adult with them. The safety of children and families on the video platform has long been a concern that's become more talked about recently, and YouTube says the restriction on the service's live features is one of several ways that it's taking precautions for younger audiences and content creators.
Impact of Streaming Games
- Since 2016, Gamestop is down 80%
---
420 Stocks ...

Stocks to watch: CGC, STZ, TLRY, CRON, MJ, NBEV
---
Love the Show?
Then how about a Donation?
---

*** NEW INTERACTIVE CHARTS ***
Winners will be getting great stuff like the new DHUnplugged Shirts (Designed by Jimbo) -
PLUS a one-of-a-kind DHUnplugged CTP Winner's certificate..

CLICK HERE FOR MORE CHARTS ON TRADING VIEW
---
UPDATE - NEW ETF - Global X Millennials Thematic ETF Challenge!
The top holdings of Global X Millennials Thematic ETF (MILN) include stocks many investors would expect, such as Facebook, LinkedIn and Amazon, which take advantage of the tech tendencies of millennials. But some names might be more surprising like real estate investment trusts AvalonBay Communities and Equity Residential, and Home Depot, which could benefit from millennials moving out of the home of their parents.
We are creating the DH Old Codger Index Portfolio to compete against this new ETF to see how "old school" stocks do in comparison. Companies in our index will include: (updated names as of 8/29/16)
We have the performance summary running (daily and since inception of 5/6/16) - DHOCI vs. Millennials ETF Battle
---
Cuban Travel Ban Again
- Norwegian Cruise Line (NCLH -3%), Royal Caribbean (RCL -2%), Carnival (CCL unch) after the U.S. unveils amendments to Cuban Assets Control Regulations, banning educational and recreational travel.
AND...
- Carnival Corp. reached a settlement Monday with federal prosecutors in which the world's largest cruise line agreed to pay a $20 million penalty because its ships continued to pollute the oceans despite a previous criminal conviction aimed at curbing similar conduct.
???
-Sources confirm to The Hollywood Reporter that the former presidential candidate and her daughter are exploring the the idea of launching a film and television production company. The goal, sources say, will be to focus on stories that revolve around women.
Jeopardy!
- James Holzhauer finally loses to 27 year old librarian Emma Boettcher.
- Came about $60k short of beating Ken Jennings record
OOPS
- President Donald Trump on Monday appeared to lightly touch Queen Elizabeth II on the back during the State Banquet as he visited the UK, which is a violation of royal protocol.
- In order to touch the Queen, protocol dictates that she must first offer her hand to you.
- Michell Obama made the same mistake on a visit by hugging the Queen
- Trump brought the whole family to the event
Fun Facts
1. People can suffer from a psychological disorder called Boanthropy that makes them believe they are a cow.
2. Elvis was originally blonde. He started dying his hair black for an edgier look. Sometimes, he would touch it up himself using shoe polish.
3. A red blood cell takes only about 20 seconds to make a complete circuit through your body.
4. If you were to have your picture taken by the very first camera, you'd need to sit still for 8 hours.
5. A snail can sleep for 3 years.
6. The famous Lacoste crocodile symbol was created in 1933, and was the first designer logo ever.
What would John C. Dvorak have written for PC Magazine?
---
See this week's stock picks HERE
---
Follow John C. Dvorak on Twitter
Follow Andrew Horowitz on Twitter
---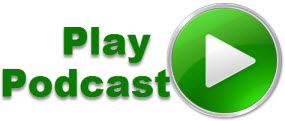 Podcast: Play in new window | Download (Duration: 1:01:40 — 42.6MB)
Subscribe: RSS