After 10 long years, we finally got to meet in personal again. Great time in Austin with some cold beers and soft tacos. JCD found a terrific spot for lunch.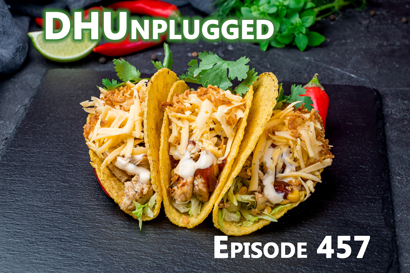 Markets are down for several weeks and now there is more than a simple trade war to worry about. Treasury yields continue to drop as a sign that investors are looking for cover. Plenty of news to cover…
The Closest to the Pin and much more – PLUS we are now on Spotify !
---
Click HERE for Show Notes and Links
DHUnplugged is now streaming live - with listener chat. Click on link on the right sidebar.
---
Love the Show?
Then how about a Donation?
---
Follow John C. Dvorak on Twitter
Follow Andrew Horowitz on Twitter
Decennial meeting completed
JCD the "taco" man
Markets down last 4 weeks
War declared on Tech
We're back from Austin!
Market Update
Tech getting crunched as the executive order from Trump hits semis and others that may be connected with Huawei or face retaliation.
- Trade rhetoric on and off deals are starting to get markets unnerved again
== Many wondering if there is a deal to be had at all with China
Consumer optimism popped back in last report - but that is being outflanked by the worry about tariff-retaliation and new tariffs that may impact retailers.
Treasury Yields continue to fall - flight to safety
Huawei
- Plenty of concern in the tech space after President Trump issues executive order targeting Huawei
- Companies that work with Huawei and now starting to cut ties.... Google latest that will not provide future updates for Huawei phones.
- "The executive order prohibits transactions that involve information and communications technology or services designed, developed, manufactured, or supplied by persons owned by, controlled by, or subject to the jurisdiction or direction of a foreign adversary whenever the secretary of commerce determines that a transaction would pose a threat to national security," the Department of Commerce said in a statement.
- Timeline of news recent flow....
May 8: 5G rollout may face a delay in UK over Huawei investigations.
May 15: Trump effectively bans Huawei with national security order, a day after rumors hinted at it.
May 16: Huawei says US ban will 'significantly harm' American jobs and companies.
May 19: Google reportedly cuts off Huawei phones from future Android updates.
- The Chinese telecom giant may have run into its biggest trouble yet in 2019. Late January saw the US Justice Department unsealed indictments that included 23 counts pertaining to the alleged theft of intellectual property, obstruction of justice and fraud related to its alleged evasion of US sanctions against Iran.
-  The core issue with Huawei has been concerns about its coziness with the Chinese government and fears that its equipment could be used to spy on other countries and companies.
MAY 21: WAIT!!!!!!!!!!!!!!!!!!!!!!!!   U-TURN     Some restrictions walked back for 90-days.
Semiconductors taking a hit - after reaching an all-time high in later April, the semiconductor ETF (SMH) is down 16%+
Chinese stocks also taking a hit - disappointing earnings numbers as well as trade war overhang
- Are there any ones that may hold value?
- JD, BIDU, BABA, WB, TME
----- MENTION - Trading Webinar This Friday with Andrew - CLICK HERE (also on Twitter)
Job Cuts
- Ford is cutting 7,000 white-collar jobs, or about 10% of its salaried staff worldwide, as part of a cost-cutting effort it says will save the company about $600 million a year.
- Ford (F) says workers will begin to be notified of cuts starting Tuesday, and the terminations will be completed by the end of August. About 2,400 of the jobs cuts are in North America, and 1,500 of the positions will be eliminated through a voluntary buyout offer.
- The move is an effort to cut bureaucracy within the company and flatten the management structure in addition to its desire to cut costs, according to a letter CEO Jim Hackett sent to employees Monday morning.
 COOL and Not Cool!
- Nike unveiled a self-lacing basketball sneaker that allows wearers to customize their fit in real time through a phone app.
- Dubbed the Nike Adapt BB, the sneaker automatically resizes once placed on the foot. Once in place, athletes can use buttons on the side of the sneaker or access an app in order to adjust the fit according to their needs.
- Nike tapped Boston Celtics star Jayson Tatum to test the gear before its public unveiling.
- Looks like a re-release??
- ALSO - Nike said it was adding language to future contracts that would protect female athletes' pay during pregnancy after the brand received backlash last week for freezing compensation for some pregnant women under endorsement deals.
- "Moving forward, our contracts for female athletes will include written terms that reinforce our policy. We recognize we can do more and that there is an important opportunity for the sports industry to evolve to support female athletes,"
Mexi-Canada Tarrifs Lifted
- The US has reached a deal with Canada to lift tariffs on steel and aluminum imports in a move that could lead to approval for a new North American trade deal.
- In a joint statement, the US and Canada announced that a 25% tariff on steel imports, and of 10% on aluminum, will end in 48 hours.
- It is widely expected the US and Mexico will make a similar announcement soon.
- The US implemented the tariffs last year on grounds of "national security".
- Under the agreement, there will be no quotas on how much steel or aluminum the three countries buy from overseas.
Every Angle
- Anti-money-laundering specialists at Deutsche Bank recommended in 2016 and 2017 that multiple transactions involving legal entities controlled by Donald J. Trump and his son-in-law, Jared Kushner, be reported to a federal financial-crimes watchdog.
- The transactions, some of which involved Mr. Trump's now-defunct foundation, set off alerts in a computer system designed to detect illicit activity, according to five current and former bank employees.
- Compliance staff members who then reviewed the transactions prepared so-called suspicious activity reports that they believed should be sent to a unit of the Treasury Department that polices financial crimes.
- But executives at Deutsche Bank, which has lent billions of dollars to the Trump and Kushner companies, rejected their employees' advice. The reports were never filed with the government.
Big Box Retail
JC Penny and Kohls posting earnings and outlook - not pretty.
-KSS down 12% on report
-JCP down 11%
HD also reported and during the earnings conference call there was mention that they did not include the impact of the increased tariffs
- Stock was down 3% on that but slowly climbed a bit during the day.
(Big box retail is looking very weak)
- Nordstrom (JWN) misses by $0.20, misses on revs; lowers FY20 below consensus (Shares hit 9-year low after hours)

Tesla Update
- Stock sinks below $200 as several downgrades come in
- Morgan Stanley says that worst case is $10 per share  - because of concerns the electric-car leader has saturated the market. "Demand is at the heart of the problem,"
Drone Spies?
- Chinese-made drones in America may be sending sensitive data to their manufacturers back home where it can be accessed by the government, the United States Department of Homeland Security (DHS) has warned.
- CNN, which obtained the internal alert, reported that the DHS fears drones will offer Chinese intelligence unfettered access to American data
- "The United States government has strong concerns about any technology product that takes American data into the territory of an authoritarian state that permits its intelligence services to have unfettered access to that data or otherwise abuses that access," the alert reportedly says.
UK - report that British Prime Minster Theresa May will offer Parliament vote on second referendum for Brexit
- Theresa May is to set out the details of her "new deal" on Brexit in a speech at 4pm as she paves the way for a last-ditch attempt to take Britain out of the EU before she leaves Downing Street.
- The prime minister's spokesman said cabinet had discussed, "alternative arrangements, workers' rights, environmental protections, and further assurances on protecting the integrity of the UK in the unlikely event that the backstop is required".
Celeb Chef's in Trouble
- Celebrity chef Jamie Oliver's restaurant empire in the United Kingdom is on the brink of collapse.
- The entrepreneur and anti-junk food campaigner said Tuesday that the restaurant business will be placed into administration, or bankruptcy protection.
---
420 Stocks ...

Stocks to watch: CGC, STZ, TLRY, CRON, MJ, NBEV
---
Love the Show?
Then how about a Donation?
---

NEW CONTEST COMING SOON
*** NEW INTERACTIVE CHARTS ***
Winners will be getting great stuff like the new DHUnplugged Shirts (Designed by Jimbo) -
PLUS a one-of-a-kind DHUnplugged CTP Winner's certificate..

CLICK HERE FOR MORE CHARTS ON TRADING VIEW
---
UPDATE - NEW ETF - Global X Millennials Thematic ETF Challenge!
The top holdings of Global X Millennials Thematic ETF (MILN) include stocks many investors would expect, such as Facebook, LinkedIn and Amazon, which take advantage of the tech tendencies of millennials. But some names might be more surprising like real estate investment trusts AvalonBay Communities and Equity Residential, and Home Depot, which could benefit from millennials moving out of the home of their parents.
We are creating the DH Old Codger Index Portfolio to compete against this new ETF to see how "old school" stocks do in comparison. Companies in our index will include: (updated names as of 8/29/16)
We have the performance summary running (daily and since inception of 5/6/16) - DHOCI vs. Millennials ETF Battle
---
Bring Back Limericks?
Assassination Attempt by Milkshake
- Nigel Farage was struck by a milkshake on a visit to Newcastle city centre.
- The Brexit Party leader was visiting the city ahead of the European elections on Thursday.
- He was surrounded by security and activists but was struck by a protester close to Monument.
- Mr Farage was crossing Blackett Street when he was hit by the drink by a male.
Saving the World
- Bangladesh has banned fishing off its coast for 65 days to try and boost depleted fish stocks.
- The government told the BBC that all types of fishing vessels would be covered by the ban and coast guards would enforce it from Monday.
- Thousands of fishermen have planned protests - arguing that they will be left without a source of income.
- The ban - lasting from 20 May until 23 July - is timed to occur with the breeding season.
Nice Offer
- Graduation keynote speaker Robert F. Smith, philanthropist and investor, speaking to the graduating class of Morehouse men of 2019, proudly announced Sunday morning that he was going to eliminate all of their student loan debt.
- "My family is going to create a grant to eliminate your student loans," Smith said to the graduating seniors. "You great Morehouse men are bound only by the limits of your own conviction and creativity."
More on College Admissions Scandal
- William "Rick" Singer, the man at the center of the college admissions scandal designed to help rich kids get ahead by cheating and faking athletic credentials, also advised some applicants to falsely claim they were racial minorities, according to The Wall Street Journal.
- One parent who will be pleading guilty for her role in the scam said her son is incorrectly listed as being black and Hispanic.
- The same parent also paid Singer to arrange for someone to take her son's ACT admissions test. "Singer frequently gave families the option of misrepresenting race and would say that not doing so could put their child at a competitive disadvantage," the Journal reports.
- Singer has agreed to plead guilty to four federal charges brought against him in the scandal.
Fun Facts
1. If you heat up a magnet, it will lose its magnetism.
2. Cruise ships have morgues that can store up to 10 bodies at once. The average amount of people that die on cruise ships per year is 200.
3. During the entire run of Gilligan's Island, it was never revealed if "Gilligan" was his first or last name.
4. If you add up the numbers on a roulette wheel, you will get 666.
5. It takes Uranus 84 years to orbit the Sun once.
6. The collective group of lemurs is called a conspiracy.
What would John C. Dvorak have written for PC Magazine?
---
See this week's stock picks HERE
---
Follow John C. Dvorak on Twitter
Follow Andrew Horowitz on Twitter
---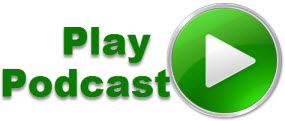 Podcast: Play in new window | Download (Duration: 1:01:35 — 42.6MB)
Subscribe: RSS