A trade deal with China is imminent – or not.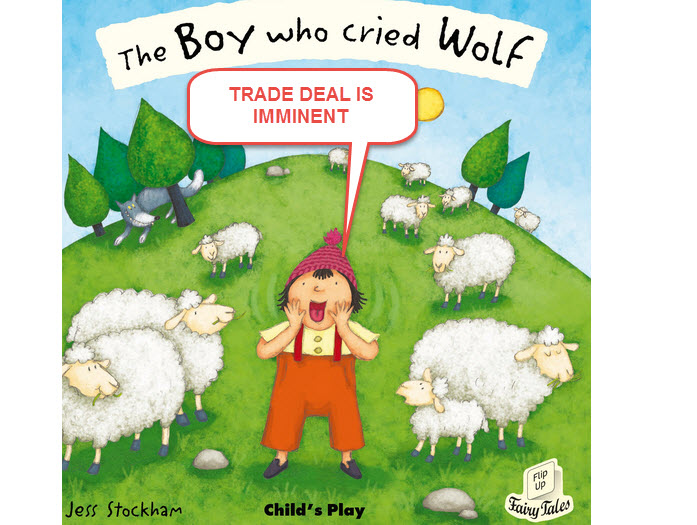 With the market rally coming under scrutiny – how much more upside is there to go?
GDP still in the mid- 2's for the 4th quarter – expectations and views are starting to come in moving forward.
Some interesting charts, a new Closest to the Pin and much more – PLUS we are now on Spotify !
---
Click HERE for Show Notes and Links
DHUnplugged is now streaming live - with listener chat. Click on link on the right sidebar.
---
Love the Show?
Then how about a Donation?
---
Follow John C. Dvorak on Twitter
Follow Andrew Horowitz on Twitter
NO DEAL - North Korea
10 Up Weeks for markets
GDP - 2.6% - many firms looking at 1% for next quarter
Jobs numbers due Friday
Market Update
Once again the White House was trying to be cute and announce advancements in the China Trade talks close to the open of the futures on Sunday night.
-This is starting to seen as folly similar to the Boy Who Cried Wolf.
- Once again futures popped and then dropped as the day went on (Monday)
Overdone?
Looks like markets "may" have gotten ahead of themselves a bit.
- Starting to see a bit of a roll in key trend indicators
- Overbought on many levels - possible consolidation?
- What are the drivers for further gains?
Headline BS
- HEADLINE: Dow transports on the brink of longest losing streak in about 10 years
- The Dow Jones Transportation Average on Tuesday booked its longest stretch of consecutive losses since 2011, and another decline would represent its longest skid in about a decade, according to FactSet data.
- Down 8 days in a row
- Only down 4% (drop in December was 20%)
GDP - Coming in at 2.6%
- Several major firms are downgrading GDP into the next few quarters
Southwest Airline (LUV) announce Hawaiian Route - Smacked Hawaiian Holdings (ugly chart - Symbol HA)
More Tarriffs
- U.S. President Donald Trump looked set to open a new front in his trade wars on Monday with a plan to end preferential trade treatment for India that allows duty-free entry for up to $5.6 billion worth of its exports to the United States.
BONDS - BUYING BONDS
- TrimTabs Investment Research estimates based on the funds it tracks daily that bond mutual funds took in $28.1 billion in February through Tuesday, February 26, putting this month's inflow on track to be the second-highest in any month in the past five years (only the inflow of $47.1 billion in January 2018 was higher).
- The inflows of $42.5 billion in the first two months of 2019 have reversed part of the record quarterly outflow of $111.4 billion in the fourth quarter.
FDA going after e-cig and tobacco sold to under-aged
- Gottieb: First, we sent a letter today to the corporate management of Walgreen Co. to request a meeting to discuss whether there is a corporate-wide issue related to their stores' track record of violating the law by illegally selling tobacco products to kids.
- As we noted last month, in total, the company's stores have racked up almost 1,800 violations across the country.
- They're currently the top violator among pharmacies that sell tobacco products, with 22 percent of the more than 6,350 stores that we inspected having illegally sold tobacco products to minors. Both the rate of violations and sheer volume of violative inspections of Walgreens stores are disturbing, particularly since the company positions itself as a health-and-wellness-minded business.
- This cannot possibly come as a surprise to corporate leadership, which is why I want to sit down with them to discuss the important role they play, as a nationwide retailer, in curbing this epidemic
UPDATE: FDA Commissioner Scott Gottlieb said to be resigning, according to the Washington Post (Biotechs dropped hard on the news) - (XBI) but Cigarette companies moved up.
Bad Drugs
- OxyContin maker Purdue Pharma LP is exploring filing for bankruptcy to address potentially significant liabilities from roughly 2,000 lawsuits alleging the drugmaker contributed to the deadly opioid crisis sweeping the United States.
Good Drugs
- An HIV-positive man in Britain has become the second known adult worldwide to be cleared of the AIDS virus after he received a bone marrow transplant from an HIV-resistant donor.
Tesla - Caught in the Crossfire?
-China's customs authority has suspended customs clearance procedures for Model 3 cars built by Tesla Inc, the financial publication Caixin reported on Tuesday.
- The report said the customs authority in Shanghai had found various irregularities in 1,600 imported Model 3 cars, including the improper labeling of the vehicles.
- China trying to protect NIO (NIO)?
SONIC
- Entire store quits in Circleville, Ohio
- According to The Scioto Post, the workers were angry over their pay being cut from Ohio's minimum wage of $8.55/hour to $4.00/hour plus tips.
- Who tips at Sonic (or other burger places?)
China - Cutting GDP to 6.0% - 6.5% from 6.6%
- Adding massive stimulus measures (tax cuts and more debt)
AND.....Here comes weather excuse:
- Kohl's on conference call says February is off to a slow start, but this is due to weather issues
Scooters
- Electric scooter sharing firm VOI Technology has raised $30 million in another fundraising round since being set up seven months ago for its European expansion and investment in research to fend off growing competition, it said on Monday.
- Uber Technologies Inc, Alphabet and several other high-profile investors are betting scooter-sharing will rise rapidly in Europe thanks to large commuter populations and lower levels of car ownership than in the United States.
MALE POWER
- Google's latest look at its pay parity determined that certain men were getting paid less than women.
- To correct that imbalance, the company announced Monday that it has paid out $9.7 million in salary adjustments to 10,677 employees following its 2018 review.
Looks like every Democrat wants to run for President - Except:
- Former New York City Mayor Michael Bloomberg said he won't run for president, citing the difficulty in winning the Democratic Party's nomination.
---
420 Stocks ...

Stocks to watch: CGC, STZ, TLRY, CRON, MJ, NBEV
---
Love the Show?
Then how about a Donation?
---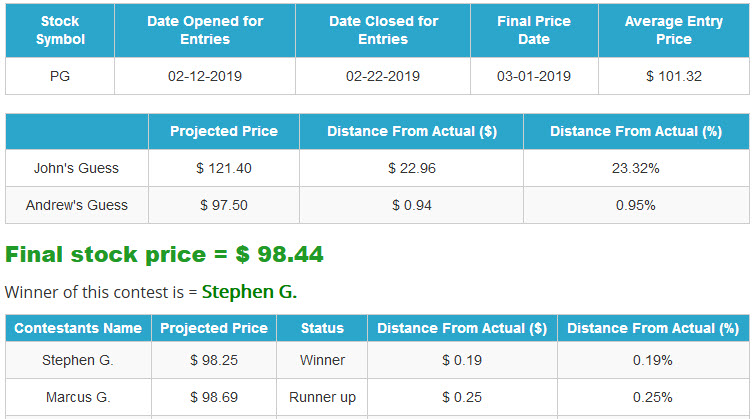 *** NEW INTERACTIVE CHARTS ***
Winners will be getting great stuff like the new DHUnplugged Shirts (Designed by Jimbo) -
PLUS a one-of-a-kind DHUnplugged CTP Winner's certificate..

CLICK HERE FOR MORE CHARTS ON TRADING VIEW
---
UPDATE - NEW ETF - Global X Millennials Thematic ETF Challenge!
The top holdings of Global X Millennials Thematic ETF (MILN) include stocks many investors would expect, such as Facebook, LinkedIn and Amazon, which take advantage of the tech tendencies of millennials. But some names might be more surprising like real estate investment trusts AvalonBay Communities and Equity Residential, and Home Depot, which could benefit from millennials moving out of the home of their parents.
We are creating the DH Old Codger Index Portfolio to compete against this new ETF to see how "old school" stocks do in comparison. Companies in our index will include: (updated names as of 8/29/16)
We have the performance summary running (daily and since inception of 5/6/16) - DHOCI vs. Millennials ETF Battle
---
Taco Sauce Diet Saves a Life
- Gent (mr. Taylor) told investigators his SUV got stuck in the snow in Oregon.
- He then fell asleep and woke up Monday to even more snow, unable to get out of the vehicle.
- He tried to walk out Monday, but the snow was too deep and made it hard to walk so he and his dog returned to vehicle, the sheriff's office said.
- 5 Days and all he had to eat was Taco Sauce
FINED
- A Tennessee homeowner's association (HOA) just tried to fine a couple US$100 for the phallic shape their Honda Insight left in a snowy parking lot after they moved their car.
- The image shows a blob of bare pavement where the car had been parked, and the snow around it—some might say the outline is vaguely penis-shaped.
Stupidity
- Democratic Sen. Brian Schatz of Hawaii is expected to introduce a bill on Wednesday that would tax the sale of stocks, bonds and derivatives at a 0.1 percentage rate.
- A companion House measure is backed by Democratic Rep. Peter DeFazio of Oregon and at least a dozen co-sponsors such as New York Democratic Rep. Alexandria Ocasio-Cortez and California Democratic Rep. Ro Khanna, CNBC also reports.
- The proposal could raise nearly $800 billion for the federal government over the course of a decade, as well as reduce speculation, high frequency trading and market volatility, its proponents argue.
MEGA-MILLIONS
- The winner of the all-time-record $1.5 billion lottery prize came forward in South Carolina nearly five months after the drawing, officials said Monday.
- The lucky man or woman has opted to remain anonymous and take a one-time Mega Millions payment of $877,784,124, according to a statement from the South Carolina Education Lottery Commission.
- The $877 million payout is before taxes, which will be about 7 percent for the state and 24 percent for federal, according to a commission spokeswoman.
What would John C. Dvorak have written for PC Magazine?
---
See this week's stock picks HERE
---
Follow John C. Dvorak on Twitter
Follow Andrew Horowitz on Twitter
---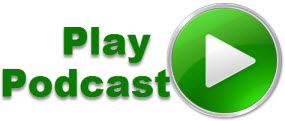 Podcast: Play in new window | Download (Duration: 1:03:33 — 43.9MB)
Subscribe: RSS