Rally Rally – are we getting closer to a deal with China? If so, what will it look like and who will declare victory?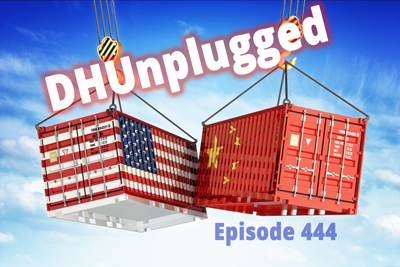 Risk assets are moving higher on the heels of bad news – are we back to this mode again?
Plus -we take a look at the social media environment along with the impact of the 2020 Presidential election on markets.
Some interesting charts, a new Closest to the Pin and much more – PLUS we are now on Spotify !
---
Click HERE for Show Notes and Links
DHUnplugged is now streaming live - with listener chat. Click on link on the right sidebar.
---
Love the Show?
Then how about a Donation?
---
Follow John C. Dvorak on Twitter
Follow Andrew Horowitz on Twitter
Short Week for markets as we Celebrate President's Day
Cryptocurrencies moving again
8 Up Weeks for markets
China currency moving - part of a trade deal?
Show #444 - what does that mean?
MOON!
Market Update
The rally the rally the rally...
Markets continue their winning streak - 8 weeks in a row.
- Recent talk about the potential for China to adopt a "stable Yuan" provision related to a trade deal with the U.S. is having a significant impact on risk assets.
-In particular, as the U.S. Dollar is once again weakening, Gold, Oil and metals are doing very well.
-Copper is hitting 6-month highs as well and this is benefiting equities.
- Gold on the move
-Cryptocurrencies ripping
Are we getting closer to a China deal???????
- Seems as if something will get done - no matter if it is a good deal or not...
92% of the S&P stocks are now above their 50-day Moving average
- At the low in December 1% were above.
Eurozone economy continues to show weakening.
- ECB hinting that they may look to restart the LTRO (QE) bond buying again
- Quick turn as they had been considering a rate hike toward the end of the year.
SURPRISE!
- Citi Research's gauge on U.S. economic data surprises fell 40.7 points this week for its biggest weekly decline since June 2011, as the latest data on retail sales and factory output fell far short of market expectations.
- The Citi barometer, which measures whether U.S. economic data come in weaker or stronger than analysts forecast, is monitored by traders for the U.S. growth trajectory. It stood at -23.6 points on Friday, down from 17.1 points a week earlier.
Watching an old movie this weekend - Erin Brockovich
- Did you remember what company that was involved with the film?
- Up 17% today....
Mean Anything?
- A record number of Americans are 90 days behind on their car payments
- More than 7 million Americans are at least 90 days behind on their auto loans, according to the New York Fed.
- That's higher than the peak in 2010 as the country was still reeling from the devastating financial crisis.
- The "number of distressed borrowers suggests that not all Americans have benefited from the strong labor market and warrants continued monitoring and analysis of this sector," Fed economists say.
Coincidence?
- Bernie Sanders announced his 2020 Presidential bid this morning
- S&P futures fell 10 points at the same time
- Recovered throughout the day - but any coincidence?
How Common Is This?
China's Huawei uses "dubious" tactics to try to reverse engineer technology from Apple and other competitors in the electronics market, a report charged on Monday.
- In November, for example, a Huawei engineer heading up smartwatch development tracked down a supplier that helps build the Apple Watch's heart rate sensor, The Information said. The person arranged a meeting with the claim he could offer a manufacturing contract, but instead probed for details about the Apple Watch, an anonymous executive at the supplier said.
BOOM!
- States are facing a new danger as legal marijuana spreads across the country: Explosions and fires at cannabis factories are sending workers to the hospital with severe burns, revealing the nascent industry's lack of proper safety standards.
- In the 33 states where the drug is legal for medical or recreational use, at least 10 fires or explosions have occurred in the past five years at facilities that extract hash oil used in edible products.
- Nearly all resulted in serious injuries for production-line staff.
Social Media under attack - Investors don't care
- Facebook and other big tech companies should be subject to a compulsory code of ethics to tackle the spread of fake news, the abuse of users' data and the bullying of smaller firms, British lawmakers said on Monday.
- In a damning report that singled out Facebook chief executive Mark Zuckerberg for what it said was a failure of leadership and personal responsibility, the UK parliament's Digital, Culture, Media and Sport Committee said the companies had proved ineffective in stopping harmful content and disinformation on their platforms.
Insider Scam
- The U.S. Securities and Exchange Commission on Wednesday filed a lawsuit accusing a former lawyer at Apple Inc of insider trading ahead of the iPhone maker's quarterly earnings announcements.
- In a complaint filed in New Jersey federal court, the SEC said Gene Levoff exploited his position as a senior lawyer and member of Apple's disclosure committee to conduct illegal trading that resulted in about $382,000 of illegal profits and avoided losses.
Tax Return Bummer
- Americans who are accustomed to receiving an income tax refund tend to file their taxes early — often in late January or early February when all the paperwork becomes available — but this year many early filers are finding to their surprise that they actually owe money to the IRS.
- Tax code changed and lowered withholding requirements and therefore less refund
- Taxes overall may be less, but people surprised who counted on tax return money each year.
Let's look at a horrific stock chart - telecom
Looks Who is Back for More...
- Just Inc., the food startup formerly known as Hampton Creek, is seeking to raise about $200 million in new funding as it tries to move past questions about its sales and product quality, people with knowledge of the matter said.
- The San Francisco-based company, which develops plant-based products like eggless mayonnaise, has been gauging preliminary interest from Chinese investors, according to one of the people.
---
420 Stocks going higher?....

Stocks to watch: CGC, STZ, TLRY, CRON, MJ, NBEV
---
Love the Show?
Then how about a Donation?
---

*** NEW INTERACTIVE CHARTS ***
Winners will be getting great stuff like the new DHUnplugged Shirts (Designed by Jimbo) -
PLUS a one-of-a-kind DHUnplugged CTP Winner's certificate..

CLICK HERE FOR MORE CHARTS ON TRADING VIEW
---
UPDATE - NEW ETF - Global X Millennials Thematic ETF Challenge!
The top holdings of Global X Millennials Thematic ETF (MILN) include stocks many investors would expect, such as Facebook, LinkedIn and Amazon, which take advantage of the tech tendencies of millennials. But some names might be more surprising like real estate investment trusts AvalonBay Communities and Equity Residential, and Home Depot, which could benefit from millennials moving out of the home of their parents.
We are creating the DH Old Codger Index Portfolio to compete against this new ETF to see how "old school" stocks do in comparison. Companies in our index will include: (updated names as of 8/29/16)
We have the performance summary running (daily and since inception of 5/6/16) - DHOCI vs. Millennials ETF Battle
---
Follow up
- Lozenge/Lozenger
- Several emails and plenty of Tweets on this.
Google searches for "best toilet paper in the world" appear to have been manipulated to return images of the Pakistan national flag.
-The results are believed to be the work of protesters acting in response to an attack in Indian-administered Kashmir that left at least 40 soldiers dead.
Will it ever happen?
- A coalition of 16 US states led by California is suing President Donald Trump's administration over his decision to declare an emergency to raise funds for a Mexican border wall.
- Mr Trump made the declaration on Friday to bypass Congress after it refused to approve $5.7bn for the wall.
- The states say they want to block his "misuse of presidential power".
Roger Stone - Not Smart
- Roger Stone may be in deep trouble after posting an ominous Instagram photo of the U.S. District Judge Amy Berman Jackson over the holiday weekend.
- Stone on Monday posted in an Instagram photo of Berman Jackson that appeared to show a crosshairs target in the background.
Unbelievable
- Tourist, employees and children visiting the Grand Canyon National Park's museum collection were unknowingly exposed to radiation.
- For nearly two decades at the Grand Canyon in Arizona, tourists, employees, and children on tours passed by three paint buckets stored in the national park's museum collection building, unaware that they were being exposed to radiation.
- Although federal officials learned last year that the 5-gallon containers were brimming with uranium ore and then removed the radioactive specimens, the park's safety director alleges nothing was done to warn park workers or the public that they might have been exposed to unsafe levels of radiation.
What would John C. Dvorak have written for PC Magazine?
---
See this week's stock picks HERE
---
Follow John C. Dvorak on Twitter
Follow Andrew Horowitz on Twitter
---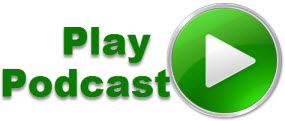 Podcast: Play in new window | Download (Duration: 1:01:55 — 42.8MB)
Subscribe: RSS