No major tweets to sidetrack investors. The Fed is more accommodating and investors like what they see through this earnings season.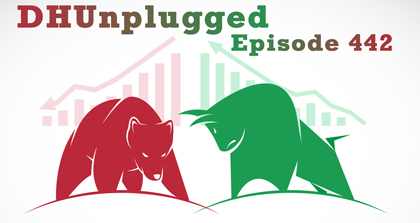 Of course buybacks are starting up again after black-out periods as well – helping to push up markets.
There may be some movement after the State of the Union address with a few specific sectors – we take a look.
---
Click HERE for Show Notes and Links
DHUnplugged is now streaming live - with listener chat. Click on link on the right sidebar.
---
Love the Show?
Then how about a Donation?
---
Follow John C. Dvorak on Twitter
Follow Andrew Horowitz on Twitter
Rally Rolls on...
Latest Employment Report
State of the Union - Happening Now
Buybacks under fire
New Closest to the Pin - new stock idea needed
Market Update
The rally rolls on...
It was a very busy week for earnings - 50% of the DJIA and SP500 reported
- General takeaway is that companies are beating estimates (that have been lowered significantly over the past 90 days)
- Guidance is tepid - nothing to get too excited about
- Investors are pricing in a resolution to the China trade war as China is buying soybeans and other agricultural products
- No major negative Trump Tweets that have roiled markets
- BTD is BACK!!!!!!!!!!!!!!!
- The VIX is back at the 15 level
Fed makes no change to rates and comes out much more dovish
- Latest rate decision meeting was a confirmation of the 180 degree turn from December
- Seems as if patience and flexibility are key words that they are using to keep markets from getting spooked
- Discussion of QT and that we may be close to the end of the program (Still $4T of balance sheet assets)
-- Friday mornings at 9AM - Tradestation invited AH to host the Daily Morning Briefing... Search for Tradestation University - sign up....30 minutes of fast rundown of markets and technical analysis -- REGISTER HERE
Employment report
- 4% unemployment rate
- Total nonfarm payroll employment increased by 304,000 in January, compared with an average monthly gain of 223,000 in 2018. In January, employment grew in several industries, including leisure and hospitality, construction, health care, and transportation and warehousing.
- Estimates were for ~ 170,000
SOTU - news is that there will not be any special order or action by President Trump to build the wall outside of congressional approval.
Drug companies are on watch as there is the real potential that there will be some mention of drug pricing legislation.
REVISIONS!
- The BLS announced that the initial response rate for the Establishment Survey was just 61%, the lowest since 2008.
- The December report also had a low initial response rate and its data was revised down heavily to 222,000 from 312,000.
Equity flows - Trim Tabs _ UPDATE

Retail investors jumped back into the equity markets in January.  TrimTabs Investment Research estimates that all equity mutual funds took in $11.0 billion in January, the most since February 2014.
- The inflow of $3.3 billion into U.S. equity mutual funds was the most since February 2015, while the inflow of $7.8 billion into global equity mutual funds was the most since March 2018.
-The buying in January came just one month after all equity mutual funds lost a record $89.3 billion in December.
Google Earnings
- The company reported fourth-quarter net income of $8.95 billion, or $12.77 a share, compared with losses of $3.02 billion, or $4.35 a share, in the year-ago period.
- Changes to the U.S. tax code resulted in a $9.9 billion expense in the fourth quarter of 2017.
- Revenue rose to $39.28 billion from $32.32 billion in the year-ago period.
- Analysts surveyed by FactSet had estimated earnings of $10.86 a share on revenue of $38.9 billion.
- Stock was down most of the day but managed to climb higher to close in the green
SNAP Earnings
- Average revenue per user increased to $2.09, an improvement of 37 percent year-over-year and 31 percent sequentially.
-- Is this a good thing or because there are less users?
- Stock up big (20%) after hours.
Electronic Arts Earnings
- Electronic Arts Inc. stock plunged toward its worst decline since the dot-com bubble in after-hours trading Tuesday, after the videogame maker missed holiday-season sales estimates and lowered its forecast.
- In a conference call late Tuesday, EA Chief Executive Andrew Wilson said that the company faced "significant challenges" in the fiscal third quarter that would continue through the fourth quarter.
- Stock down 18% after hours
Buyback Trouble?
= Senate Democrats are proposing legislation that would prevent companies from buying back their own shares unless they first pay workers $15 an hour and offer paid time off and health benefits.
- Senate Democratic leader Charles Schumer of New York and Sen. Bernie Sanders of Vermont outlined their plan on Monday in an opinion column submitted to The New York Times.
- The proposed law would slap "preconditions" on a company's ability to buy its own shares.
- "The goal is to curtail the overreliance on buybacks while also incentivizing the productive investment of corporate capital," they wrote.
- Last year, more than $1 trillion in buybacks were announced by large companies after a corporate tax cut
Going Private
- Ultimate Software Group Inc (ULTI) said on Monday it has agreed to be bought by an investor group led by Hellman & Friedman in a deal valued at about $11 billion.
- The $331.50 per share offer is at a premium of 19 percent to the HR software provider's closing share price on Friday.
Bye Bye to The Bond King
- Janus Henderson said on Feb. 4 that veteran bond manager Bill Gross will retire to focus on his personal assets and charitable foundation. He joined the asset manager in late 2014 and will leave on March 1.
- Gross, 74, co-founded Pimco in 1971 and served as managing director and its chief investment officer. At one stage the bond fund he ran had $293 billion under management.
Confidential?
- Business messaging service Slack Technologies Inc said on Monday it had confidentially applied for an initial public offering with the U.S. Securities and Exchange Commission (SEC).
Cold Water
- Several of the big name brokerage are coming out with some worrisome outlook
- Goldman was the latest to say that January rally is about all that we are going to see for the year
- "We argued that a modest bounce at some point early in the year was likely, and if investors missed it there would be a risk of missing the bulk of the returns for the year," wrote analysts at Goldman, including strategists Sharon Bell, and Peter Oppenheimer, in a research report dated Feb. 4.
---
420 Stocks Bad Trip....

Stocks to watch: CGC, STZ, TLRY, CRON, MJ, NBEV
---
Love the Show?
Then how about a Donation?
---

*** NEW INTERACTIVE CHARTS ***
Winners will be getting great stuff like the new DHUnplugged Shirts (Designed by Jimbo) -
PLUS a one-of-a-kind DHUnplugged CTP Winner's certificate..

CLICK HERE FOR MORE CHARTS ON TRADING VIEW
---
UPDATE - NEW ETF - Global X Millennials Thematic ETF Challenge!
The top holdings of Global X Millennials Thematic ETF (MILN) include stocks many investors would expect, such as Facebook, LinkedIn and Amazon, which take advantage of the tech tendencies of millennials. But some names might be more surprising like real estate investment trusts AvalonBay Communities and Equity Residential, and Home Depot, which could benefit from millennials moving out of the home of their parents.
We are creating the DH Old Codger Index Portfolio to compete against this new ETF to see how "old school" stocks do in comparison. Companies in our index will include: (updated names as of 8/29/16)
We have the performance summary running (daily and since inception of 5/6/16) - DHOCI vs. Millennials ETF Battle
---
Drew Ackerman''s Podcast
- Boring podcast that is meant to help people fall asleep
- His podcast features quirky conversation putting people to sleep with an incredibly boring podcast called "Sleep With Me."
- 3 million downloads a month
The Problem with Crypto
- About C$180 million ($137.21 million) in cryptocurrencies have been frozen in the user accounts of Canadian digital platform Quadriga after the founder, the only person with the password to gain access, died suddenly in December.
- Gerald Cotten died aged 30 from complications with Crohn's disease while volunteering at an orphanage in India, according to the Facebook page of Quadriga CX, which announced his death on Jan. 14.
- The platform, which allows the trading of Bitcoin, Litecoin and Ethereum, filed for creditor protection in the Nova Scotia Supreme Court last week.
- Quadriga has 363,000 registered users and owes a total of C$250 million to 115,000 affected users, according to an affidavit filed by Cotten's widow Jennifer Robertson on behalf of the company.
-Robertson said in the affidavit that Cotten's main computer contained a "cold wallet" of cryptocurrencies, which is only accessible physically and not online, and his death left "in excess of C$180 million of coins in cold storage."
Sears
- A U.S. agency that insures worker pensions sought permission on Friday to take over two underfunded Sears Holdings Corp pension plans, after objecting to Sears Chairman Eddie Lampert's proposed $5.2 billion buyout of the bankrupt retailer.
- In a complaint filed in Chicago federal court, the Pension Benefit Guaranty Corp asked to be named trustee of the pension plans, which it said are underfunded by $1.4 billion and cover about 90,000 Sears and Kmart employees and retirees.
Good time to buy a used car?
- Car dealers are beginning 2019 with a heavier inventory of unsold vehicles on their lots, a situation that some analysts say will put pressure on them to cut factory output as U.S. auto sales are expected to cool this year.
- 3.95 million cars on lots - a 3% increase from last year
What would John C. Dvorak have written for PC Magazine?
---
See this week's stock picks HERE
---
Follow John C. Dvorak on Twitter
Follow Andrew Horowitz on Twitter
---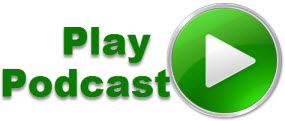 Podcast: Play in new window | Download (Duration: 1:04:21 — 44.5MB)
Subscribe: RSS