Consumer confidence has hit a high not seen since October 2000. With more money in their paychecks from the recent tax cuts, people are back spending again.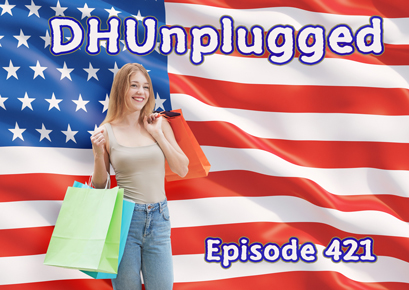 Markets hitting all-time highs as trade tensions dissipate.421
President Trump has some new political headwinds as some close allies have found themselves in hot water.
Plus a new Closest to The Pin for Canopy Growth (CGC)
---
Click HERE for Show Notes and Links
DHUnplugged is now streaming live - with listener chat. Click on link on the right sidebar.
---
Love the Show?
Then how about a Donation?
---
Follow John C. Dvorak on Twitter
Follow Andrew Horowitz on Twitter
LABOR DAY AHEAD - End of the summer. What are the plans for the weekend?
Market Update

General summer doldrums - somewhat slower market volume as vacationing traders get in the last bit of summer.
NEW ALL TIME HIGH for the S&P 500 - the only holdout from the all-time high club is the DJIA
- DJIA is still 2% lower than the peak in January.
August Consumer Confidence 133.4 vs 126.5 consensus; July was 127.4
- The August reading is the highest since October 2000
- The Present Situation Index increased from 166.1 to 172.2.
- The Expectations Index increased from 102.4 to 107.6.
- The percentage of consumers expecting an improvement in their short-term income prospects rose from 20.4% to 25.5%, while the proportion expecting a decrease declined from 9.4% to 7.0%.
Next week (Friday) brings the BIG employment report.
- Last month we saw a unemployment rate of 3.9% with 170k added to the payrolls
USA and Mexico appear to have reached some kind of trade deal.
- Details are not clear and Canada is not part of the pact at this point
- New "name" for the Deal - US Mexico Trade Agreement ?
- - Does this have to be ratified by Congress?
- NAFTA is no longer?
- Will Mexico build a wall?
- Car companies getting a boost on the news (F) (GM)
- Canada seems to be coming to the table this week for talks)
--- -- (Looks like optics and no meat)
China intervenes and helps to support the currency. Also provides some additional support for markets
- Chinese related companies getting a boost
- (BIDU) (BABA) (WB) (HUYA) (BILI) (MOMO) (IQ) (YY)
S&P 500 moving to all time highs - helped in part to Tech - Interesting chart
Tesla news
- Over the weekend - Friday Night ~ 11:30PM ET - Elon Musk Tweets that the company is going to stay public.
- Can it get any weirder?
- Stock is sold off slightly after the news
- Funding NOT SECURED
IPO shelved:
- Saudi Arabia's decision to shelve what was billed as the biggest share sale ever is a major blow to the credibility of Crown Prince Mohammed bin Salman but there are other ways to finance reforms to strengthen the economy, bankers and investors say.
- The initial public offering (IPO) of 5 percent of state-owned oil giant Saudi Aramco was a centerpiece of the crown prince's plan to diversify the kingdom's economy beyond oil by raising $100 billion for investment in other sectors.
More to this story?
- Wells Fargo & Co is laying off more than 600 workers as it grapples with a slowdown in its mortgage business, a bank spokesman said on Friday.
- The fourth-largest U.S. bank has given 60 days notice to 638 mortgage employees across the country, Wells Fargo spokesman Tom Goyda said in an emailed statement, with cuts concentrated in Orlando, Florida; Ranch Cordova, California; Colorado Springs, Colorado, and Charlotte, North Carolina.
- "After carefully evaluating market conditions and consumer needs, we are reducing to better align with current volumes," Goyda said.
It appears that the NOKO talks are off.
- North Korea is already slamming the US over a stall in the talks
- US is accusing North Korea of continuing to build nuclear capable weapons
- What happened? All was supposed to be just fine and settled?
Microsoft investors may see a bigger-than-usual dividend boost next month, according to a new Morgan Stanley report.
- Speculation that the company may be looking to continue the shareholder friendly program (buybacks, divs)
Netflix end-run
- The video streaming service is reportedly developing a system that would direct new users to sign up for subscriptions outside of its apps that run on Apple devices, according to The Wall Street Journal.
- That would allow Netflix to avoid paying commissions that Apple charges on app-related transactions.
Pfizer drug
- The drugmaker announced positive study results for its heart disease drug Tafamidis, with improvements in mortality and hospitalization incidents.
- Who comes up with these names? Do the names mean anything?
President Trump has launched an extraordinary attack on Google search because it makes him look bad. ...
- He suggested that the behavior was illegal and that the situation "will be addressed".
- Only show news that makes me look good....
After nearly a decade of growth, new-vehicle sales in the world's largest auto markets are entering their first sustained slowdown since the financial crisis amid trade frictions.
---
Tilray (TLRY) posted better than expected earnings tonight and the stock is up big in after-hours (taking the whole space higher)
Pot stocks are on a Nug Run. Looks like they are taking a hot leg up.
Investors are going to really happy to get some green out on these deals. Some of the moves are really a gasper. Simply smokin'.
Perhaps it is a good time to get a dab into these plays before they are cashed. Whatever you do, don't be a bogart with these or you may get blazed if they burn out.
Updated - 420 Stock list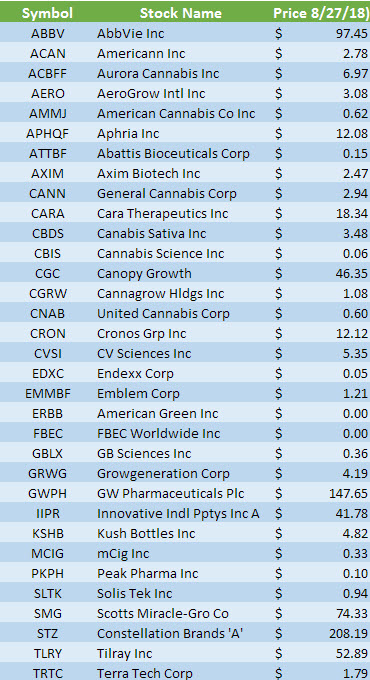 Stocks to watch: CGC, STZ, TLRY, CRON, MJ
---
Love the Show?
Then how about a Donation?
---

*** NEW INTERACTIVE CHARTS ***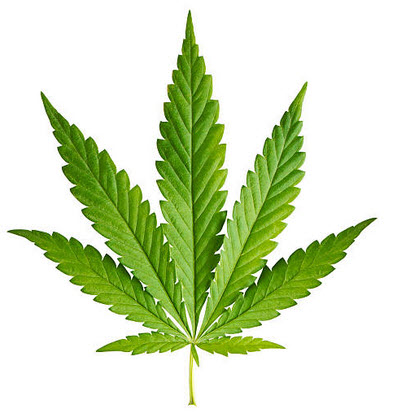 ---
UPDATE - NEW ETF - Global X Millennials Thematic ETF Challenge!
The top holdings of Global X Millennials Thematic ETF (MILN) include stocks many investors would expect, such as Facebook, LinkedIn and Amazon, which take advantage of the tech tendencies of millennials. But some names might be more surprising like real estate investment trusts AvalonBay Communities and Equity Residential, and Home Depot, which could benefit from millennials moving out of the home of their parents.
We are creating the DH Old Codger Index Portfolio to compete against this new ETF to see how "old school" stocks do in comparison. Companies in our index will include: (updated names as of 8/29/16)
We have the performance summary running (daily and since inception of 5/6/16) - DHOCI vs. Millennials ETF Battle
---
Mass Shooting in Jacksonville - Gamers Conference/Competition
Gamestop (GME) seems to be getting sold on this news.
Amazon paying up for positive comments?
- Amazon has launched a new program that encourages some of its fulfillment-center employees to go on Twitter and talk about their experiences working there.
- These employees are called "FC Ambassadors," and spreading the word about working at Amazon is their full-time job, a company spokesperson said.
- Everything the employees say on Twitter is positive, sticking to a few talking points like bathroom breaks and compensation.
- The program is a sign that the company is taking steps to protect its reputation as it gets tarnished by media reports and tweets from high-profile figures like Sen. Bernie Sanders.
Verizon throttled 'unlimited' data of Calif. fire department during Mendocino wildfire
- Fire Chief Bowden said in the declaration, first reported by "Ars Technica," that the Santa Clara County Fire Department had an unlimited data plan with Verizon but internet service slowed to 1/200th normal speed after the SCCFD reached 25 gigabytes of data usage.
- Verizon refused to lift the restrictions on data speeds until the fire department upgraded to a more expensive service plan, Bowden said.
Update on Sex Doll culture:
- A brothel is set to open in Toronto's north end, but the sex workers won't be real women but instead high-tech sex dolls made of silicone.
- Aura Dolls is launching what it claims is the first sex-doll brothel in North America on Sept. 8 in a plaza on Yonge Street near Shepherd Avenue, which also houses a nail salon, a massage parlour and a dry cleaner.
- "We operate similar to a brothel where guests come in, they have their own room," said marketing director Claire Lee. "We have a TV monitor that plays adult entertainment and a doll … will be ready and waiting for you in your room."
- Names, photos and descriptions of the dolls can be found on the company's website along with rates which range from $80 for one doll for 30 minutes to $960 for two dolls for four hours.
A 1962 Ferrari 250 GTO sold for $48.4 million at RM Sotheby's annual Monterey collector car sale
- A world record for any car ever sold at auction.
Shares of Sears Holdings Corp. soared Tuesday, after the struggling department store chain said it expanded its deal with Amazon.com Inc., to provide ship-to-store tire installation and balancing services for those who buy tires on e-commerce giant's site at "hundreds" of additional stores.
What is John C. Dvorak writing for PC Magazine?
---
See this week's stock picks HERE
---
Follow John C. Dvorak on Twitter
Follow Andrew Horowitz on Twitter
---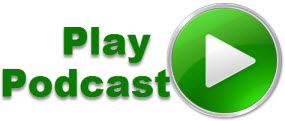 Podcast: Play in new window | Download (Duration: 1:02:11 — 43.0MB)
Subscribe: RSS