Earnings season is on! Already seeing a few names getting love and some getting the boot.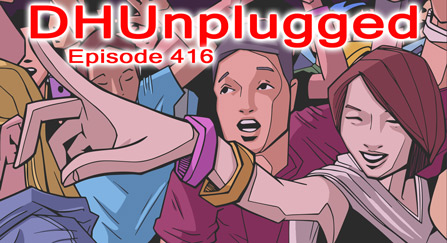 Investors continue to look past all headwinds and buying every chance they get.
Good news is good news and bad news is an opportunity.
The VIX is now near 12 again – more bullish moves to come or is this a sign of complacency?
---
Click HERE for Show Notes and Links
DHUnplugged is now streaming live - with listener chat. Click on link on the right sidebar.
---
Love the Show?
Then how about a Donation?
---
Follow John C. Dvorak on Twitter
Follow Andrew Horowitz on Twitter
John's Twitter hacked?
Market Update

So far, the best month in 2018 since January. Ahead of an onslaught of earnings, investors are willing to continue to look past some of the recent global economic and geopolitical issues and BUY. Financials reported - headlines looked good, but there was a sell the news on the fact that there was a bit of concern about the outlook and potential for further tightening of the yield curve (2/10)
The 2/10 has been talked about quite frequently as an indicator that can "predict" a recession. Looked at when it goes below zero and then a countdown 12-24 months out for potential for recession.
Still seeing Eurozone concerns that are growing. German Confidence waning (-20) and Eurozone starting to role over
U.S. Inflation reports - 2.73% year over year - inflation on wholesale level and consumer level is picking up. PPI is over 3% year-over-year.
U.S. stocks continue to outpace the world indices for 2018. Part due to better economics, higher U.S. dollar and tax cuts.
Retail sales cam in at +0.5% for the month - continuing to see positive trends.
NETFLIX earnings - Stock hit by 13% after hours
- Netflix beats by $0.06, reports rev and subscribers below guidance; guides Q3 EPS, rev and subs below consensus
- Netflix prelim Q2 $0.85 vs $0.79 Capital IQ Consensus Estimate; revs $3.91 bln vs $3.94 bln Capital IQ Consensus Estimate
- Netflix Q2 net subscriber adds 5.15M vs. 6.2M guidance; sees Q3 net sub adds 5M vs. estimates near 5.6M
- For Q3, we forecast global net adds of 5.0m vs. ~5.6M estimates (compared with 5.3m in Q3'17), with 0.65m and 4.35m in the US and international segment, respectively.
- Paid net adds are forecast to be 5.2m, up from 5.0m in Q3'17.
Goldman Sachs earnings
- Goldman Sachs prelim Q2 $5.98 vs $4.65 consensus Estimate; revs $9.4 bln vs $8.74 bln consensus Estimate
- Look at that EPS beat - same thing as always with banks - no way to properly estimate (footnotes and fine print)
Buying Frenzy
There is still a great degree of optimism that can be seen clearly with market open activity. Just look at how markets moved during overnight related to the Netflix disappointment and then what occurred once the bell rang at 9:30am: (update - that moved even higher throughout the morning on as Jerome Powell testified for Congress)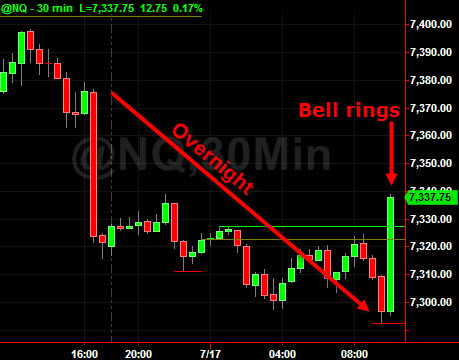 And keeps going...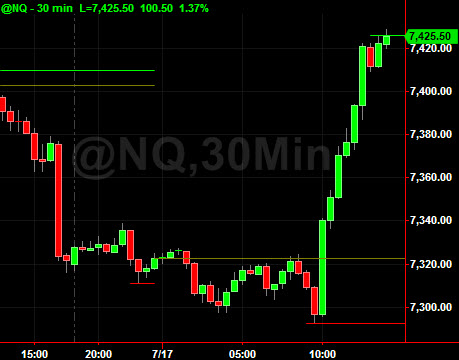 Getting weird(er)
Elon Musk is getting a bit cray. Tweets about Thai rescue and calls one on rescue team a "pedo"
- First - Vern Unsworth – who was on the international team of specialist cave divers at the scene – had told CNN that he thought the mini-submarine the Tesla chief sent to help with the rescue was a useless grab for attention.
- Then Musk Tweet in retaliation:
Last Friday, Amazon announces that they are getting into the Switch business - Cisco others in sector slumps
- A report in The Information said Amazon Web Services (AWS) is considering selling its own networking switches to business customers.
- Such switches are used by businesses to direct traffic around networks. Cisco, and its networking brethren have had years of experience in the market, and in many cases, are entrenched in the backrooms, so to speak, of some of the biggest corporations around.
Speaking of Amazon - what (if anything) is looking like a good deal on Amazon Prime Day?
- GO JEFF!
- The Amazon founder's net worth broke $150 billion on Monday morning.
- Amazon has a bunch of glitches during first few hours of Amazon Prime Day - deals were not able to be displayed and blank pages (maybe server overloads?)
President Trump met with President Putin - anything here?
- Seemed to have a very cordial meeting and follow-up press conference
- This is after calling Europe on of the U.S.'s greatest foe over the weekend
reported higher earnings as U.S. interest rates' upward climb helped the lender's results.
-Results also benefited from the recent corporate tax cut as well as strong trading revenue.
France wins World Cup - then Paris is burning, cars overturned and looting
- What is with the psychology behind this?
Thoughts on Co-Working space?
Since 2015, over a million square feet of co-working space added in Manhattan, per year!
- Manhattan already has 6.6 million square feet (600,000 square meters) dedicated to co-working, across 133 spaces, as of early July. (no including some executive office space)
More on WeWork:
- The startup has told its 6,000 global staff that they will no longer be able to expense meals including meat, and that it won't pay for any red meat, poultry or pork at WeWork events.
- In an email to employees this week outlining the new policy, co-founder Miguel McKelvey said the firm's upcoming internal "Summer Camp" retreat would offer no meat options for attendees.
- "New research indicates that avoiding meat is one of the biggest things an individual can do to reduce their personal environmental impact," said McKelvey in the memo, "even more than switching to a hybrid car."
Price of housing going up? Lumber prices have soared over last 2 years....
Some news on Cryptos - Mastercard is looking to somehow integrate their payment systems with cryptocurrencies - COINS were up nicely on the news - finally!
---
Love the Show?
Then how about a Donation?
---
FED LIMERICKS (July ends this special section of the show)

September and December are the dates
Set by the Fed to increase the rates
If markets do tumble
The Fed will get humble
Changing their direction until selling abates
Andrew Horowitz :
---
*** NEW INTERACTIVE CHARTS ***
Winners will be getting great stuff like the new DHUnplugged Shirts (Designed by Jimbo) - PLUS a one-of-a-kind DHUnplugged CTP Winner's certificate..

CLICK HERE FOR MORE CHARTS ON TRADING VIEW
---
UPDATE - NEW ETF - Global X Millennials Thematic ETF Challenge!
The top holdings of Global X Millennials Thematic ETF (MILN) include stocks many investors would expect, such as Facebook, LinkedIn and Amazon, which take advantage of the tech tendencies of millennials. But some names might be more surprising like real estate investment trusts AvalonBay Communities and Equity Residential, and Home Depot, which could benefit from millennials moving out of the home of their parents.
We are creating the DH Old Codger Index Portfolio to compete against this new ETF to see how "old school" stocks do in comparison. Companies in our index will include: (updated names as of 8/29/16)
We have the performance summary running (daily and since inception of 5/6/16) - DHOCI vs. Millennials ETF Battle
---
The Bank of Japan now owns nearly 80% of the country's ETFs and the BOJ a top 10 shareholder in nearly 40% of listed companies.
- How much more can they buy?
Ivanka Trump products getting the cold shoulder
- Canada's Hudson's Bay Co. pulled all Ivanka Trump products from its website. And it says it will stop selling her products in its 90 bricks-and-mortar stores across the country.
- (Hudson's Bay also owns Saks Fifth Avenue, which also offers no Ivanka Trump merchandise online, and Lord & Taylor, which does.
-Several major outlets, including Nordstrom, Neiman Marcus and Marshalls, have scaled their Ivanka Trump offerings way back.
In Congressional testimony today - Federal Reserve Chairman Jerome Powell said the central bank will continue to gradually raise interest rates "for now'' to keep inflation near target amid a strong U.S. labor market.
- Said that current quarter growth looks to be substantially higher than last quarter.
The corporate owners of the Mandalay Bay casino filed suit against the victims of last year's Las Vegas concert mass shooting, claiming it has no liability for the massacre, according to a published report on Monday.
- MGM Resorts International went to federal courts in Nevada and California and took on more than 1,000 shooting victims, saying claims against the hotel giant "must be dismissed."
-Las Vegas lawyer Robert Eglet, who is representing several victims, told the paper that the hotel's unusual action is a pre-emptive strike to get the cases heard in federal court instead of state court. Englet said MGM must believe it has better chances of victory in a federal case.
In the Barron's mid-year round-table, Jeff Gundlach makes the case that we are getting closer to a recession.
- Also was a buyer of Brazil 25% higher in beginning of the year round-table
What is John C. Dvorak writing for PC Magazine?
---
See this week's stock picks HERE
---
Follow John C. Dvorak on Twitter
Follow Andrew Horowitz on Twitter
---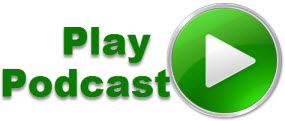 Podcast: Play in new window | Download (Duration: 1:00:52 — 42.1MB)
Subscribe: RSS