There is plenty of news that will shape markets this week. From the Fed rate setting meeting on Wednesday to the Singapore Summit.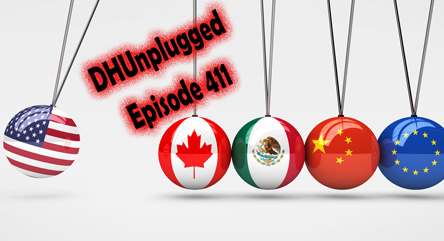 Economic News will be flowing as well as we get a look into inflation numbers for the month and an advanced reading on consumer confidence for June.
PLUS – new Fed Limericks and a look at at The Closest to The Pin for America Tower (AMT).
---
Click HERE for Show Notes and Links
DHUnplugged is now streaming live - with listener chat. Click on link on the right sidebar.
---
Love the Show?
Then how about a Donation?
---
Follow John C. Dvorak on Twitter
Follow Andrew Horowitz on Twitter
BIG Party at the Horowitz Tiki last weekend! Crawfish boil and BBQ...
- 80 lbs shipped in from Louisiana
- 5 Hour smoked ribs and Smoke Pulled Chicken sandwiches.
Market Update

Markets managed to pull off a gain in a see-saw week ahead of the G7 meeting and the North Korea talks. Tech was a bit weaker after hitting an all-time high as some concerns breing about Apple slowing down orders from suppliers. NOKO summit appeared to go well - but not much in detail about any deals or promises.
Important week for economics. Plenty of information to be gleaned ...
Today: Consumer prices up 0.2% (as expected)
Wednesday: PPI (producer Price Index) Expectations +0.2% (6 - year high!)
Thursday: Import and Export Prices, Retail Sales and Business Inventories
Friday: Industrial Production, Capacity Utilization and June UMich Consumer Confidence.
Wednesday the Fed is expected to raise rates again by 0.25%. This is having some negative repercussions on the emerging markets as funds are getting tighter. There have been several EM countries begging the Fed to stop with normalization of rates.
- "Contagion" is staring to creep into news stories as are threat in emerging-market assets has sparked concerns that the turbulence could spread from distant corners of the world to the U.S. and elsewhere, fueling a cycle of accelerating risk aversion.
U-TURN and Trade Tensions
The United States and Canada swung sharply toward a diplomatic and trade crisis on Sunday as top White House advisers lashed out at Canadian Prime Minister Justin Trudeau a day after U.S. President Trump called him "very dishonest and weak."
- Germany and France, sharply criticized Trump's decision to abruptly withdraw his support for a Group of Seven communique hammered out at a Canadian summit on Saturday, accusing him of destroying trust and acting inconsistently.
- On the Sunday news shows some sharp words flew from White House advisors:
-- "(Trudeau) really kind of stabbed us in the back," Kudlow, the director of the National Economic Council who had accompanied Trump to the summit of wealthy nations on Saturday, said on CNN's "State of the Union."
-- Navarro told "Fox News Sunday": "There is a special place in hell for any leader that engages in bad faith diplomacy with President Donald J. Trump and then tries to stab him in the back on the way out the door and that's what bad-faith Justin Trudeau did with that stunt press conference, that's what weak dishonest Justin Trudeau did."
- *Note that Navarro is also using negative descriptive in front of names - is this a thing?
- Update - Larry Kudlow had a heart attack Monday night.
- Dennis Rodman on CNN - crying hysterically during interview that he was the only one who believed in the North Korea possibility and he received death threats for those beliefs.
Heating up
Chinese President Xi Jinping, whose country is locked in a high-stakes trade dispute with the United States, on Sunday said China rejects "selfish, shortsighted" trade policies, and called for building an open global economy.Although he topped short of mentioning any country in particular.
CryptoCurrencies get smacked on Sunday after a news item hit the tape that a hack occurred on South Korea exchange Coinrail  aid there was a "cyber intrusion" in its system. AND still dropping....
Elon Musk maintains his roles at the company, even though there was a proxy battle to separate him from the Charmian role.
- Tesla CEO says that the company will be able to meet the 5,000 Model 3 production quota by June.
- Current production is maxed out at 500 cars per day (3,500 per month).
- Says additional manufacturing facilities need to come on line and he is confident that they will.
- Stock continues to defy gravity
- Announced layoffs of 9,000 employees today (wanting to have a positive cash flow for next quarter's earnings report?)
Drivers across Bosnia blocked roads on Sunday in protest against rising fuel prices, warning of knock-on increases in prices for food and other goods, state television reported.
The one-hour blockade in the cities of Sarajevo, Banja Luka, Tuzla and Zenica, as well as a main regional road, had been organized on social networks, echoing similar action in neighboring Serbia in the past few days.
-" Social Media organized"
Starbucks - Howard Schultz is stepping down
- Some talk about him entering politics
JUST IN: Judge rules in favor of AT&T (T), allowing it to acquire Time Warner (TWX)
- Some stocks that were getting hit on concerns are moving up (Express Scripts (Cigna merger), Sprint/T-Mobile)
Truckers bringing down Brazil's economy
The flow of vehicles on toll roads granted to the private sector in Brazil fell 13.4% in May 2018, compared to a year earlier, affected by the blockade of truck drivers throughout the country.
- Data compiled during period when Truckers were striking due to high fuel costs.
- Last week Brazil's Central Bank tried to stabilize the Real (currency) but could not get the job done - markets fell hard before stabilizing a bit on Friday.
--- For years, Brazil's state-controlled oil company Petrobras kept fuel artificially cheap. But last July, in an attempt to keep up with rising international oil prices and a weakening local currency, Petrobras decided to follow global prices. The decision allowed the company to turn a profit for the first time in years. But almost daily price adjustments have been tough on truckers, many of whom work independently and cannot raise their rates mid-route.
Even as some concession were made, during the strike several McDonald's restaurants ran out of hamburger buns and chickens ran out of feed and started eating each other.
Fuel ran out at the airport of the nation's capital, Brasilia, while politicians scrambled to get on the limited available flights.
- International commodities markets were stunned  as Brazil, a leading exporter of sugar, coffee, meat and soybeans, could no longer guarantee shipments.
- Brazil is particularly susceptible to transportation strikes - Trucks transport an estimated 64 percent of the country's goods.
---
Love the Show?
Then how about a Donation?
---
FED LIMERICKS
The fed is the domain of Powell
Who causes the markets to howl
With interest the tool and pundits to fool
Rising inflation irritates his bowel
Chris Beggio : B-
For he is a jolly good fellow
Hoping interest rates will start to mellow
But as bonds takes a hit
The Fed takes a Shit
And their undies are soaked through in yellow
Andrew Horowitz : A
It's what I have always been fearing
My savings just keep disappearing
Not a bug, but a feature
The size of this creature
My anger burns red and searing.
Chris McCoy: C+
The US federal Reserve
Takes credit it doesn't deserve
with quantitative easing
and rate hike teasing
They're like a drunk who's refusing to swerve
Simon Davies: W
---
*** NEW INTERACTIVE CHARTS ***
Winners will be getting great stuff like the new DHUnplugged Shirts (Designed by Jimbo) - PLUS a one-of-a-kind DHUnplugged CTP Winner's certificate..

CLICK HERE FOR MORE CHARTS ON TRADING VIEW
---
UPDATE - NEW ETF - Global X Millennials Thematic ETF Challenge!
The top holdings of Global X Millennials Thematic ETF (MILN) include stocks many investors would expect, such as Facebook, LinkedIn and Amazon, which take advantage of the tech tendencies of millennials. But some names might be more surprising like real estate investment trusts AvalonBay Communities and Equity Residential, and Home Depot, which could benefit from millennials moving out of the home of their parents.
We are creating the DH Old Codger Index Portfolio to compete against this new ETF to see how "old school" stocks do in comparison. Companies in our index will include: (updated names as of 8/29/16)
We have the performance summary running (daily and since inception of 5/6/16) - DHOCI vs. Millennials ETF Battle
---
Will Apple be the first U.S. company to reach that magical $1 trillion market cap level?
- Closed the week at $944 billion
A sad goodbye to Anthony Bourdain. Very tragic and a loss for all.
- Some very concerning info - When people in the public eye take their own life, previous research suggests it can lead to more people to do the same.
- A study released in February by researchers at Columbia University said there were 18,690 suicides in the four months after the death of Robin Williams in August 2014, suggesting an excess of 1,841 cases — nearly a 10% increase, based on previous monthly suicide data from 1999 to 2015.
- "One of the tragedies of suicide is that in addition to the loss of life there is always the possibility of 'contagion,'" says Christine Ma-Kellams, an assistant professor of psychology at the University of La Verne in California, who has also researched suicide rates after high-profile suicides.
- "My past research in the wake of Robin Williams' death found that suicide contagion was especially likely among those experiencing depressed affect because celebrity suicides in particular seem to change perceptions about the acceptability/normality of taking one's own life," she said.
- Last week, the call volume of the Suicide Hotline jumped 25%
Those California Fires...
- Twelve Northern California fires that killed 18 people and burned through more than 174,000 acres in October were caused by power lines or other equipment owned by PG&E Corp. according to fire investigators.
- The California Department of Forestry and Fire Protection referred eight of the 12 fires to local district attorneys for possible legal action.
-Investigations continue into the causes of the other fires, including the Tubbs Fire, the deadliest of the fires that killed 22 people and destroyed more than 5,000 structures.
What is John C. Dvorak writing for PC Magazine?
---
See this week's stock picks HERE
---
Follow John C. Dvorak on Twitter
Follow Andrew Horowitz on Twitter
---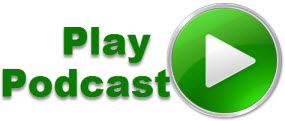 Podcast: Play in new window | Download (Duration: 1:04:37 — 44.6MB)
Subscribe: RSS