Now back, John C. Dvorak will provide some insight on his mysterious disappearance. Earnings season is in overdrive as the 10-Year treasury blows past the psychological 3% level.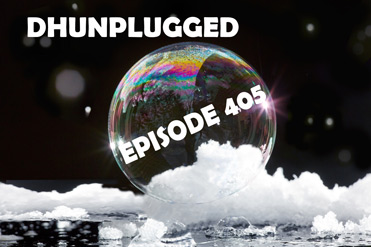 Is the bond bubble finally bursting?
Plus, we announce the winner of the Closest to The Pin for Home Depot (HD) and cover all the important biz and financial news.
---
Click HERE for Show Notes and Links
DHUnplugged is now streaming live - with listener chat. Click on link on the right sidebar.
---
Love the Show?
Then how about a Donation?
---
Follow John C. Dvorak on Twitter
Follow Andrew Horowitz on Twitter
Start with a lesson on some Internet code:
- The HTTP 404, 404 Not Found and 404 (pronounced "four oh four") error message is a Hypertext Transfer Protocol (HTTP) standard response code, in computer network communications, to indicate that the client was able to communicate with a given server, but the server could not find what was requested.
- Some listeners are suggesting that your mysterious disappearance last week was a hoax since it was Episode 404
Last week we discussed the Netflix blowout earnings, bank earnings as well as so many half-truths that are being spread as gospel (Example is the blackout periods for companies buying back stock)
Market Update

Last week ended on a down note - major indices were mixed after trying for a follow through of the rally from the week before. Plenty of the usual reasons for the volatility - but the big one was that bond yields are moving up rapidly. The 10-year closed Friday a the highest level since 2014. Closing in on 3%.
Buyers are still pretty bullish even though markets have been having a tough time coming out of this consolidation. Dip buying continues until it doesn't. Today was a good example of that.
markets started up higher on news of decent earnings and then rolled over hard.
Mid-day (did not help sentiment):
- President Trump says if Iran threatens The U.S. they will 'pay a price like few countries have ever paid'
Big week for earnings - the major tech names will be reporting (Facebook, Google, Microsoft)
RATE NEWS
10-Year Treasury hits 3% this morning - then backs off. Key psychological resistance level. Is the bond bubble finally bursting?
Google Earnings:
- Alphabet prelim Q1 GAAP EPS $13.33 vs $9.28 Capital IQ Consensus Estimate; revs $31.15 bln vs $30.28 bln Capital IQ Consensus Estimate
- Reports Q1 (Mar) earnings of $9.93 per share*, excluding $3.40 net in non-recurring items, $0.65 better than the Capital IQ Consensus of $9.28; revenues rose 25.8% year/year to $31.15 bln vs the $30.28 bln Capital IQ Consensus.
- Ad rev +24%, (Traffic Acquisition Cost) TAC +36% to $6.3 bln; paid clicks +59%, cost-per-click -19%
- However, when stripping out one time change in how they value investments and realization that costs are climbing significantly - not  so good
Caterpillar beat handily and raised its outlook. Stock up on news...
- Check that - conference call company says that Q1 will be high watermark for the year and that margins will compress (impact of tariffs?)
- Stock down 4% after being up 5% - rolls market
23% of the DJIA companies reported today.
- Travelers missed and stock was down
- 3M beat but guided lower for FY 18
- Coca-Cola beat handily
- Verizon met estimates for EPS, beats on revenues and reaffirms revenue projections
Apple was also a big drag on markets with a few downgrades and a couple of firms slashing iPhone sales estimates.
- Morgan Stanley's Katy Huberty slashed her iPhone shipment projections for the quarter ending in June on Friday, citing weakness in China.
- Canaccord Genuity's Michael Walkley also cut his iPhone sales forecasts and cut his earnings estimates for Apple as well.

Sohn conference was news this week. Many big name managers are there with their best pitch for long and short stock ideas.
- Used to have more impact on stocks - when name mentioned, stock would move - not so much anymore.
Big story - Bitcoin and other coins have been rallying.
-Bitcoin Cash in major rally mode...
- Tax selling over? Big names pumping? FOMO?
Oil has also been on the rise. Recenlty hitting the highest level in years.
- Now all of a sudden there are stories of oil pipeline attacks (Colombia, Libya)
- Colombia's southern Transandino pipeline was halted after a bomb attack by an illegal armed group spilled crude oil into a river, state-run oil company Ecopetrol said on Sunday.
- Seems fishy - is someone paying to have these attacked to try to keep prices up?
Wine getting some serious bids...
- Recent auction:
- A three-bottle lot of Romanee-Conti 2012 Domaine de la Romanee-Conti and a magnum of Henri Jayer 1990 Vosne-Romanee, Cros Parantoux each fetched $45,510 at a Hart Davis Hart Wine Co. Burgundy sale in Chicago that totaled over $7 million, its largest ever auction from the region.
- Three-bottle lots of Romanee-Conti from the 2006, 2007, 2011 and 2014 vintages each sold for $41,825 while a six-liter Methuselah of La Tache 1983 DRC sold for $31,070, according to an email from the auction house.
- Top lots also included a 12-bottle lot of Richebourg 1996 DRC and a six-magnum lot of Romanee-Saint-Vivant 2005 Dujac Fils et Pere, which each fetched $28,680.
Last week a story made the rounds about the level of male testosterone and trading [LINK] - According to new research, the higher a trader's morning testosterone level, the more money he'll likely have made before the close of business.
- In the study, published Monday in the latest issue of the Proceedings of the National Academy of Sciences, a U.S. scientific journal, 17 London traders, aged 18 to 38, donated saliva samples over an eight-day period. Each time they did — once at 11 am, and again at 4 pm, book-ending the bulk of each day's transactions — the traders, dealing mostly in futures, recorded their current profit-and-loss standing.
IMPRESSIVE - Amazon Inc said on Wednesday it now has more than 100 million Amazon Prime members globally.
- Bezos annual shareholder letter was also impressive - a must read. [LINK]
Facebook earnings on tap this week (Wednesday)
- Sheryl Sandberg says "a few" Facebook advertisers have paused spending. Facebook's Chief Operating Officer told Bloomberg that some advertisers were waiting for the company to answer questions on user privacy before they resume spending, and that Facebook is drawing stricter boundaries around its work with certain advertisers and political campaigns.
Back to tariffs... Fed Beige Book:
- The U.S. economy may still be expanding at the now-familiar "modest to moderate pace," but a new theme pervaded the Federal Reserve's latest Beige Book report: tariffs and the threat of a trade war. The word "tariff" appeared 36 times in the report compared with zero references in the prior survey.
Walking back sanctions on Russia already it seems. Lots of chest pounding going on with limited throughout.
- Alcoa gets hit by 12% on the news.
- Also related to tariffs - nothing new to report on China sanctions aside from China making a bit easier to bring in American cars to country.
More retailers tossing in the towel: The Kardashians announced they're pulling the plug on their fashion boutique chain, Dash.
The Amazon Key In-Car program is available to Prime members where Amazon Key delivery is available, currently 37 metro areas across the United States. It works with same-day, two-day and standard shipping. You don't have to be signed up for the door program to use the car delivery program. There's no installation cost, unlike the Amazon Key home smart lock and camera necessary for in-home delivery, which costs $220.
- In-car delivery is restricted to a handful of car brands: compatible 2015 or newer Chevrolet, Buick, GMC or Cadillac vehicles with an active OnStar account, or a 2015 Volvo vehicle with active Volvo On Call. Amazon says support for more vehicle makes and models will be added over time.
---
Love the Show?
Then how about a Donation?
---
FED LIMERICKS
The group that sets rates is the Fed
They have the power to move markets it is said
When markets do well
They take credit and yell
The chance for a recession is dead
Andrew Horowitz: A-
The Fed watches over the nation.
They look for any signs of inflation.
The job report, they lament
Says we're at full employment!
But Shadowstats debunks their foundation.
Derek Glennie: C+
Volker combated inflation
Greenspan corrupted the nation
Bernanke saved fraud
Old Yellen...just odd
Now Powell will unleash devastation
The Limerick King: A
Markets don't reflect how we feel
With valuations light years from real
The VIX going higher
My predictions are dire
With the fed being drunk at the wheel
Simon Davies: B
---
Tony Dabruzzi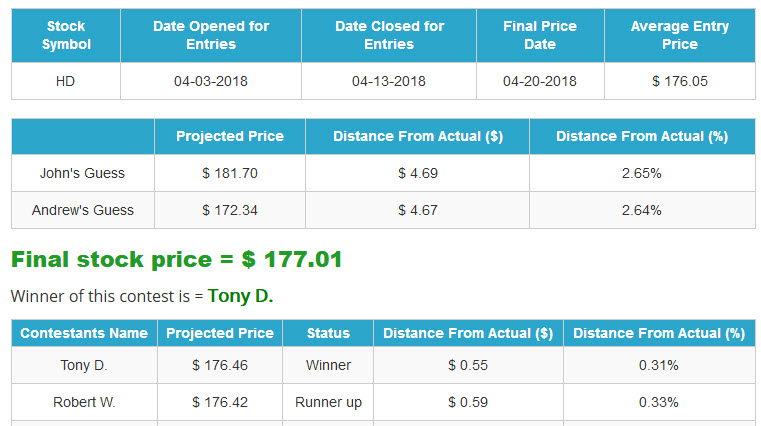 *** NEW INTERACTIVE CHARTS ***
Winners will be getting great stuff like the new DHUnplugged Shirts (Designed by Jimbo) - PLUS a one-of-a-kind DHUnplugged CTP Winner's certificate..

CLICK HERE FOR MORE CHARTS ON TRADING VIEW
---
UPDATE - NEW ETF - Global X Millennials Thematic ETF Challenge!
The top holdings of Global X Millennials Thematic ETF (MILN) include stocks many investors would expect, such as Facebook, LinkedIn and Amazon, which take advantage of the tech tendencies of millennials. But some names might be more surprising like real estate investment trusts AvalonBay Communities and Equity Residential, and Home Depot, which could benefit from millennials moving out of the home of their parents.
We are creating the DH Old Codger Index Portfolio to compete against this new ETF to see how "old school" stocks do in comparison. Companies in our index will include: (updated names as of 8/29/16)
We have the performance summary running (daily and since inception of 5/6/16) - DHOCI vs. Millennials ETF Battle
---
China's earthquake administration said on Friday that it had accidentally reported two major quakes which in fact had never happened, saying they were drills which had been unintentionally released to the public.
- Late on Thursday, the administration said on its website there had been two 6.5 magnitude quakes just 10 seconds apart at opposite ends of the country - in the far western region of Xinjiang and in the southwestern province of Yunnan.
Leftovers
Even though no one cares about the Facebook privacy issue anymore...
A U.S. federal judge ruled on Monday that Facebook Inc must face a class action lawsuit alleging that the social network unlawfully created facial templates for people without their permission. (This seems to be surrounding the tagging of "faces" in photos.)
Tesla Inc on Monday said it was having a planned downtime on the Model 3 production, after a BuzzFeed report said the carmaker had temporarily shut down Model 3 production in the company's Fremont, California, plant without warning.
GoPro Inc. jumped as much as 8.8 percent after a report said Chinese electronics maker Xiaomi Corp. has weighed whether to make an offer for the action-camera maker.
- Chief Executive Officer Nick Woodman has said he is open to a deal and earlier this year the company hired investment bank JPMorgan Chase & Co. to advise it on a potential sale. Once valued at more than $10 billion, GoPro's market capitalization has fallen to about $761 million.
GOOD PR
Dick's Sporting Goods is destroying its inventory of unsold assault rifles in the wake of its decision to quit selling the firearms.
- Retailers typically return unsold merchandise to the manufacturer, but Dicks is opting to destroy the weapons instead.
Same company that created funds (ETFS) that will not buy any gun company that sells to retail customers:
- The biggest stock-picking fund at BlackRock Inc raised its bet on Facebook Inc in March, a source familiar with the matter said, making the social media company a top 10 equity holding and apparently betting that Facebook's privacy scandal will not weigh on the stock for long.
What is John C. Dvorak writing for PC Magazine?
---
See this week's stock picks HERE
---
Follow John C. Dvorak on Twitter
Follow Andrew Horowitz on Twitter
---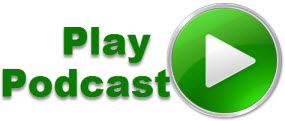 Podcast: Play in new window | Download (Duration: 1:03:54 — 44.2MB)
Subscribe: RSS