Trade war on the way? Seem that is the case – even though it is being downplayed.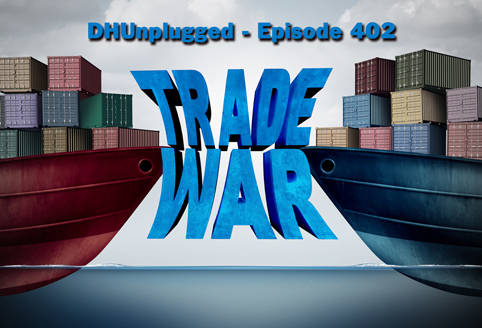 Markets have been in a free-fall as the news/headlines are just too much to digest. The question remains: Will earnings season save markets?
A look at the Spotify direct listing as well as some of the important items that are moving markets. (Plus a few stock ideas as well)
– Opened up at ~ $165/share
---
Click HERE for Show Notes and Links
DHUnplugged is now streaming live - with listener chat. Click on link on the right sidebar.
---
Love the Show?
Then how about a Donation?
---
Follow John C. Dvorak on Twitter
Follow Andrew Horowitz on Twitter
Follow up on the homemade Slivovich (Plum Brandy)
Market Update

S&P500 closes under the 200DMA Monday then claws way back on Tuesday, DJIA touches 200 DMA and then has a bounce, NASDAQ in no-man's land...
Trade war is the factor spooking markets - China imposes tariffs on hundreds of U.S. products in retaliation
There is a long-term trend line that has been broken for the S&P 500 - 10 month moving average
President Trump is starting to do the things that many of the people worried about before he got elected (tax reform convinced many that he would not ruffle markets):
Amazon under pressure as the White House is Tweeting up a storm about the company ripping off the USPS and not paying enough taxes
- Today, Pres Trump said the US is giving a subsidy to Amazon
- He noted that the company has the money to pay for additional USPS shipping rates;
- Commented that the post office continues to lose 'billions' due to Amazon.
- 2:51PM : Amazon shares spiking higher following report that White House does not have any specific plans for action against AMZN
---- MARKET RALLIES ON THIS NEWS by more than 1% (100 point move for the NAZ100 in minutes)
- If it was any other country we would say that this was a ploy to short stock or markets for profit
Seeing a radical change on the Twitter
- Use to be many would be snarky at any bearish comment or thought. Now opposite is what we are seeing.
- Still, same story persists about earnings growth and economic backdrop (problem is that no one knows how to model in impact of tariffs)
-many are still afflicted with confirmation bias and narrow vision
Some key economic reports this week - Employment (4% unemployment rate expected with 175k jobs added)
- ISM Index comes in just below last month's, below expectations - still strong
- ISM Services on tap - expectations are for 59 (prior 59.5)
Bonds - after big move higher, after Fed, mad rush into bonds as place to hide with markets correcting.
- 10 year yield back down to ~2.73%
- Is it possible that no chance that yield can go above 3% as it would cause stocks to crumble and then rotation back to bonds?
Blame the weather again - Reports on Tuesday showed Europe's manufacturing boom stumbled in March as optimism waned and demand ebbed owing to a powerful winter storm, but expansion was still broad-based across the continent.
Apple Inc  is planning to use its own chips in Mac computers beginning as early as 2020, replacing processors from Intel, Bloomberg reported on Monday, citing people familiar with the matter.
- The initiative, code named Kalamata, is still in early developmental stages but comes as part of a bigger strategy to make Apple's family of devices work more similarly and seamlessly together, according to the report
President Donald Trump intends to nominate Justin Muzinich, an aide to Treasury Secretary Steven Mnuchin, to be the deputy secretary of the Treasury, the White House said on Monday.
- So it will be Mnuchin and Muzinich? (say that 10 times fast.... quite the tongue twister)
Starbucks Corp and other coffee sellers must put a cancer warning on coffee sold in California, a Los Angeles judge has ruled, possibly exposing the companies to millions of dollars in fines.
- A little-known not-for-profit group sued some 90 coffee retailers, including Starbucks, on grounds they were violating a California law requiring companies to warn consumers of chemicals in their products that could cause cancer.
- One of those chemicals is acrylamide, a byproduct of roasting coffee beans that is present in high levels in brewed coffee.
CBS Corp plans to make an all-stock offer for Viacom Inc that values the U.S. media company below its current market valuation, people familiar with the matter said on Monday, indicating that tough negotiations lie ahead.
- It is unusual for deal negotiations to start with the acquirer valuing its target at a discount.
- The fact that CBS's first bid for Viacom infers such a valuation reflects how CBS views its position in the U.S. media landscape as superior to Viacom's.
Telsa shares finally get sold - from $360 down to $260
- Tesla bonds downgraded by rating agency to junk
- Questions about production remain
- Autopilot accident (why is autopilot allowed on major roads?)
News that WalMart may be looking at closer relationship with Humana and possibly looking to buy company
- Also news that the company may be looking to buy online pharmacy company Pillpack
In a broad expansion of the information gathered from applicants for U.S. visas, the federal government is proposing to collect social media identities from nearly everyone who seeks entry into the United States, according to a State Department filing on Friday.
- The proposal, if approved by the Office of Management and Budget (OMB), would require most immigrant and non-immigrant visa applicants to list all social media identities they have used in the past five years.
Quick update on LongFin Financial (The old Long Island Ice Tea Company)
- Stock soared from under $10 to $140 on news that it was reinventing itself into a Blockchain company
- Currently back to $10
---
Love the Show?
Then how about a Donation?
---
FED LIMERICKS
LAST ATTEMPT
My fifth crack at getting an "A"
Dvorak never likes what I say
My rhymes are all good
My meanings understood
I guess a cash bribe I must pay
Gary Hennebery - A
Some trends are meant to be bucked,
The market this year has sucked.
The head of the fed
Has lost all his cred
And now our investments are... screwed.
Jason Green - B
---
*** NEW INTERACTIVE CHARTS ***
Winners will be getting great stuff like the new DHUnplugged Shirts (Designed by Jimbo) - PLUS a one-of-a-kind DHUnplugged CTP Winner's certificate..

CLICK HERE FOR MORE CHARTS ON TRADING VIEW
---
UPDATE - NEW ETF - Global X Millennials Thematic ETF Challenge!
The top holdings of Global X Millennials Thematic ETF (MILN) include stocks many investors would expect, such as Facebook, LinkedIn and Amazon, which take advantage of the tech tendencies of millennials. But some names might be more surprising like real estate investment trusts AvalonBay Communities and Equity Residential, and Home Depot, which could benefit from millennials moving out of the home of their parents.
We are creating the DH Old Codger Index Portfolio to compete against this new ETF to see how "old school" stocks do in comparison. Companies in our index will include: (updated names as of 8/29/16)
We have the performance summary running (daily and since inception of 5/6/16) - DHOCI vs. Millennials ETF Battle
---
Spotify is coming on the NYSE in the first ever direct listing.
- This is without Spotify having hired investment banks as underwriters and undertaking an investor road show as is typical in a traditional initial public offering (IPO).
- Came out at ~ $160ish, climbed to $169 and then moved down the rest of the day toward $150
Leftovers:
Yeti Holdings Inc., the maker of Rambler mugs and pricey coolers, has ended its plans to go public, citing "market conditions."
- Yeti, in a letter to the Securities and Exchange Commission dated Friday, said it is no longer pursuing an initial public offering.
Meanwhile - Dropbox (DBX) IPO'd this week - strong move from $21 IPO price (now $29.50)
Gun maker Remington is filing for bankruptcy.
- Founded in 1816
U.S. tractor maker Deere & Co is bracing for a negative financial impact from U.S. tariffs on steel imports and worries that retaliatory tariffs on American agricultural exports could follow, Chief Executive Samuel Allen told Reuters in an interview last week.
- The 25 percent tariffs, which U.S. President Donald Trump announced last month along with a 10 percent tariff on aluminum, could raise steel prices by 30 percent and may prompt the company to switch materials, Allen said at an event marking Deere's 60th year of production in Argentina.
Senator Tammy Baldwin plans to introduce a bill on Thursday that would prohibit companies from repurchasing their shares on the open market, Baldwin told CNNMoney.
- Buybacks, which boost stock prices by making shares scarcer, have exploded in 2018 thanks to the huge windfall created by President Trump's new tax law.
- American companies like Pepsi and Cisco have announced a total of $229 billion of buybacks so far this year, according to research firm TrimTabs. Companies are on track to buy back the largest number of shares in at least a decade.
- Critics say this trend is deepening the chasm between America's rich and poor because affluent families own the vast majority of the stocks. They argue the money would be better spent by investing in the future, paying workers more or offering better benefits and retraining programs.
More than 100 Russian diplomats alleged to be spies in western countries have been told to return to Moscow, in response to the use of a chemical weapon in the attempted murder of Sergei Skripal, a former Russia/UK double agent, and his daughter, Yulia, in Salisbury, England on 4 March.
- The United States and its European allies are expelling dozens of Russian diplomats in a coordinated response to the poisoning of a former Russian spy in the UK. It is said to be the largest collective expulsion of Russian intelligence officers in history.
-Microsoft will ban 'offensive language' and 'inappropriate content' from Skype, Xbox, Office and other services on May 1, claiming it has the right to go through your private data to 'investigate.' [LINK]
What is John C. Dvorak writing for PC Magazine?
---
See this week's stock picks HERE
---
Follow John C. Dvorak on Twitter
Follow Andrew Horowitz on Twitter
---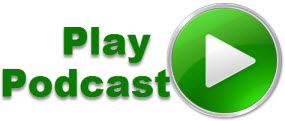 Podcast: Play in new window | Download (Duration: 1:01:57 — 42.8MB)
Subscribe: RSS