There has been a meaningful change in sentiment – selling has picked up and profits some profits have been disgorged. From an overbought condition to severely oversold in just a matter of days.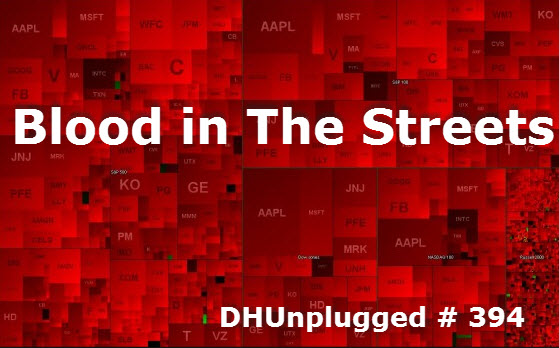 Is this the end of the bull run or simply a bump in the road?
What areas are best to consider and which to stay away from? All these will be topics of focus on this edition of DHUnplugged.
---
Click HERE for Show Notes and Links
DHUnplugged is now streaming live - with listener chat. Click on link on the right sidebar.
---
Love the Show?
Then how about a Donation?
---
Follow John C. Dvorak on Twitter
Follow Andrew Horowitz on Twitter
Superbowl update - thoughts on commercials? Game?
Market Update

SOMETHING IS NOT RIGHT WITH MARKETS
One of the best starts to a year in history - turns into a bloodbath. Yes, blood is in the streets all of a sudden.
- DJIA was down 1,100 points last week, S&P 500 down 4% as well.
- Last week started out okay, but earnings from Google and Apple (as well as the rising yield on bonds) put the clamps on the bull
- Plus the potential for a government shutdown this week was on the minds of investors.
- Monday was no better - although after the open there was a temporary moment of buying activity that took the S&P and NASDAQ positive (that evaporated mid-day)
- RED everywhere at the end of last week and into this week.
- European markets at 6-month lows
***** DJIA was off by 1,650 points on Monday at one point as it flushed down !!!!!!!!!!!!!!!!!!!
Range for DJIA Futures on Monday 1786 points from top to bottom. Tuesday - 1,802 with significant volume both days.
$4 Trillion evaporated from world markets over the past few days.
--- DJIA went negative on the year 2018 on Monday as did SP500. (back up slightly after tiday's rally)
Overnight Tuesday markets were taking another hit. At one point the DJIA futures were off by 800 points (plus fair value was more than 1,000)
- The market opened and BOOM - recovered all and went positive.
- The Fed was out talking down their plans for rate hikes...
Is it over???
Question - aside from the fact that rates have crept up and valuations have been stretched... Is this sell-off reasonable and what is outlook?
- Maybe over leverage...
AH 2 cents - Passive investing has killed markets...
- The idea is sound but the fact is that liquidity dries up and when selling occurs it is selling of the TOTAL market.
- Add that to lower share count in market due to buybacks and the potential for big downsides are inevitable
- Mnuchin says algorithmic trading 'definitely had an impact on market moves
Several ROBO-ADVISORS sites crashed yesterday when markets swooned
- The web sites of two of the country's biggest robo-advisers -- Wealthfront Inc. and Betterment LLC -- crashed as the S&P 500 Index sank 4.1 percent.
- Outages were also reported at incumbent online brokerages Vanguard Group and Charles Schwab Corp.
- Did not happen to our platform (eNVESTOLOGY)
Alan Greenspan Jan 31 - "There are two bubbles: We have a stock market bubble, and we have a bond market bubble,"
- The trouble in the bond market "will eventually be the critical issue," Greenspan said, adding that "for the short term it's not too bad."
On why not to listen to the talking heads that are talking their book:
Jan 23rd - Ray Dalio (Bridgewater hedge fund) :
- 'If you're holding cash, you're going to feel pretty stupid'. "We are in this Goldilocks period right now. Inflation isn't a problem. Growth is good, everything is pretty good with a big jolt of stimulation coming from changes in tax laws,"
Bitcoin and alt-coins trashed!
- Bitcoin sub $7,500 (down 60%++ from high) - hit as low as $6,100 overnight
- Alt coins having a hard time getting any legs as sellers are in control
- Continued comments out of Asia about cracking down on trading/owning coins
- Regulatory meetings in US occurring
The short volatility trade imploded yesterday. It was a very ugly site (and I got caught a little in this)
- Short Volatility ETFs (SVXY, XIV) as the VIX moved up massively.
- Part of the reason that the VIX moved was that there were forced buy-ins as markets tanked
- After the close on Monday, the VIX Futures skyrocketed, that was enough to potentially wipe out (YES WIPE OUT) the total value of the short ETF/ETN funds. (100% move against them)
---- XIV will accelerate their valuation and close the fund mid-February. SVXY will remain open.
- A good amount of lessons here - first being the fact that structured products can be dangerous - also, who knows what nefarious players forced this as they pushed Vix futures?
- VIX was as high as 50 before the open today
MEANWHILE - one day later, while the VIX was up to 50 - it crashed crashing throughout the day to just under 30.
According to Mario Draghi in testimony to Parliament
- The euro area economy is expanding robustly, with stronger growth rates than previously expected and significantly above potential.
- The economic expansion is broad-based. The dispersion of growth rates across countries and across sectors is at its lowest level for 20 years.
- Employment growth has recently strengthened as well in all the main sectors, namely in industry, construction and market services.
- As more people find jobs, household incomes rise. This has helped to strengthen private consumption growth, which in turn is boosting business investment.
- IN OTHER WORDS - Extraordinary stimulus may be removed or slowed
A REMINDER AND UPDATE - The S&P 500 (SPY ETF) would have to come down 5.6%  less than 3% - it hit and held (for the time being) the 50 DMA.
- Since the beginning of 2018, the SPY has been riding 2 Standard Deviations above the 50 day moving average - not a common occurrence that lasts very long.
- Bollinger Bands and 50DMA
Wells Fargo - The Federal Reserve ordered Wells Fargo on Friday to halt its growth, citing "widespread consumer abuses and other compliance breakdowns" at the bank.
- The Federal Reserve Board said in a statement that it "would restrict the growth of the firm until it sufficiently improves its governance and controls. Concurrently with the Board's action, Wells Fargo will replace three current board members by April and a fourth board member by the end of the year. "
- The bank is barred from growing beyond its size at the end of 2017 until it has satisfied the Fed that it has improved its compliance and governance polices, the Fed said.
- The bank's board must submit a plan within 60 days outlining how it plans to address the Fed's concerns
Broadcom Ltd made a $121 billion "best and final offer" on Monday to acquire Qualcomm Inc, ratcheting up pressure on its U.S. semiconductor peer to engage in talks on what would be the biggest ever technology acquisition.
- Represents $60 in cash and $22 in Broadcom Stock
- Qualcom (QCOM) trading at $63 (deal is like getting Broadcom stock for free)
Apple - Article regarding the iPhone is mature and what is next?
- What is the future for Apple?
- New products or just more of the same?
- What will they do with $200 billion of repatriated money?
An update on SNAP (Earnings out):
- Average daily users up to 184m from 178m
- EPS (-0.13) vs expectation of (-0.16)
- Revenue Beat  $286m vs $252m
- Stock up 25% after hours (big short interest  94m shares short (75% of shares sold short) - 6 Days to cover.
Disney earnings out
- $1.89 vs $1.61 consensus Estimate; revs $15.35 bln vs $15.47 bln consensus Estimate
---
Quick shameless plugs - No Agenda Show and Horowitz & Company Strategies
FED LIMERICKS
As we say goodbye to the Yellen
Markets found good reason to start the sellin'
Now in walks the Jay
All hopes are in play
That low rates are what he keeps on tellin'
Andrew Horowitz - B+
My late night limerick du Fed
I've recorded so it's faithfully read
And ten-der my submission
For John's terse derision
And a D. Now I'm heading to bed
Chris Wilson - B
---
Love the Show?
Then how about a Donation?
---
*** NEW INTERACTIVE CHARTS ***
Winners will be getting great stuff like the new DHUnplugged Shirts (Designed by Jimbo) - PLUS a one-of-a-kind DHUnplugged CTP Winner's certificate..

CLICK HERE FOR MORE CHARTS ON TRADING VIEW
---
UPDATE - NEW ETF - Global X Millennials Thematic ETF Challenge!
The top holdings of Global X Millennials Thematic ETF (MILN) include stocks many investors would expect, such as Facebook, LinkedIn and Amazon, which take advantage of the tech tendencies of millennials. But some names might be more surprising like real estate investment trusts AvalonBay Communities and Equity Residential, and Home Depot, which could benefit from millennials moving out of the home of their parents.
We are creating the DH Old Codger Index Portfolio to compete against this new ETF to see how "old school" stocks do in comparison. Companies in our index will include: (updated names as of 8/29/16)
We have the performance summary running (daily and since inception of 5/6/16) - DHOCI vs. Millennials ETF Battle
---
Starbucks Corp has too many stores and its prices are too high, Wall Street analysts are starting to agree, as they seek to explain the company's slowing U.S. growth.
- The world's biggest coffee chain now has more U.S. locations than McDonald's Corp but it has been struggling for more than a year to lure the traffic needed to deliver the growth that investors have come to expect.
Treasury Secretary Mnuchin says in the long-term, a strong dollar is in U.S.'s best interest - What?
Senate Banking committee on Virtual Currencies (From Briefing.com):
- Both SEC and CFTC admit they have no jurisdiction to regulate Virtual currency trading markets.
- CFTC is able to regulate futures contracts but not spot markets.
- Jay clayton states that a patchwork framework for regulation will not be sufficient with virtual currencies
- Both agencies state they are underfunded and understaffed to properly handle developments in virtual currencies
- Bitcoin is a medium of exchange, store of value, and means of account. Hard to classify as strictly a security or commodity
- Jay Clayton states ICO'S that are clearly securities offering should be treated and regulated as such
- Both agencies agree regulation needs to be a coordinated effort by SEC and CFTC
Government shutdown?
- With funding set to expire Thursday, House Republicans were moving ahead with a temporary spending measure, but it does not appear to have the support to pass the Senate.
New Orleans city officials said on Thursday that more than 46 tons - or 93,000 pounds - of Carnival beads were among 7.2 million pounds of trash pulled from clogged catch basins along a five-block stretch of a downtown parade route.
Poland's president said on Tuesday he would sign into law a bill that imposes jail terms for suggesting the country was complicit in the Holocaust, defying criticism from Israel, the United States and activists.
- Can not say "Polish Death Camps"
U.S. President Donald Trump on Monday accused Democrats of being "un-American" and "treasonous" for their lack of applause during his State of the Union address last week when he spoke of rising wages and historically low African-American unemployment.
What is John C. Dvorak writing for PC Magazine?
---
See this week's stock picks HERE
---
Follow John C. Dvorak on Twitter
Follow Andrew Horowitz on Twitter
---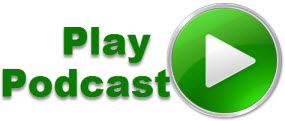 Podcast: Play in new window | Download (Duration: 1:00:49 — 42.0MB)
Subscribe: RSS