Do Markets want to go higher? Investors are happy to keep buying and buying. Nut, how high can we go?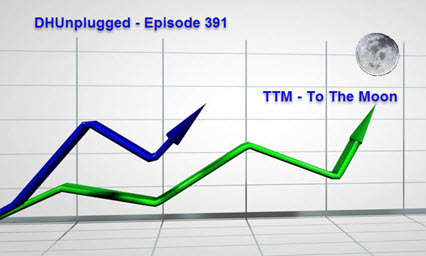 Starting to hear comments like TTM – To The Moon makes us wonder if euphoria has taken over and logic has been all but scrapped.
Cryptos crash, crude surges, economic conditions strengthen and earnings season is underway… Just a few of the topics up for discussion in this episode.
---
Click HERE for Show Notes and Links
DHUnplugged is now streaming live - with listener chat. Click on link on the right sidebar.
---
Love the Show?
Then how about a Donation?
---
The US Navy is flying their best 'Nighthawks' over South Florida, training for urban situations. - right over my office tonight. Beasts!
Market Update

Markets continue their winning streak - Year-to-date (2 weeks) major averages are up 4-5%. DJIA approaching 26,000 mark (then reversed lower) . TTM - TO THE MOON!
Markets have a shortened week due to closure of U.S. markets in honor of  MLK Jr. on Monday. But that did not stop the futures from exploding higher overnight Sunday and into Monday morning.
- DJIA futures on Monday morning were up 170 points as the U.S. dollar continued to plunge against most major currencies. (Euro at 3-year high)
- "I think our dollar is getting too strong, and partially that's my fault because people have confidence in me," (President Trump - April 2017)
- Interesting to note that the S&P 500 and NASDAQ futures were only up marginally.
Earnings season has started - We saw earnings from Wells Fargo (WFC) and JP Morgan (JPM) at the end of last week. Generally these were inline with expectations. Still a great deal of confusion about the impact due to tax cuts.
Over the next few days we will see eaenings from:
Bank of America
Goldman Sachs
Alcoa
Morgan Stanley
American Express
IBM
Syncrony Financial
MAJOR turnaround today as markets were screaming higher in the morning. With all of the bullishness out there, it is looking like this could have been a blow-off top.
- DJIA went from a +250 to slightly negative on the day
A blowoff top is a technical pattern that is characterized by a very steep upward trend followed by an equally steep downward plunge. This chart pattern indicates a bubble burst since a very steep price increase usually ends up going back down to the pattern's normal linear regression.
Bitcoin and the entire crytpo marketplace has gone though a mega correction over the last few days. Bitcoin is lowest price since Nov 2016 (clipped $10,000 today)
- China looking to restrict all coin trading and close exchanges (as well as restrict all access)
- South Korea looking to regulate/stop
- ** News that the company behind the controversial cryptocurrency BitConnect has announced that it will close down its lending and exchange platform ay have spooked coinvestors.
Economics from last week:
The latest Census Bureau report shows a nice advance for retail purchases. They improved 0.4% last month, with core retail sales up by the same amount.
Reporting for the December period, wholesale inflation (PPI) declined for the first time in 18 months. Even with that 0.1% dip, the Producer Price Index advanced 2.6% for 2017, compared with 1.7% in 2016.
- CPI  was 2.1% during 2017 according to the Consumer Price Index, which ticked up 0.1% last month.
- Core consumer prices rose 0.3% in December, bringing the annual 2017 core CPI gain to 1.8%
WTI crude settled at $64.30 Friday on the NYMEX, advancing 4.7% across five trading days. That was its highest price since December 2014.
- While there is clearly activity pressure and production cuts, still feels like a grand plan for Saudi Aramco IPO push
Last week, Facebook said it would begin prioritizing posts shared and discussed among users and their friends over posts from publishers and brands as it looks to amp up "meaningful interaction" on the social-media platform.
- Changes way that publisher's placement of non-paid organic marketing will be displayed
- Facebook was down 4.4% on this news
- Some suggesting that now publishers will have to pay up more for ads in order to reach users.
-- "While media outlets may be worried about significant traffic declines from the adjustment, advertisers are all too familiar with Facebook's routine algorithm changes. Over the years, constant tweaks have diminished the reach of brands' content, forcing them to put more ad dollars behind their posts to make sure people see them."
- Interestingly, Twitter seemed to be the beneficiary of the news as the stock moved to 52-week high
China is escalating its clampdown on cryptocurrency trading, targeting online platforms and mobile apps that offer exchange-like services.
- While authorities banned cryptocurrency exchanges last year, they've recently noted an uptick in activity on alternative venues.
- The government plans to block domestic access to homegrown and offshore platforms that enable centralized trading, without being more specific about how policy makers define such platforms.
- Authorities will also target individuals and companies that provide market-making, settlement and clearing services for centralized trading, small peer-to-peer transactions aren't being targeted, they said.
- * Bitcoin and other coins dipped on the news over the weekend, but that was quickly bought up as each previous scare has been seen as an opportunity.
Still not ready for prime-time:
Cryptocurrency exchange Kraken is was down nearly 48 hours after the site initiated a system upgrade.
- Kraken engineers had estimated the downtime would only be two hours.
Barron's Cover this week (Bright Outlook for the Economy and Stocks) - something odd about it - what is going on?
A good amount of online commentary about how bad all of the pictures were in the article itself - [LINK TO ARTICLE]
Last week we discussed the 747 - this week's interesting airplane news:
- Airbus, the European aerospace group that makes the A380 superjumbo, said on Monday that it would have to end production of the plane if its only major customer, Emirates, did not order more.
- Airbus's best selling plane is the A320 (single aisle 240 passengers) vs. the A380 500+.
Any update on the Spectre/Meltdown impact on chip companies or others?
Interesting article sent in from listener Paul G regarding lack of volatility in markets.
- WSJ journalist was wondering if this is the calm before the storm
- Discussed the condition of "Metastability"
Metastability
Metastability in electronics is the ability of a digital electronic system to persist for an unbounded time in an unstable equilibrium or metastable state.
---
FED LIMERICKS
The Fed is a big crooked bank
recent governor's policy has stank
rich bankers protected
poor savers dejected
Trump take these sharks from the tank.
Gary Henneberry
---
Follow John C. Dvorak on Twitter
Follow Andrew Horowitz on Twitter
---
Love the Show?
Then how about a Donation?
---
*** NEW INTERACTIVE CHARTS ***
Winners will be getting great stuff like the new DHUnplugged Shirts (Designed by Jimbo) - PLUS a one-of-a-kind DHUnplugged CTP Winner's certificate..

CLICK HERE FOR MORE CHARTS ON TRADING VIEW
---
UPDATE - NEW ETF - Global X Millennials Thematic ETF Challenge!
The top holdings of Global X Millennials Thematic ETF (MILN) include stocks many investors would expect, such as Facebook, LinkedIn and Amazon, which take advantage of the tech tendencies of millennials. But some names might be more surprising like real estate investment trusts AvalonBay Communities and Equity Residential, and Home Depot, which could benefit from millennials moving out of the home of their parents.
We are creating the DH Old Codger Index Portfolio to compete against this new ETF to see how "old school" stocks do in comparison. Companies in our index will include: (updated names as of 8/29/16)
We have the performance summary running (daily and since inception of 5/6/16) - DHOCI vs. Millennials ETF Battle
---
The British government scrambled Monday to contain the damage as the country's second largest construction firm was forced into liquidation after losing money on a series of contracts and racking up around $1.35 billion in debt.
- The bankruptcy of the firm, Carillion, one of the government's biggest contractors, threatens more than 19,000 jobs in Britain as well as the solvency of hundreds of subcontractors and smaller businesses. A government-backed pension protection plan is taking over the company's pension fund, which has an $800 million deficit that analysts say is likely to expand.
Please explain:
CVS Health said Monday that it will ban photo manipulation in its store-brand makeup marketing and promotional displays, a move that acknowledges growing awareness of the harmful nature of touched-up images.
- The nation's largest drugstore chain will also require other makeup and beauty brands that sell products in its aisles to commit to a photo-manipulation ban by 2020 or face having an alert label placed on the images.
How in the world did two of these happen?
Japanese national broadcaster NHK issued an on-air apology Tuesday after issuing an alert incorrectly claiming that North Korea had launched a ballistic missile.
- The message, received by phone users with the NHK app installed on their devices, read: "NHK news alert. North Korea likely to have launched missile. The government J alert: evacuate inside the building or underground. "
New warning form the State Department regarding travel to North Korea
Those who wish to travel to North Korea must be approved for a special validation, which are handed out on "very limited circumstances." U.S. travelers given the approval to experience Kim Jong Un's regime should then prepare for the worst — including drafting a will and making funeral and property arrangements with family and friends.
This is not a surprise to anyone:
Penthouse Global Media, the company behind the legendary adult magazine created five decades ago by Bob Guccione, has filed for Chapter 11 bankruptcy protection, according to court documents filed Thursday in a California federal court.
What is John C. Dvorak writing for PC Magazine?
---
See this week's stock picks HERE
---
Follow John C. Dvorak on Twitter
Follow Andrew Horowitz on Twitter
---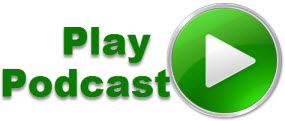 Podcast: Play in new window | Download (Duration: 1:05:02 — 44.9MB)
Subscribe: RSS