Countdown to the Brexit vote – two days from now we will know the result. Some are predicting that if the U.K. were to vote to leave that the pound could drop and a global recession would ensue.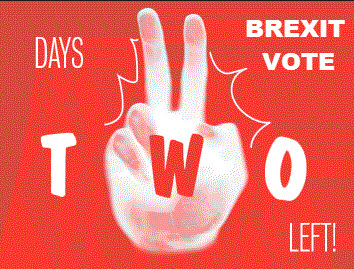 Janet Yellen testifies to Congress over the next two days, shedding light on some of the Fed's recent decisions. Dovish commentary and a defensive posture should be the overall tone – with nothing new to illuminate us on the outlook for the U.S. economy.
Netflix has a new "icon" and advertisers have a new way twist to an up and coming technology – all this and more on this episode.
---
Click HERE for Show Notes and Links
~ Quick note: AH will be traveling the next two weeks ~
Markets in a bit of a tailspin and incredible rally after the latest Brexit poll. SURGING on weekend poll. Each day another poll update is released from various parties. Sunday the "stay" camp saw an uptick - pushing up stocks globally. Today the "leave" camp saw an increase by 2%
Oil back above $50 after a sizable draw-down of inventories reported after the close on Tuesday.
Yellen testimony to Congress today and tomorrow  -
-- Asked about forward Guidance: Yellen said that the Fed is not relying much on forward guidance right now. Says a projections are helpful to the public, but not a commitment on policy. Says paths can change over time as economic outlook is updated.
-- Asked about most recent jobs report: Says that labor market continues to perform well; not overemphasizing one jobs report. Says can watch economic developments since inflation is low.
Last week's title to episode was about China not being denied MSCI inclusion - had a picture with that and only one follower mentioned that the picture was had Japanese writing...
BIG NEWS after the close today - Tesla (TSLA) offering to buy SolarCity (SCTY). SCTY up 15% on news to $24.35 (offer may be approx $26-$28) and Tesla SLAMMED down 12%.
- All share deal - no cash but....
- Serious headscratcher - Tesla does not have the money to do the deal as it needs all it has and more to build factories to produce cars.
- What is synergy?
- Hail Mary attempt to prop price of SCTY for Elon Musk?
- Musk majority owner of both companies. Cousin is CEO of SolarCity
Noticing that Bloomberg has a fascination with writing about watches. Now Barron's cover is about the best watches of 2016 [LINK] - AND they are expensive! Is this just adverts?
Speaking of covers - New York Daily News covers are even more nuts than ever.... SEE LINK
NY criminalizes bots buying up tickets - Ticketing outlets and credit card companies revealed that bots scoop up the best seats in seconds, which scalpers then resell at prices many times over face value. Scalpers who exploit such software could now face criminal, class A misdemeanor charges. (Hamilton tickets - LOOK at these prices!)
Fresh food - natural food - sham -  The popular U.S. grocery chain Trader Joe's Co agreed to spend $2 million to reduce refrigerator coolant leaks at 453 stores, to settle federal claims it failed to promptly repair leaks that deplete the ozone layer and contribute to global warming. Trader Joe's also agreed to enter a consent decree and pay a $500,000 civil fine to resolve claims it violated the Clean Air Act, the U.S. Department of Justice and Environmental Protection Agency said on Tuesday.
Final rules: New drone rules from the Federal Aviation Administration limit most small commercial drone operations to daylight hours and require operators to get certified every two years.
---
Announcing the Winner of Biogen next show.
Next CTP - Nike (NKE) - Open for entries on 6/23/16
Winners will be getting great stuff like the new DHUnplugged Shirts (Designed by Jimbo)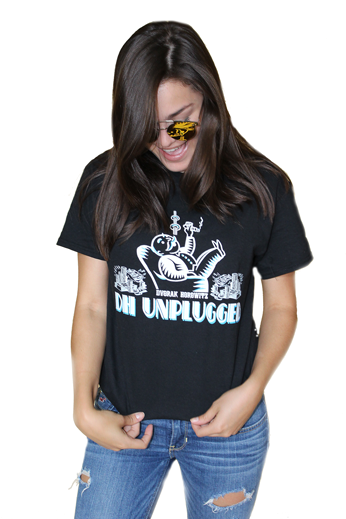 DHU's Official Model - Vivi Jugo
**** Getting many requests from listeners that they want to BUY the shirt ******
---
UPDATE - NEW ETF - Global X Millennials Thematic ETF Challenge!
The top holdings of Global X Millennials Thematic ETF (MILN) include stocks many investors would expect, such as Facebook, LinkedIn and Amazon, which take advantage of the tech tendencies of millennials. But some names might be more surprising like real estate investment trusts AvalonBay Communities and Equity Residential, and Home Depot, which could benefit from millennials moving out of the home of their parents.
We are creating the DH Old Codger Index Portfolio to compete against this new ETF to see how "old school" stocks do in comparison. Companies in our index will include:
Devita (DVA) - Dialysis/HealthCare, Tootsie Roll (TR) - Candies, Exxon Mobile (XOM) - Oil/Energy, Sears (SHLD) - Misc. Retail
More......
We have the performance summary running (daily and since inception of 5/6/16) - DHOCI vs. Millennials ETF Battle
---
Anything here? Donald Trump and his campaign manager are parting ways, according to a New York Times report confirmed by the Trump campaign.
How does something like this happen? Anton Yelchin, a rising actor best known for playing Chekov in the new "Star Trek" films, was killed by his own car as it rolled down his driveway early Sunday, police and his publicist said. The car pinned Yelchin, 27, against a brick mailbox pillar and a security fence at his home in Los Angeles, Officer Jenny Hosier said. He had gotten out of the vehicle momentarily, but police did not say why he was behind it when it started rolling. (As it turns out - his Jeep SUV was under recall due to problems with gear shift)
Brazil's federal government must provide financial support to the nearly-bankrupt state of Rio de Janeiro in order to avoid the shame of a disappointing Olympics, according to a top official in the administration of Acting President Michel Temer.
New twist to technology - Virtual reality/augmented reality is now going to be looked at by advertisers as a way to further clutter our lives. makes sense, but what a bummer. [LINK]
A page from SnapChat? Twitter today is taking another step to build up its machine learning muscle, and also potentially to improve how it delivers photos and videos across its apps: the company is acquiring Magic Pony Technology, a company based out of London that has developed techniques of using neural networks (systems that essentially are designed to think like human brains) and machine learning to provide expanded data for images — used, for example, to enhance a picture or video taken on a mobile phone; or to help develop graphics for virtual reality or augmented reality applications.
Follow up - A federal judge said two Starbucks customers may pursue a lawsuit accusing the coffee chain of cheating patrons by underfilling lattes. In a decision on Friday, U.S. District Judge Thelton Henderson in San Francisco said the California plaintiffs may seek damages from Starbucks in their proposed nationwide class action, including for fraud and false advertising.
Starbucks was accused of overcharging customers by systematically serving lattes that are 25 percent too small, based on a recipe it adopted in 2009 to save money on milk.
New speed record - A 10 million core Chinese supercomputer called Sunway TaihuLight now ranks as the world's fastest, nearly tripling the previous supercomputer speed record with a rating of 93 petaflops per second. That's 93 quadrillion floating point operations per second (or 93 million billion).
Venezuela - this is a travesty. Some digging though garbage as there is no food, while others sipping champagne at country club. [LINK]
A thought - Adobe (ADBE) reported earnings after the close and stock was down as it missed some targets/guidance. Historically shown the buyers step in - just sayin'.
What is JCD writing about this week for PCMAG?
See this week's stock picks HERE
Follow John C. Dvorak on Twitter
Follow Andrew Horowitz on Twitter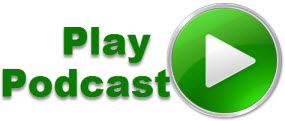 Podcast: Play in new window | Download (Duration: 1:09:53 — 37.9MB)
Subscribe: RSS