The weakest jobs report in years does not dissuade investors from piling into equities. While there is plenty of headwinds for markets, there is seemingly no thought to any downside potential. Oil is helping to keep a floor under p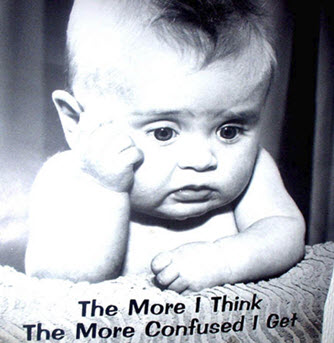 rices as production has dropped and rumors continue to floated from OPEC.
Fed speakers are talking both sides of the story – ignore weak jobs numbers as the economy is in good shape while rate hikes may not be in the cards due to many concerning factors. Which story to believe? What is for sure is the the Fed wants to create confusion to keep investors guessing over what their next move will be.
Please check out  YestoBitcoins.com
---
Click HERE for Show Notes and Links
---
Sponsor: This episode is sponsored by YestoBitcoins.com
---
As Gomer Pyle would say: "Surprise, Surprise"
- Jobs report came in very light with on 38k new additions to payroll. However, the Unemployment rate dropped to 4.7% (Nov 2007 was last time unemployment rate was this low)      ?? Is this a weak or strong report?
- About 450k dropped out of labor force
- Some weakness due to the Verizon strike (35k)
- Last 2 months data revised down by 50K
- Average adds over 3-months 116k
- Wage growth was up slightly
With the weak jobs report the probability of a Fed rate hike in June dropped from 20% to 4% - through Fed futures outlook.
USD dropped hard on the report and sent gold, silver screaming higher - equity markets were not too thrilled - but recovered - now the S&P 500 is just 1% from all-time high. DJIA hit 18,000 in early trade.
- Are the negative interest rates finally kicking in?
Is the Fed creating "Organized Confusion" purposely? (Fed speakers out with both sides of the story - ignore the jobs report as economy is strong, but rates to remain low)
Oil holding close to the $50 level as almost all of the Nigerian pipelines are offline. Rebel attacks are causing major problems. Corrupt country - could big boys be helping to the rebels?????
Economic news just in:
Among six regions that Moody's assesses, the decline in growth is most pronounced in Eastern Europe and Central Asia. Here, Moody's estimates that average median growth will be 2.6% from 2013 to 2016 compared to average growth of 6.5% from 2005 to 2008.
World Bank cuts 2016 global growth forecast to 2.4% from 2.9% due to sluggish growth in advanced economies, stubbornly low commodity prices, weak global trade and diminishing capital flows
---
Podcast Awards voting is open!
---
OPEC met to attempt to agree on "production caps" and the meeting ended with no agreement - again. But oil was unfazed as reports of a 9% drop in production over the past few months due to U.S. rigs offline. WTI Crude ~ $50.
Last week there was a some news about auto sales that was of interest. Is peak-auto now a thing?
Automotive News reports that May 2016 marked the biggest monthly sales drop for the U.S. auto industry in nearly six years.
The downturn was driven by a big drop in demand for passenger cars and two fewer selling days this May than the year-ago period.
May 2016 was only the industry's eighth monthly sales decline since 2009.
Automotive News, citing True Car estimates, indicated average incentives per vehicle increased 7.1% to $3,034 in May versus the same period a year ago.
Snapchat Inc. has 150 million people using the service each day, said people familiar with the matter. That makes the four-year-old messaging app more popular than Twitter Inc. by daily active users.
FitBit - seeing more competition - Now Samsung out with a fitness tracking product for write and... ear? IConX earbuds.
In other Fitness tracker news, Wisconsin farmer has developed a fitness tracker chip for cows. Farmer can scan chip with smartphone app to measure all sorts of data on a cow's daily trek - BoviSynch
Valeant Pharma (VRX) - Down 15% today as it finally released its quarterly earnings report and outlook after a significant delay. Outlook was not pretty. Interesting that big value players like Bill Miller was toughting this one recently - he should know that there will not be a bailout for this company. (he was toughing the banks when they swooned back in financial crisis)
---
"Bitcoins can buy you pretty much anything if you trade them for gift cards.
YesToBitcoins.com sells gift cards from stores in Europe, Asia and North America.

Disclaimer: John C Dvorak doesn't like bitcoins but YesToBitcoins.com likes John C Dvorak"
---

Currently CTP = Fitbit (FIT)
Winners will be getting great stuff like the new DHUnplugged Shirts (Designed by Jimbo)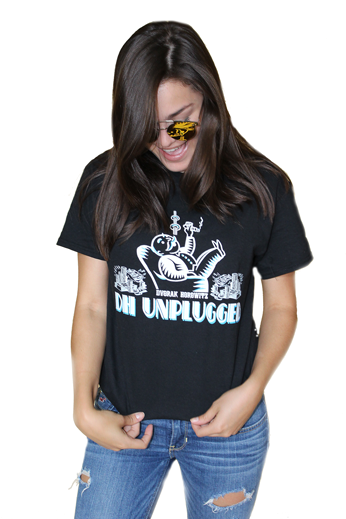 DHU's Official Model - Vivi Jugo
** Need to pick stock for next CTP **
---
Interesting news from T-Mobile: Company is giving stock shares to customers. In a way to boost sales and reward customers (and to potentially increase stock holders)  Trend?
UPDATE - NEW ETF - Global X Millennials Thematic ETF Challenge!
- Neck and neck since inception - Ole Codger's Portfolio slightly ahead....
The top holdings of Global X Millennials Thematic ETF (MILN) include stocks many investors would expect, such as Facebook, LinkedIn and Amazon, which take advantage of the tech tendencies of millennials. But some names might be more surprising like real estate investment trusts AvalonBay Communities and Equity Residential, and Home Depot, which could benefit from millennials moving out of the home of their parents.
We are creating the DH Old Codger Index Portfolio to compete against this new ETF to see how "old school" stocks do in comparison. Companies in our index will include:
Devita (DVA) - Dialysis/HealthCare, Tootsie Roll (TR) - Candies, Exxon Mobile (XOM) - Oil/Energy, Sears (SHLD) - Misc. Retail
More......
We have the performance summary running (daily and since inception of 5/6/16) - DHOCI vs. Millennials ETF Battle
---
For the Rio Olympics Visa is using the event to introduce a new ring that will let people pay with a wave of their hand: No phone, wallet or even battery needed. Just wave over the scanner to pay. But is this smart? (only limited number going to be available to athletes, but will athletes wear and what if they lose it?) [LINK]
The famed Los Angeles mansion of Hugh Hefner, founder of the Playboy empire, is under contract to be sold to private equity executive Daren Metropoulos, a Playboy Enterprises spokesman said on Monday. The Gothic Tudor-style mansion, which has an area of 20,000 square feet (1,858 square meters), was listed earlier this year for $200 million, Reuters reported in January.
Still going: Pharma industry entrepreneur Martin Shkreli pleaded not guilty Monday to an updated indictment that added a new conspiracy charge to the criminal allegations against him — then jeered at federal prosecutors in a live-streamed exchange.
Getting out of hand: Uber, the ride-hailing firm is extending a system in which drivers charge riders a "wait times" fee if they take more than two minutes to come to the car. Drivers will also be able to specify their routes for pick-ups to fit in with their own journeys.
-- Uber is also allowing drivers to pause ride requests and get paid instantly.
-- The "fine" system - which is calculated according to how long the driver has to wait - has already been tested in New York, New Jersey, Phoenix and Dallas.
-- This is separate to a cancellation charge - which ranges from $5 to $10 depending on the city - which would be added to the wait fee if the driver continued waiting a while for a no-show.
Does this work? The father of a former Stanford University athlete convicted on multiple charges of sexual assault has said his son should not have to go to prison for "20 minutes of action". Time for time? What about other crimes?
Lending Club (LC) seems to be in a death spiral. Soured loans have been a big problem and the company is trying to get their act together - may be a little too late?
- However , debt to income (DTI) criteria (excluding mortgage and the requested program loan amount) is being reduced to 35% (from 40%) across the standard loan program.
- Company says that the changes to lending requirements will not change loss projections for the company
- After the close Keeyfe Bruyette upgraded the company AND Ousted LendingClub Corp CEO and co-founder Renaud Laplanche has been speaking to private equity firms and banks about financing a potential buyout of the online lender, according to people familiar with the matter.
DH Stocks News:
June 1 - the day after you picked it - CombiMatrix (CBMX) announces that it will begin accepting samples for pre-implantation genetic screening by next generation sequencing in mid-June. Stock rallies hard!
What is JCD writing about this week for PCMAG?
*** VOTE FOR DHUNPLUGGED for PODCAST AWARDS ***
See this week's stock picks HERE
Follow John C. Dvorak on Twitter
Follow Andrew Horowitz on Twitter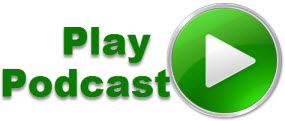 Podcast: Play in new window | Download (Duration: 59:25 — 32.2MB)
Subscribe: RSS